03/08/2022
Posted by:

Janick Pettit

Categories:

Botswana, Cote d'Ivoire, Egypt, Ethiopia, Ghana, Ivory Coast, Kenya, Morocco, Mozambique, Nigeria, Non-alcoholic beverages, Online Panels, Senegal, South Africa, Uganda, Zambia, Zimbabwe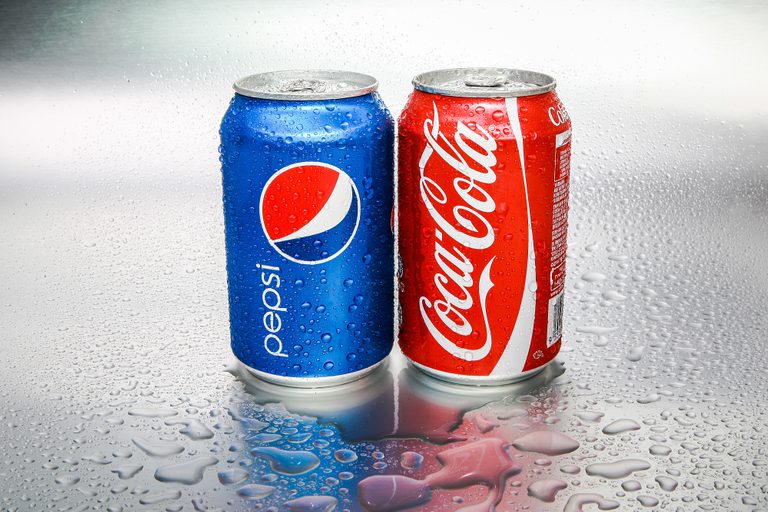 In the long standing battle between the two iconic soft drink brands, Coca Cola and Pepsi, what is the preferred CSD brand in Africa? We recently asked our SagaPoll online research panel to tell us which one they prefer between the two. Read on for the results across the continent, the reasons behind their preference and find out which country stands out.
Brand battle in soft drinks in Africa: Coca Cola or Pepsi?
The CSD market in Africa has reached various levels of maturity in terms of consumption. In countries like Nigeria or Kenya, about 60% of the population consume carbonated soft drinks. In contrast, in some francophone markets only a third (Ivory Coast, Senegal) or even a quarter of the population (Burkina Faso) have consumed soft drinks in the last 4 weeks*.

So how do the two international brands fare against each other across these markets? Simply put, Coca Cola is the clear winner against Pepsi, as the preferred carbonated soft drinks brand in Africa. Across the 34 markets where we asked our panel members, a whopping 74% of respondents sided with the flagship brand of the Coca Cola Company. Pepsi, from PepsiCo, on the other hand, is preferred by only 17% of panelists. The Coca Cola leadership is seen across all genders, age and income groups.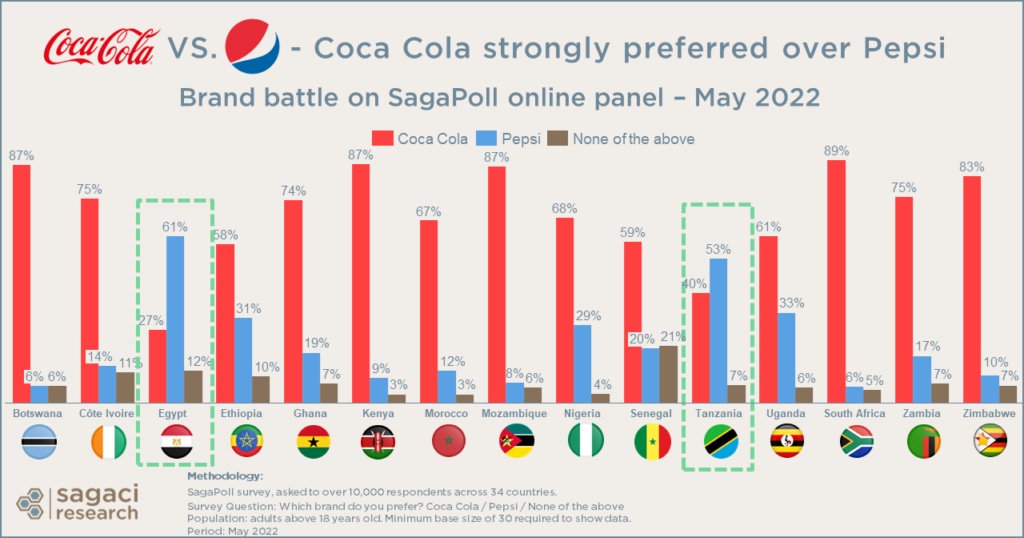 Why is Coca Cola the preferred CSD brand in Africa?
When asked to explain their preference for one CSD over the other, the most compelling reason for panelists is Taste (for 78% of respondents). The second most important factor is consistently Availability (in 35% of responses). This is the case across all surveyed markets, from Botswana, to Ethiopia, Mozambique or Ghana.
In Kenya, Coca Cola has an even more important leadership position than in other countries. It is preferred by 87% of respondents while only 9% lean towards Pepsi. In the East African country, taste represents 80% of responses. A strikingly high 53% prefer one brand (likely Coca Cola) because of availability issues. Could this be hiding some distribution issues for Pepsi? Monitoring the brand across retail channels would certainly be a useful exercise to identify potential gaps leading to this result.
More here on SagaTracker, Retail audits and Brand performance
CSD market in Africa: which are the outlier countries? 
Only two countries behave differently in this CSD brand battle and it is Tanzania and Egypt. Indeed, a majority of respondents from the online panel in Tanzania (53%) prefer Pepsi while only 40% selected Coca Cola as their preferred brand. In Egypt, Pepsi is in an even stronger position with 61% of panel members preferring it to its rival Coca Cola.
Read also Top 10 Carbonated Soft Drinks brands in Egypt
Tanzania is particular in the sense that it hosts several strong local brands that are eating into retail volume share from imported brands. Tax changes introduced by the government have helped support local brands such as Mo from conglomerate MeTL, or Azam from Bakhresa Group. These local companies have not only been able to disrupt the traditional domination of international brands, but they seem to have also changed the power dynamic between the key players as we are seeing here.
Benefits from online panels across the African continent
These results come from SagaPoll, the African online survey app. Such a tool allows us to research market trends across 34 countries, have thousands of respondents in a highly engaged online panel, as well as detailed answers to your questions – with results available in a few days.
More details about our online panels here and more specifically for countries like Ghana, Uganda and Mali.
Finally, if you would like to know more about leveraging online panels for your market research needs in Africa or how to research market trends, please send an email to contact@sagaciresearch.com or click below.
Methodology
SagaPoll survey asked to over 10,000 respondents across 34 countries leveraging our online panels in countries such as: Angola, Benin, Burkina Faso, Botswana, Cameroon, Côte d'Ivoire, Burundi, Democratic Republic of Congo, Congo Brazzaville, Egypt, Ethiopia, Gabon, Ghana, Guinea, Kenya, Morocco, Mali, Mozambique, Nigeria, Rwanda, Senegal, Togo, Tanzania, Uganda, South Africa, Zambia, Zimbabwe, etc.
Survey Questions: No sitting on the fence for this question! Which brand do you prefer buying? Coca Cola / Pepsi / None of the above. Why do you have this preference? Taste, Availability, Price, Other, Don't know
Population: adults above 18 years old. Minimum base size of 30 per county required to show data.
Period: May 2022
* Data from SagaCube, the consumption habits in Africa tool