13/09/2023
Posted by:

Janick Pettit

Categories:

Botswana, Cameroon, Consumer Goods / FMCG, DR Congo, Egypt, Ethiopia, Kenya, Mali, Morocco, Nigeria, Online Panels, Retail, SagaBrand, SagaCube, Senegal, South Africa, Supermarkets, Tanzania, Uganda, Zambia, Zimbabwe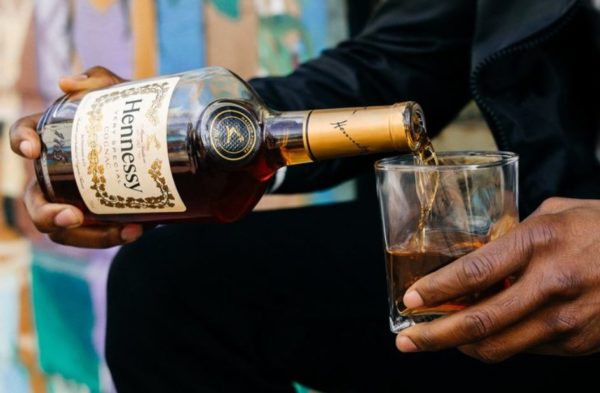 Sagaci Research released their September 2023 report into the Cognac and Brandy market in Africa. These results are based on data collection from more than 100,000 consumers over the last 18 months via the SagaPoll mobile app. Using data generated by online research tools SagaBrand and SagaCube, this report highlights consumption differences across the continent. It also explores top brands by market and dives into the profile of Cognac consumers.
Regional variations across the Cognac and Brandy market in Africa
Across the African continent, Brandy and Cognac spirits are currently consumed by only 4% of the population. This is one of the spirits least consumed in Africa compared to 11% penetration for Gin, 13% for Vodka and 16% for Whisky. Yet, this is a growing category and Africa is home to one of the most promising emerging markets globally…So let's dig in and explore the African Cognac consumption!
First of all, Cognac, which is distilled brandy, originates in France. Yet, the European country consumes very little at home and exports almost all of its production. Interestingly data shows that French-speaking African countries consume the least Cognac and Brandy in Africa. For example, less than 3% of the adult population in Côte d'Ivoire, Cameroon, Burkina Faso or Benin have consumed the spirit in the last 12 months.
Consumption on the continent is in fact driven by English-speaking markets. Kenya comes first with 11% penetration, followed by South Africa (10%), Zambia and Nigeria both at 7%.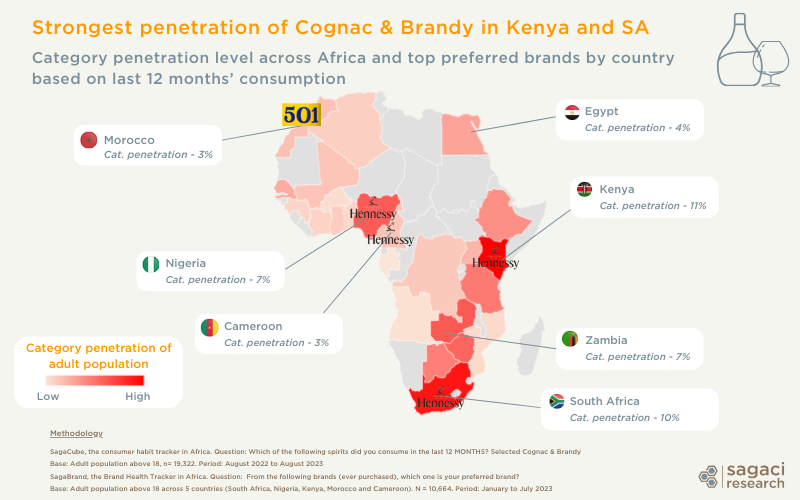 Top Cognac brands in Africa
When it comes to consumer preferences for Cognac and Brandy brands in Africa, French owned Hennessy (owned by Moët Hennessy in turn owned by LVMH and Diageo) comes out as the favourite brand across all markets surveyed on the continent. It has an overall Preference rating of 77%, well ahead of its main international competitors. The French brand Remy Martin (owned by Rémy Cointreau) comes in 3rd place at 40% and Martell (owned by Pernod Ricard) in 6th place at 28%. Another French brand Courvoisier (owned by Beam Suntory / Suntory) makes the ranking. Other brands include South African brandies Viceroy, Klipdrift (owned by Distell recently acquired by Heineken), and KWV.
Hennessy holds such a leading position in the Cognac and Brandy market that its direct competitors are in fact other premium spirit brands rather than Cognac brands.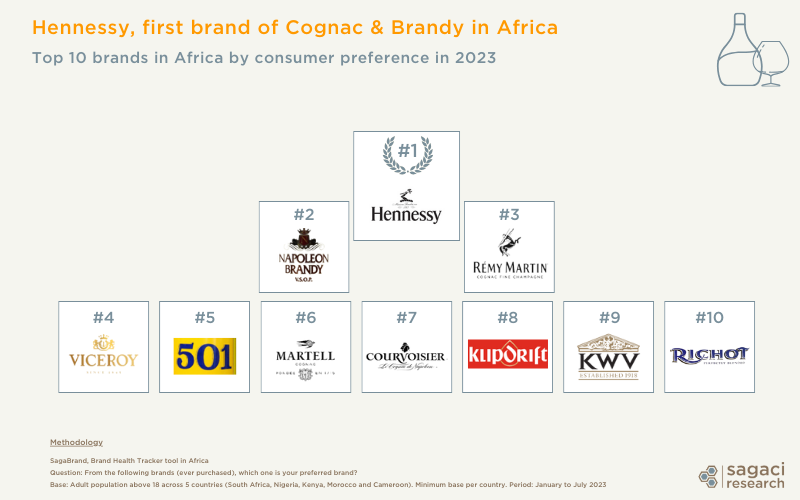 Hennessy consumer in Africa: family oriented and ambitious
Combined with SagaBrand, the Brand Health Tracker tool, SagaCube can easily shed light on the behaviour of consumers of certain brands. For example it will explore what they think, what they value, and so on. In this case, we find that Hennessy drinkers across the main markets strongly value their family (90% consider it is the most important thing in their life). They are also not into big nights out. Yet, a majority of them enjoy being on the go (77%). Generally they consider themselves to be very ambitious (89%), they like to challenge and push themselves (96%).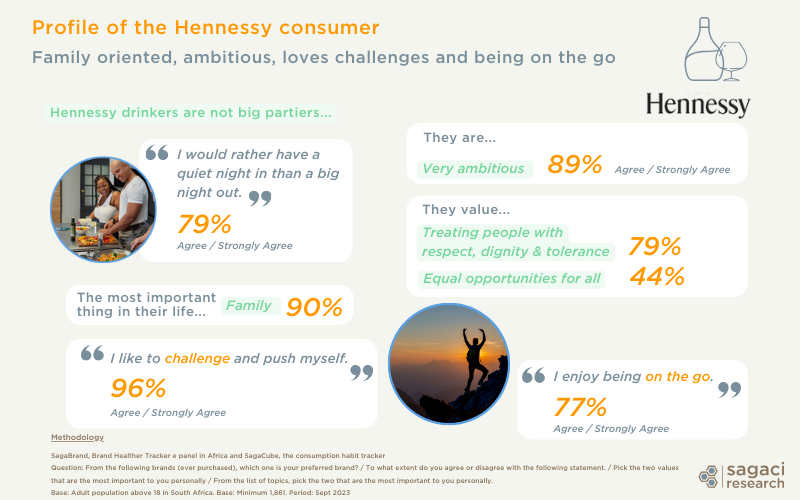 Zoom on Cognac and Brandy market in South Africa
South Africa is considered by the Cognac industry to be an emerging market with significant weight outside its traditional markets1. So let's take a closer look. South Africa is the world's fifth largest cognac market2. Consumption in South Africa may be partly influenced by its strong wine and spirits culture. Brandy has been introduced in the country as early as the 17th century. But who is the South African Cognac consumer?
Who is the Cognac and Brandy consumer in South Africa?
While across the continent consumption is slightly more skewed towards women (21% vs. 17%), findings show that South African men are 56% more likely to have consumed Cognac than women in the past year. We also see that older and wealthier populations are a lot more likely to consume the spirit. Indeed, consumption of the spirit goes from 32% among the 18 to 25 years old to 46% among the 46 to 55 years old age group. Unlike other spirits such as vodka or tequila, consumption of which declines with age. It is also a spirit that is most often enjoyed at home (37%) hanging out with friends (46%) or relaxing (43%).
Further results from our online panel in South Africa show that the Cognac consumers in South Africa are more likely to consume Energy Drinks (81% vs 46% for the general SA population). They are also more likely to have taken vitamins recently as part of a healthy diet. Leveraging SagaCube, the category consumption and consumer profiling tool, we find that Cognac and Brandy consumers will be more sensitive to associations with certain celebrities. We find that entrepreneur Elon Musk, South African comedian Trevor Noah or the local soccer league Kaizer Chiefs are some of their favourites. Exploring such aspects can prove particularly relevant during the development of local marketing strategies and brand collaborations for spirit brands in Africa.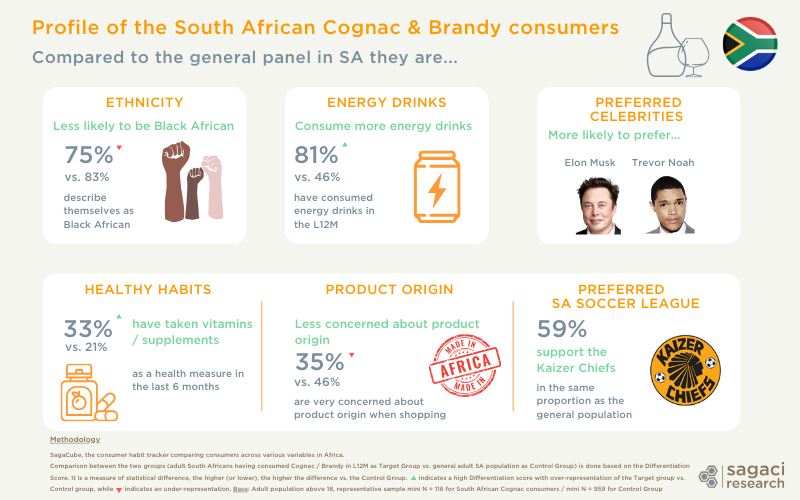 For more details on these Cognac and Brandy market research findings or general insights on the African spirits industry, reach out to us via contact@sagaciresearch.com or via the link below.
Methodology
These results come from the SagaCube and SagaBrand databases published by Sagaci Research. The only ones of their kind dedicated to the African continent, they provide detailed data on consumer habits and brand performance across the continent. The data tracks over 2,000 brands as well as allows for comparisons of consumption patterns between countries or product categories, with over 140 categories available.
Questions:
Which of the following spirits did you consume in the last 12 MONTHS? Selected Brandy & Cognac
From the following brands (ever purchased), which one is your preferred brand?
To what extent do you agree or disagree with the following statement: "I would rather have a quiet night in than a big night out." / "I like to challenge and push myself" / "I enjoy being on the go."
Among the list of topics, pick the two that are the most important to you personally.
Among the list of values, pick the two that are the most important to you personally.
Where do you drink spirits most often?
On which occasions do you ever drink spirits?
Population: adults above 18 years old in selected countries.
Base: Minimum sample size for each country / target group. Period: May 2022 to Aug 2023 depending on the questions
---
1 https://www.cognac.fr/en/discover/cognac-markets/
2 BNIC press release, June 2023 – (National Interprofessional Bureau of Cognac)
Featured image: @Hennessy