25/05/2022
Posted by:

Janick Pettit

Categories:

Consumer Goods / FMCG, Egypt, Non-alcoholic beverages, Online Panels, SagaBrand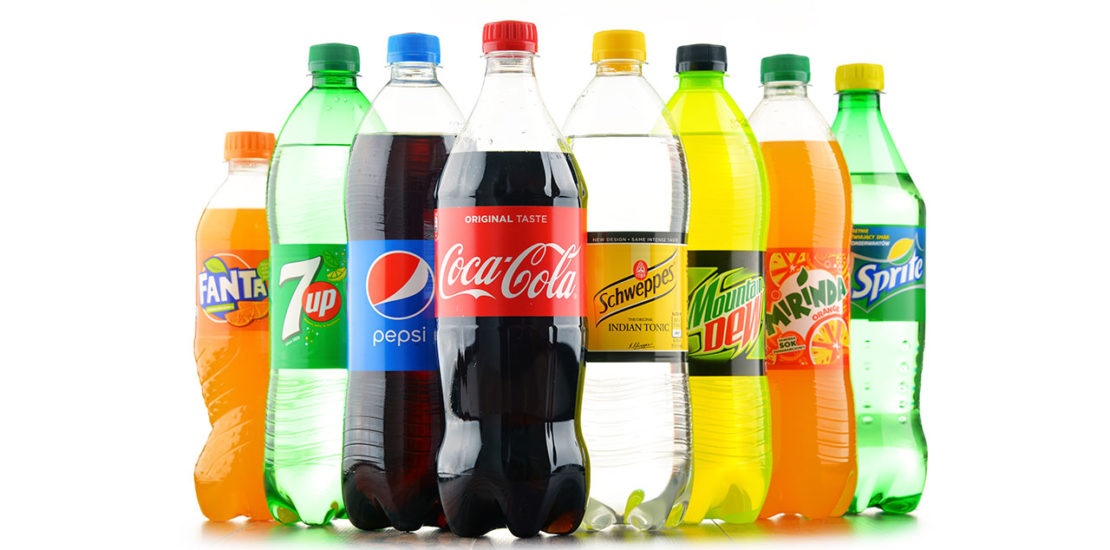 In this article we look at the Top 10 Carbonated Soft Drinks (CSD) brands in Egypt as per the results of SagaBrand, our Brand Health Tracker in Egypt. Almost half of the population in Egypt drink CSDs (behind tea at 65% and coffee at 56%)*, with consumers generally asking for more healthy and sustainable products. In this context, which CSD brands are performing best in terms of customer satisfaction in Egypt?
Read also Financial Product brands in Egypt – Customer Satisfaction
Brand satisfaction in Egypt
The Top 10 ranking of Carbonated Soft Drink brands in Egypt becomes the scene for the long running battle between historical competitors Pepsico and Coca Cola Company. Indeed, 8 out of Top 10 brands are manufactured by the two companies. Each company manages to place four brands each in the list.
Coca Cola Company leads the Top 10 with Schweppes coming first as the brand CSD consumers in Egypt are the most satisfied with. However, among the two flagship brands, Pepsi is much higher in the ranking (2nd) compared to Coca Cola coming only in 8th position. In fact, Pepsico brands come 2nd, 3rd and 4th of the ranking – respectively Pepsi, 7Up and Mountain Dew. Mirinda, also a Pepsico brand, ends up in 7th spot. Comparatively, Coca Cola brands – Sprite, Coca Cola and Fanta – make 6th, 8th and 9th. Interestingly, less known Freez Mix (from Lebanese Kassatly Chtaura) makes its way in 5th position for customer satisfaction. It comes ahead of brands with significantly higher brand awareness. Could the brand chosen image of lower calories, low sugar be striking a chord with increasingly health conscious consumers?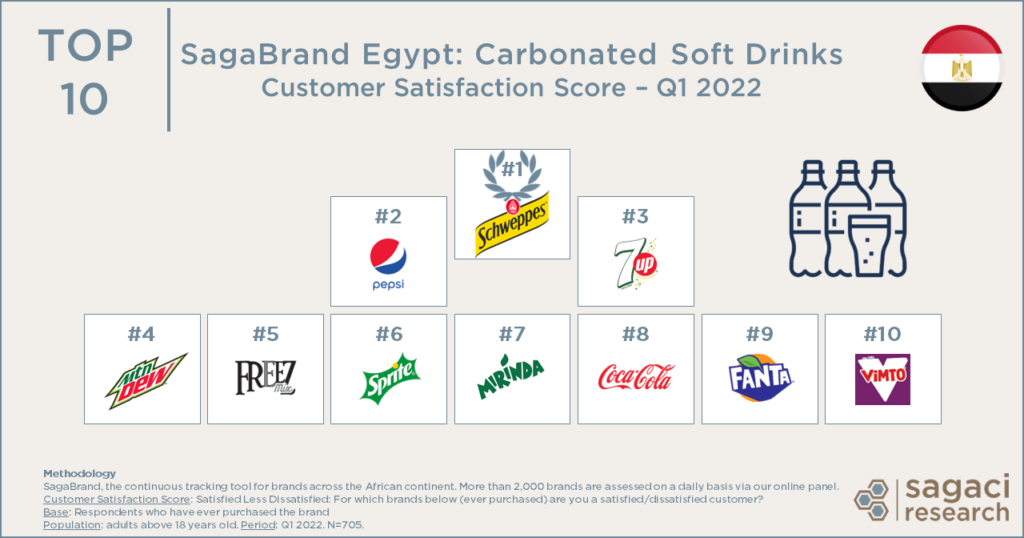 Finally, Vimto closes the list with what could be a confusion from consumers. Indeed, the CSD Vimto is in fact not so present in Egypt. However the still cordial version is quite popular during Ramadan (that coincides with the time when the survey was conducted).
Top 10 ranking of Carbonated Soft Drinks brands in Egypt
Here is the ranking based on customer satisfaction for CSD brands from our SagaBrand survey in Q1 2022.
Schweppes (Coca Cola Company)
Pepsi (Pepsico)
7Up (Pepsico)
Mountain Dew (Pepsico)
Freez Mix (Kassatly Chtaura)
Sprite (Coca Cola Company)
Mirinda (Pepsico)
Coca Cola (Coca Cola Company)
Fanta (Coca Cola Company)
Vimto
Read also: Galaxy, KitKat and Cadbury rank within the top 3 for chocolate confectionery in Egypt
Brand Health Tracker in Egypt
In a nutshell, a monthly Brand Health Tracker in Egypt keeps you informed and up-to-date with the performance of your brand, but also your competitors, as well as the overall trends in the market. Brands can use the data from SagaBrand to understand which demographic profiles are most satisfied with their brand or least likely to consider it and thus focus upcoming marketing efforts towards these groups.
Interested to know more?
At Sagaci Research, we offer a syndicated solution tracking data points for 16 KPIs per category. Read more about SagaBrand here.
SagaBrand has the potential to track consumers' attitudes towards a vast range of products including FMCGs, appliances & technology and services in Egypt and across all of Africa. To discuss your needs related to your brand performance in Egypt, find out how we conduct market research in Egypt or learn about our online panel in Egypt, contact us at sagabrand@sagaciresearch.com or click below.
Methodology
SagaBrand, the continuous tracking tool for brands across the African continent. Our online panel assesses around 2,000 brands on a daily basis.
Satisfaction: For which brands below are you a SATISFIED customer? (base: respondents who have ever purchased the brand)
Population: Adults above 18 years old
Period: Q1 2022
*according to SagaCube, a report assessing household consumption and equipment ownership across Africa.
© Cover Photo by Freez Mix