29/06/2022
Posted by:

Janick Pettit

Categories:

Benin, Cameroon, Cote d'Ivoire, Financial Services, Gabon, Ivory Coast, Kenya, Mozambique, Nigeria, SagaBrand, Senegal, Tanzania, Uganda, Zambia, Zimbabwe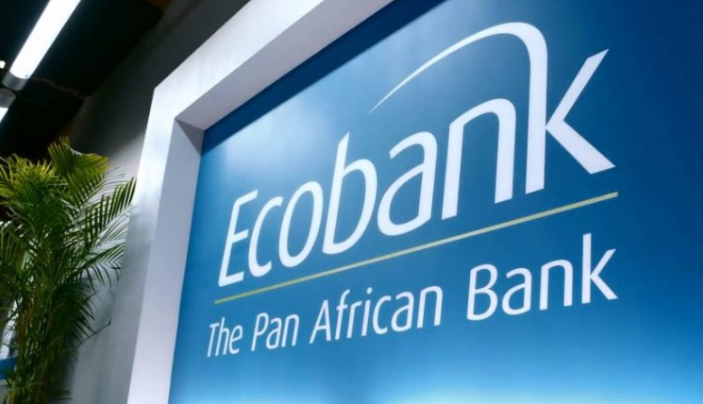 Recently, Ecobank leaders shared that the Togo-based bank is positioned in the top 3 banks in Africa in 15 countries (out of the 33 African countries they operate in). This was the opportunity for us to check actual numbers leveraging our continuous Brand Health Tracker in Africa, SagaBrand. We looked more specifically at one of the 16 brand performance KPIs we track on a monthly basis: brand quality perception. We surveyed our online research panel in May 2022 in 13 of the countries where Ecobank is present, leveraging our online panel in Benin, Senegal, Tanzania, Zambia or Gabon among others.
It turns out the results are a bit more contrasted than it would seem, at least based on the specific KPI and geographies considered in this article. To note that these might not necessarily be the same criteria used by Ecobank (those were not specified in the source article).
Ecobank, in the Top 3 banks in several Francophone Africa markets
To the question about which brand panelists are aware of represents good quality in the bank category, Ecobank performs really well in its stronghold of the Francophone markets. Indeed,the bank comes first in both Senegal and Guinea in terms of quality perceived. In Senegal, Ecobank is ahead of Banque Islamique du Sénégal, CBAO (from Moroccan Attijariwafa Bank), Société Générale and Bank of Africa. In Guinea, Ecobank leads in front UBA, Société Générale, Banque Islamique de Guinée and Orabank.
Ecobank takes 2nd place in Quality ranking in Côte d'Ivoire (ahead of Société Générale) and 3rd place in Benin. It is not far from the Top 3 in Cameroon and Gabon where it ranks in 4th position.
You can read more on this topic here:
Is Ecobank also one of the best banks in Africa in non–francophone countries?
Consumers in Anglophone and Lusophone markets don't have such a high perception of the bank when it comes to Quality. In fact, Ecobank has a Quality score ranging only between 21% and 34% in these countries. In contrast, the bank scores between 48% and 80% (Benin) in Quality in Francophone markets.
Below Ecobank actual ranking for May 2022 in non-Francophone markets: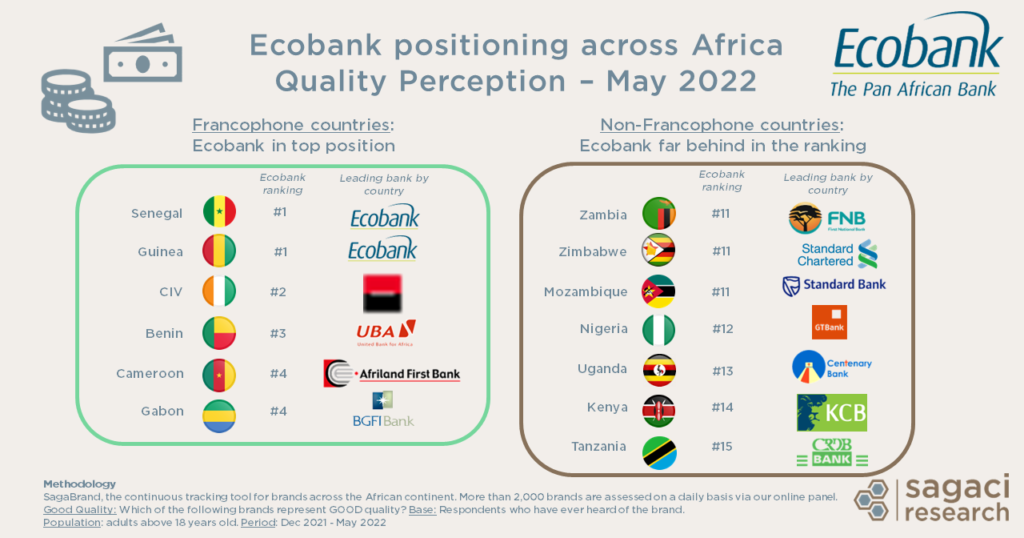 Finally, for the complete ranking of banks across the 13 countries surveyed, please click below.
More information on Financial Services here:
Interested in brand health tracking in Africa?
At Sagaci Research, we specialise in providing a range of custom and off-the-shelf research tools for the African continent. Our Brand Health Tracker tool SagaBrand monitors 16 essential KPIs for over 2,000 brands across dozens of countries in Africa.
For example, find here more information on the online panel in Uganda that allows us to capture Uganda consumer feedback on a large variety of topics, including brand health. Finally, if you would like to know more about SagaBrand or how we can help you to do market research online in Africa, please send an email to contact@sagaciresearch.com or click below.
Methodology
SagaBrand, the continuous tracking tool for brands across the African continent. Our online panel assesses around 2,000 brands on a daily basis.
Good Quality KPI: Which of the following brands represent GOOD quality?
Base: Respondents who have heard of the brand.
Population: adults above 18 years old. Period: May 2022