23/06/2022
Posted by:

Janick Pettit

Categories:

Financial Services, SagaBrand, Zimbabwe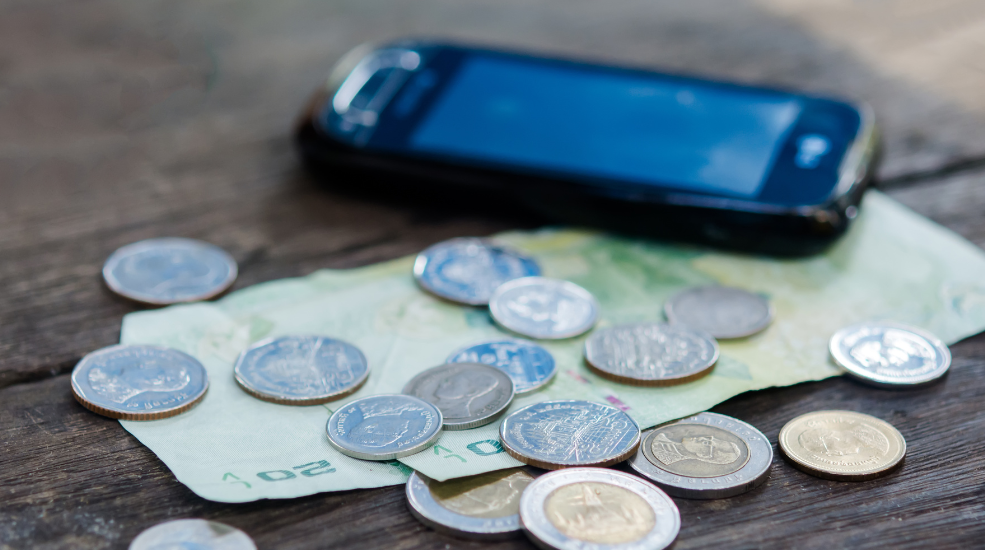 In this article we look at the best banks in Zimbabwe in terms of customer satisfaction based on our monthly Brand Health Tracker SagaBrand survey from April 2022.
In recent years, the financial sector in Zimbabwe, as well as across the African continent, has experienced some significant changes. Indeed, the Covid-19 crisis accelerated the shift of the banking industry towards a new model. For example, it has seen the rise of mobile money and an increased digitalisation drive to reduce costs and improve the customer experience. Branches have closed and as a result customers interact now in a different way with their financial service providers. So which banks in Zimbabwe are the most successful in keeping their clients happy?
To answer this, we recently surveyed our online panel in Zimbabwe. We asked them, among the banks they have ever used, for which ones they consider themselves a satisfied or dissatisfied customer.
Ranking of the best banks in Zimbabwe
Here is the ranking of the best banks in Zimbabwe based on customer satisfaction: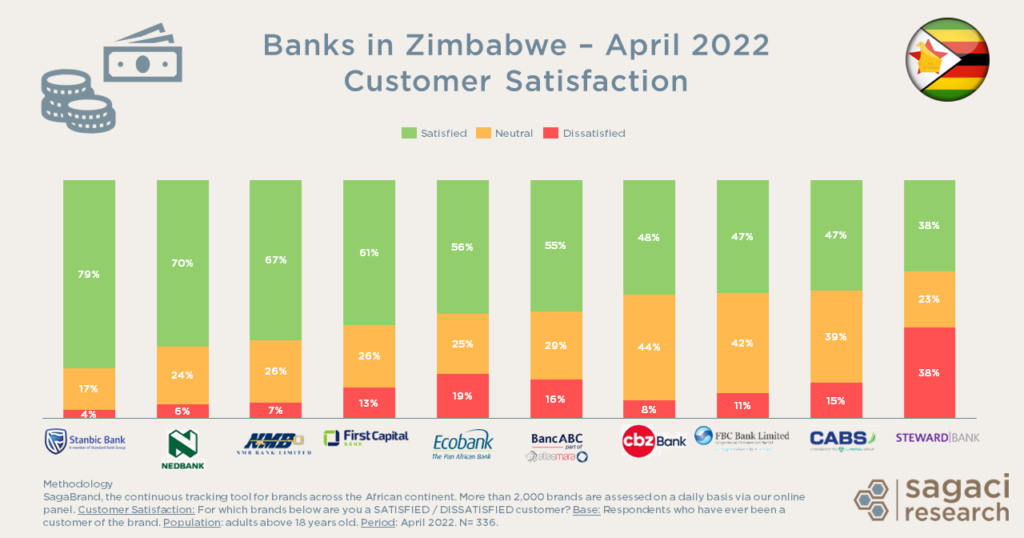 Stanbic Bank, the best bank in Zimbabwe from a customer satisfaction point of view
So this survey shows that Stanbic Bank is the clear winner of the Top banks ranking in Zimbabwe. The South African owned bank not only has the highest customer satisfaction level of all banks (79%), but it also has the lowest % of dissatisfied customers with only 4%. Nedbank and NMB follow suite at respectively 70% and 67% of satisfied customers. Togo-based Ecobank comes 5th at 56% satisfaction and a concerning 19% in terms of dissatisfaction. This is one of the highest % of dissatisfied customers among the top rated banks in Zimbabwe. Some reason for concerns as well for Steward Bank. Indeed, over a third of his customers declare being dissatisfied with the bank.
Read more on this topic:
Interested in brand health tracking in Africa?
At Sagaci Research, we specialise in providing a range of custom and off-the-shelf research tools, only for the African continent. Our Brand Health Tracker tool SagaBrand monitors 16 essential KPIs for over 2,000 brands across dozens of countries in Africa.
For example, find here more information on the online panel in Zimbabwe. It allows us to capture Zimbabwe consumer feedback on a large variety of topics, including brand health. Finally, if you would like to know more about SagaBrand or how to research market trends in Africa, go ahead and email us at contact@sagaciresearch.com or click below.
Methodology
SagaBrand, the continuous tracking tool for brands across the African continent. Our online panel assesses around 2,000 brands on a daily basis.
Customer Satisfaction: For which brands below are you a SATISFIED or DISSATISFIED customer?
Base: Respondents who have ever been a customer of the brand. N = 336
Population: adults above 18 years old
Period: April 2022