18/11/2022
Posted by:

Youstina Mohsen

Categories:

Egypt, Foodservice, Ghana, Kenya, Morocco, Nigeria, Online Panels, SagaBrand, South Africa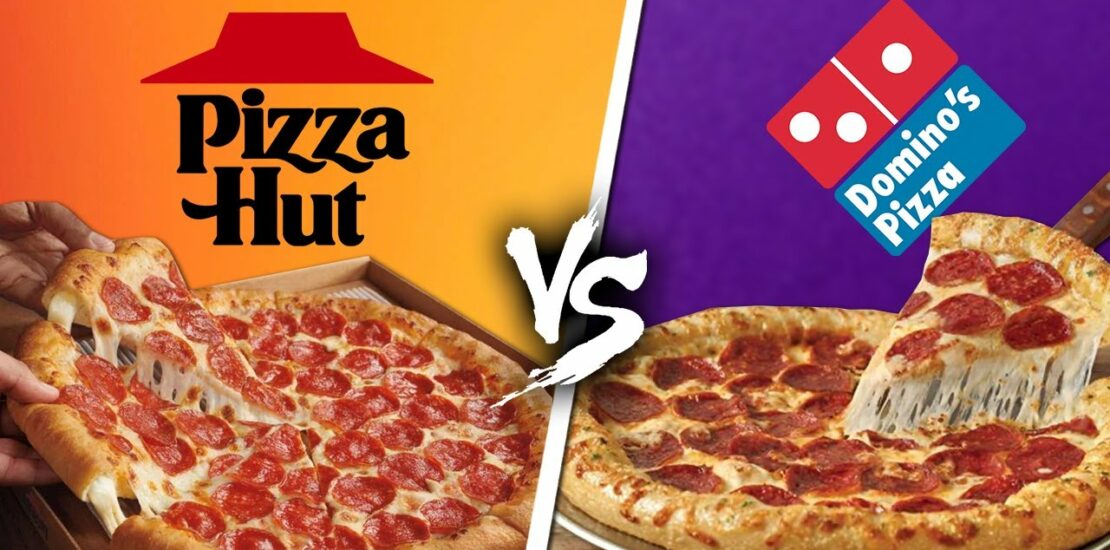 Pizza Hut vs Domino's Pizza, an interesting battle to watch as both brands have dominated the global pizza market for many years. They each operate about 18,000 stores worldwide including some on the African continent. In this context of fierce competition, we asked our pan-African online research panel SagaPoll which of the two chains they prefer. So which brand is Africa's favourite pizza?
Read on to find out the results from our panel about the pizza market in Africa.
Pizza Hut vs Domino's, the pizza battle in Africa
When it comes to the preferred pizza brand in Africa, Pizza Hut is the clear winner overall: 66% of panellists told us they prefer the Yum! Brands company while 44% favour Domino's. Some interesting nuances emerge in terms of demographics. For example, men show a stronger preference for Domino's (37%) compared to women (31%). Younger consumers also seem to be more attracted to Domino's than the older population. Conversely Pizza Hut performs better with women and older age groups.
This Pizza Hut lead is consistent across all surveyed countries where both brands operate, with one exception.
Read also Nigeria's best quality food services
Africa's favourite pizza, with an exception
Pizza Hut leads in the five of the six countries where both brands are active (Egypt, Ghana, Kenya, Morocco and South Africa). The exception is Nigeria where Domino's is strongly ahead in the poll with 74% preference vs. only 26% for Pizza Hut. Domino's is especially strong within the Middle Class income groups (between 250 USD to 1,000 USD monthly income). What could explain this specificity of the Nigerian market? Among the possible assumptions could be:
Domino's Pizza's combination of global and regional flavours may have helped to increase the demand for the brand. While international flavours make up 70% of the company's pizza selections, the company localized its pizza menu by 30% (for example they offer West African Jollof rice as a pizza topping).
Also, Domino's pricing is another factor that likely has an influence on its customers. While continuing to offer premium prices like other pizza makers, the company could have increased its market share by reducing its prices against competition.
Some might say that Domino's customer feedback management by keeping track of complaints, contacting dissatisfied customers, etc is likely positively raising the company's image.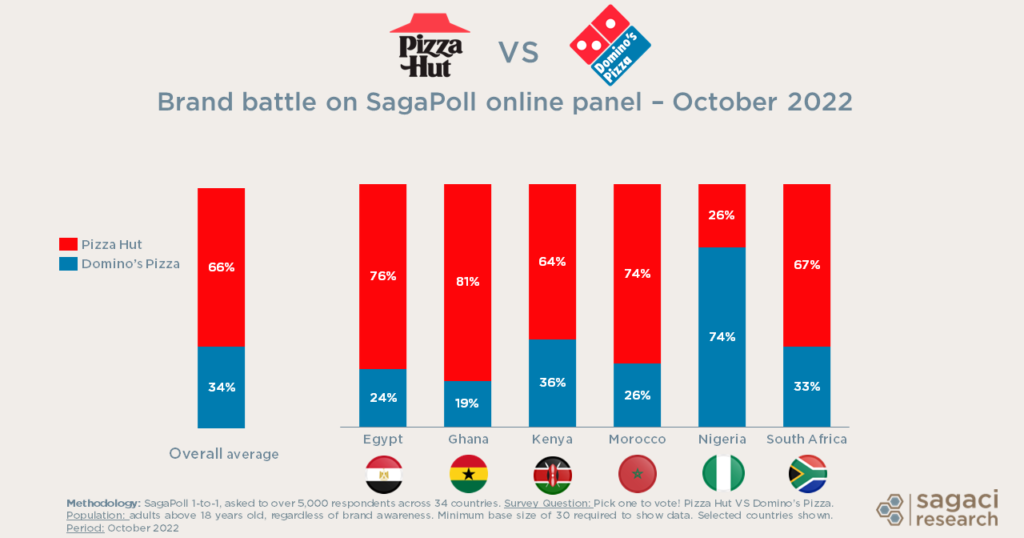 On a related topic you could also be interested by Foodservice brands in Morocco, where consumers are hard to impress
Benefits from online panels across the African continent
These results come from SagaPoll, the African online survey app. Such a tool allows us to research market trends across 34 countries, have thousands of respondents in a highly engaged online panel, as well as detailed answers to your questions – with results available in a few days.
Finally, if you would like to know more about leveraging online panels for your market research needs in Africa or how to do market research online, please send an email to contact@sagaciresearch.com or click below.
Methodology
SagaPoll 1-to-1: asked to over 5,000 respondents across 34 countries leveraging our online panels in countries such as: Angola, Benin, Burkina Faso, Botswana, Cameroon, Côte d'Ivoire, Burundi, Democratic Republic of Congo, Congo Brazzaville, Egypt, Ethiopia, Gabon, Ghana, Guinea, Kenya, Morocco, Mali, Mozambique, Nigeria, Rwanda, Senegal, Togo, Tanzania, Uganda, South Africa, Zambia, Zimbabwe, etc.
Question: Pick one to vote: Pizza Hut Vs Domino's
Population: adults above 18 years old, regardless of brand awareness. Minimum base size of 30 per county required to show data.
Period: October 2022.
Photo credit: @HJF