05/01/2023
Posted by:

Caitlin Beck

Categories:

Algeria, Angola, Benin, Burkina Faso, Cameroon, Congo, Cote d'Ivoire, DR Congo, Egypt, Ethiopia, Gabon, Ghana, Guinea, Kenya, Mali, Morocco, Mozambique, Nigeria, Online Panels, Rwanda, SagaBrand, Senegal, Social media and communication, South Africa, Swaziland, Tanzania, Togo, Uganda, Zambia, Zimbabwe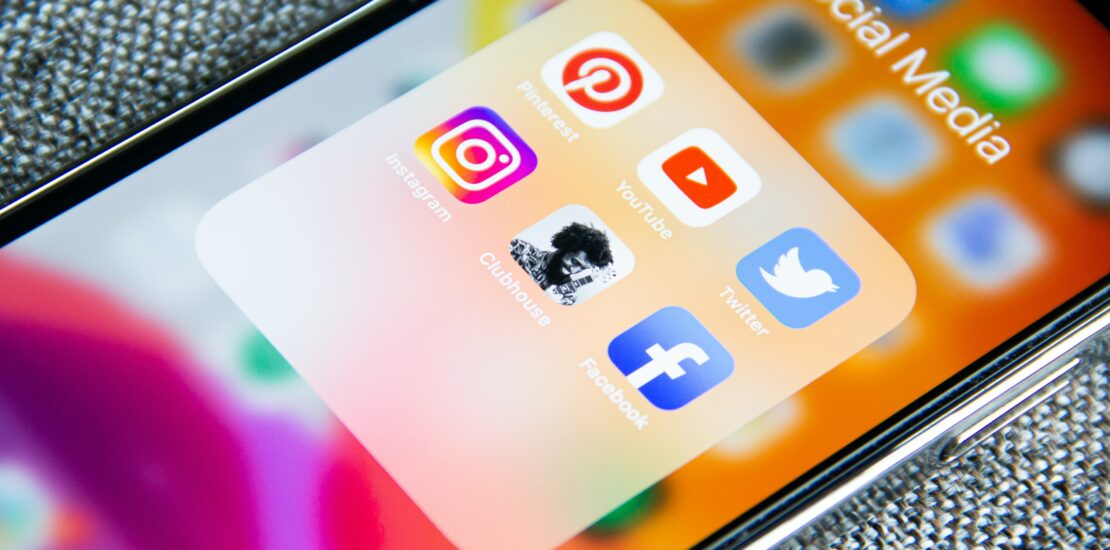 Our 2022 SagaBrand surveys revealed that Whatsapp is the preferred social media and communication app in 25 out of 27 African countries. Ethiopia and Algeria have unique preferences which we explore more below.
Preferred social media apps in Africa
Over 6,700 respondents, aged 18 to 25, shared their views about social media and communication platforms. Regular tracking of social media usage and attitudes can help you better understand your audience, to focus your digital marketing efforts as you enter the new year.
Across the continent, the top 3 preferred social media and communication platforms were:
Whatsapp (25 out of 27 countries including Kenya, Nigeria, South Africa, Morocco, Cameroon…)
Telegram (Ethiopia)
Instagram (Algeria)
You may also be interested by: Beauty Report in Africa – differing priorities and trends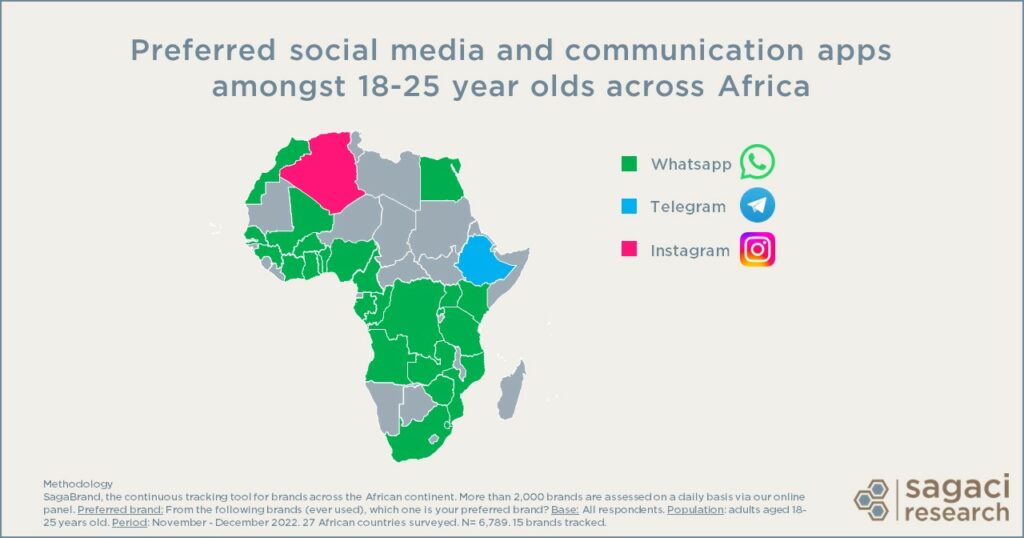 What makes Telegram such a success in Ethiopia?
Three out of four Gen-Z Telegram users in Ethiopia are satisfied with the brand and 79% would recommend it to a friend. In comparison, only 12% of Whatsapp users reported being satisfied. Whilst over half of Whatsapp users remained neutral, a significant 29% expressed dissatisfaction – noticeably higher than the 3% dissatisfied with its messaging rival, Telegram.
So who does Gen-Z refer to, and why do they matter? Generation Z adults are currently aged 18-25 years old. They are the latest generation of consumers and some of the most connected.
Learn the why behind the preferred social media and communication apps
SagaBrand allows brands to monitor customer satisfaction and preferences over time. Notice a consistently low satisfaction score? See a sudden spike in dissatisfaction? With our online panels, it is possible to run a flash survey to get specific insights into the reasons behind customer satisfaction, including:
Data usage
App features
Digital finance and cryptocurrency
Data privacy
TikTok also performed well in Ethiopia – coming a close second behind Telegram for both preference and satisfaction.
However, restricted internet access and reported monitoring of social media in the country, may be a reason for the generally lower awareness and usage of other social networking sites like Instagram, in comparison to other African nations.
Youth favour Instagram in Algeria
Whilst only 47% of young adults in our Ethiopian panel had ever used Instagram, in Algeria, this rose to 65%, above both Facebook and TikTok. Instagram was also the number 1 preferred brand of the 18 to 25 year olds.
However, amongst over 25 year olds, Facebook was a clear winner as preferred brand. Knowing which social media and communication platforms your consumers use can be a huge advantage when it comes to targeting ads and marketing your products.
Understand your consumer:
Who is the Colgate toothpaste user in Kenya?
Who is the Yogurt consumer in Nigeria?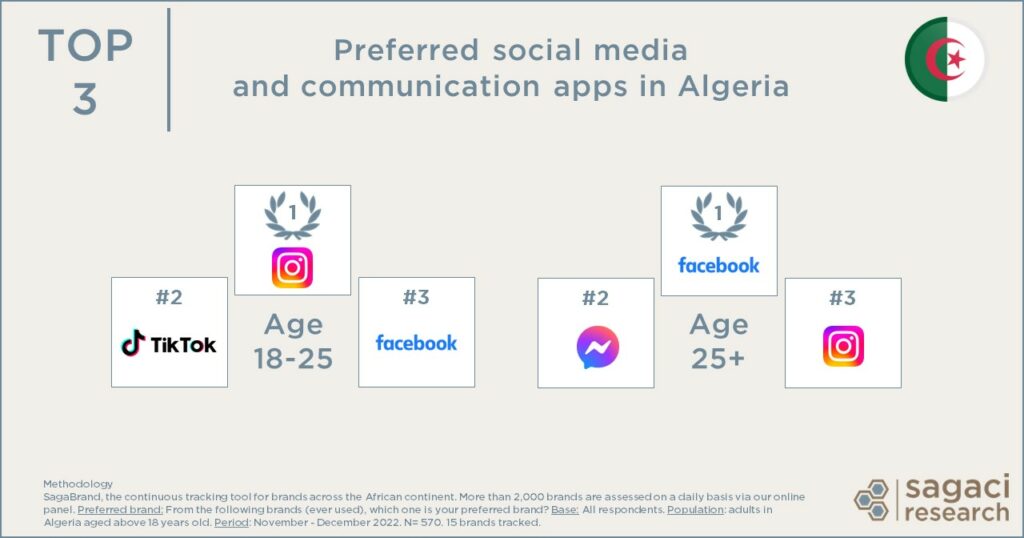 Interested in brand health tracking in Africa?
One of the best ways to do market research and specifically to get fast and reliable data on your brand in Africa, is by leveraging SagaBrand, our continuous Brand Health Tracker tool. SagaBrand is a monthly tracker that monitors 16 essential KPIs for over 2,000 brands across dozens of countries in Africa.
Beyond those essential KPIs our online panel can also be useful to dig deeper and explore specific reasons behind some SagaBrand results. You can get results at a granular level, by demographics, to better understand who exactly is driving your KPIs and rooting (or not!) for your brand. If you would like to know more about SagaBrand, Flash surveys or our SagaPoll online panel, please send an email to contact@sagaciresearch.com or click below.
Methodology
SagaBrand, the continuous tracking tool for brands across the African continent. Our online panel assesses around 2,000 brands on a daily basis.
Preferred brand: From the following brands (ever used), which one is your preferred brand? Base: All respondents.
Satisfaction: For which of the following brands (ever used) are you a satisfied user? Base: Respondents who have ever used the app.
Population: Adults above 18 years old.
Period: November to December 2022.