21/09/2022
Posted by:

Caitlin Beck

Categories:

Angola, Beauty & Personal Care, Benin, Cameroon, Cote d'Ivoire, Egypt, Ghana, Ivory Coast, Kenya, Mozambique, Nigeria, Online Panels, Senegal, South Africa, Tanzania, Togo, Uganda, Zambia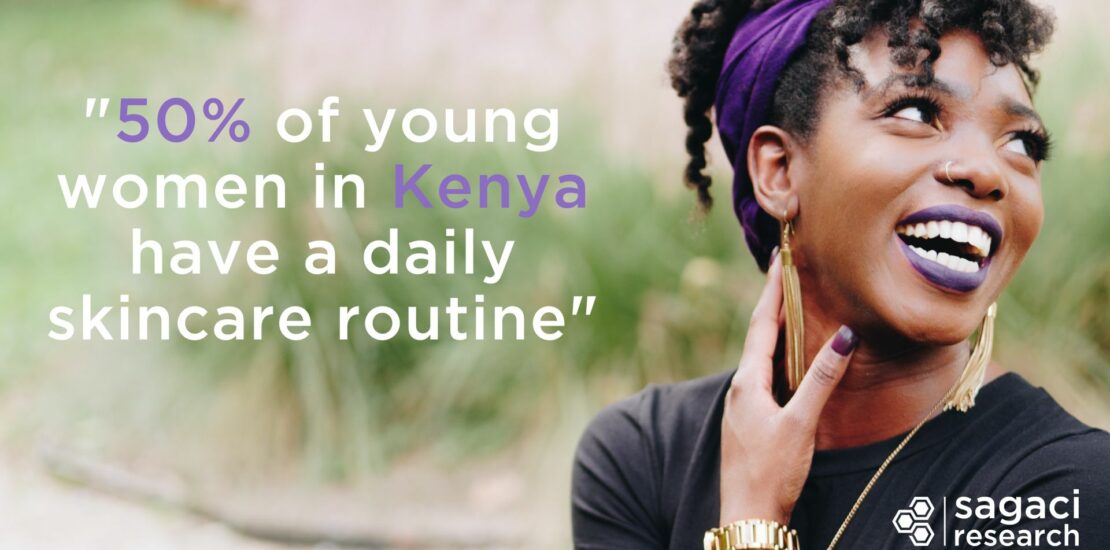 We recently leveraged our African online research panel to understand more about the beauty market in Africa, focusing on beauty attitudes and priorities, particularly amongst young females. Read on to discover in which countries looking good is of the most importance. In addition, learn which brands come first to mind in relation to advertising across digital and traditional channels.
Top countries in Africa that prioritised beauty the most
96% of young women, aged 18-25, surveyed in Nigeria believe it is important that they look good in public. Over 60% said they spend a lot of time and money to look good, however, only 59% considered themselves to have a regular daily skincare routine.
In comparison, young women in Senegal are the most likely to follow a daily skincare routine (64%), whereas only 30% of our panel of ladies in Benin have a daily routine. Interestingly though, women in Senegal are the least likely to place importance on looking good in public.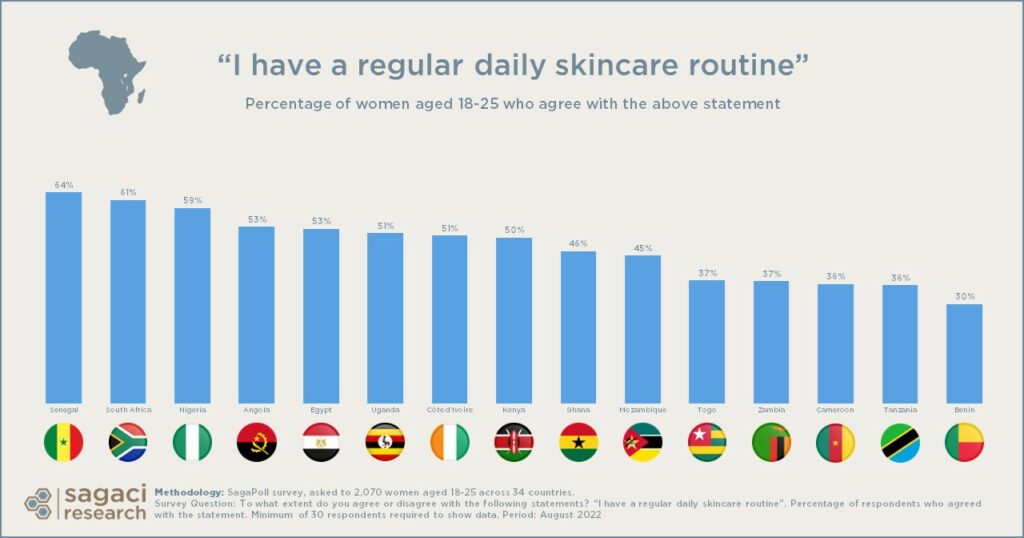 Beauty also seems less of a priority to young women in Benin, with a total Beauty Priority Score of just 43%. Nigerians appear to place the most emphasis on beauty and looks, with a score of 74% amongst the 18-25 year respondents. Ugandans and Ghanaians came in joint second place with a score of 68%, followed by Kenyans and South Africans which both scored 66%.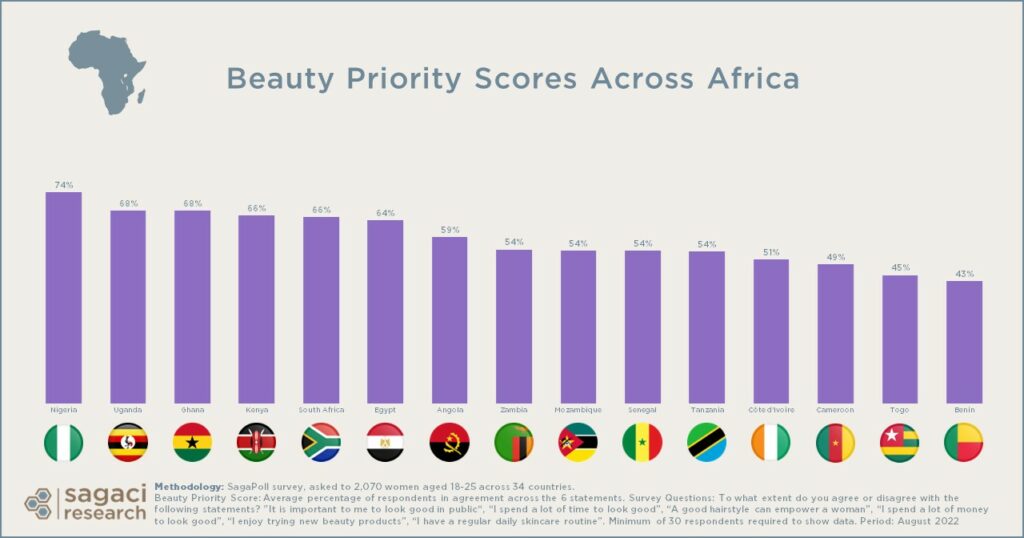 The study also found that 85% of young women across Africa believe that a good hairstyle can empower a woman. In contrast, male respondents were slightly more indecisive on the idea – although most were also in agreement.
A pantry check provides further consumer insights of beauty product brands and retailers in Africa
A custom study by Sagaci Research could further explain how these beauty attitudes translate into purchasing habits. We cover a wide range of cosmetic products, from body creams to hair relaxers and more.
For a sneak peek into body care brands in Kenya, view the results of our recent panel pantry check.
In fact, pantry check is just another way we leverage our SagaPoll online panel. With a very quick turnaround time we can take a sneak peek into consumers' homes and their consumption behaviour in Africa. In simply a matter of a few hours, we are able to collect hundreds of consumer responses. We capture product details such as brand, pack size, picture, price, etc for any FMCG category across the African continent.
Read more: Best adverts in South Africa in July 2022
Beauty industry trends in Africa: Effective advertising strategies are essential
Another benefit of the Sagaci Research panel is the ability to hear directly from consumers about the advertisements they are noticing at a particular point in time.
Effective advertising strategies are essential in promoting your brand image. Traditionally, new products may have been communicated via magazine adverts, for example. However, increasingly, brands are turning towards more digital campaigns. The use of influencers to promote products is necessary in order to adapt to the beauty industry trends. In Egypt, 61% of our panel say they have noticed social media influencers recommending beauty products. Over half of these say they have purchased a beauty product as a result of a recommendation by an influencer on TikTok or Instagram.
Top cosmetics brands in Africa – inclusivity
When it comes to advertising beauty products in Kenya, Nice & Lovely, Nivea and Garnier are some of the most popular brands to come first to mind. Our panellists mentioned "The inclusivity of all African skin tones" and "the product's ability to remove dark spots and blemishes" as reasons for Garnier's memorable ads. For L'Oréal East Africa-owned brand, Nice & Lovely, the bright colours and celebrity ambassadors like Kate Actress also caught the attention of many viewers.
In Cameroon, Carimo ads have often been seen via social media. These appear memorable due to the results the products claim to achieve. When it comes to cosmetics, beauty and personal care products in Africa, Nivea is also popular In Côte d'Ivoire. TV and social media advertisements are commonly being noticed.
Access our online research panel today to find out more about the beauty market in Africa
The above results come from SagaPoll, the African online survey app. With such a tool we can in effect research market trends in 34 countries. As a result we are able to gather thousands of respondents in a highly engaged online panel. Detailed answers to your questions are then available in just a few days.
If you would like to know more about using online panels for your market research needs in Africa, please send an email to contact@sagaciresearch.com or click below.
Methodology
This SagaPoll survey was asked to over 10,000 respondents in 34 African countries.
Survey questions: Beauty Priority Score: Average percentage of respondents in agreement across the 6 statements. To what extent do you agree or disagree with the following statements? "It is important to me to look good in public" / "I spend a lot of time to look good" / "A good hairstyle can empower a woman" / "I spend a lot of money to look good" / "I enjoy trying new beauty products" / "I have a regular daily skincare routine".
When was the last time you saw an Influencer that you follow on Social Media recommend a beauty product? / How many times did you buy beauty products because an influencer on TikTok/Instagram recommended it to their public? / Please think about the last ADVERTISEMENT you recall seeing for a BEAUTY product, either on TV, a billboard, online or any other location. Which brand was being advertised? / Where did you see this advertisement? / What was memorable about the advertisement?
Base: Over 2,000 women aged 18-25 in Africa. Minimum base size of 30 per county required to show data.
Period: August 2022
Cover Photo by Eye for Ebony on Unsplash