24/11/2022
Posted by:

Janick Pettit

Categories:

Consumer Goods / FMCG, Dairy, Nigeria, Online Panels, SagaBrand, SagaCube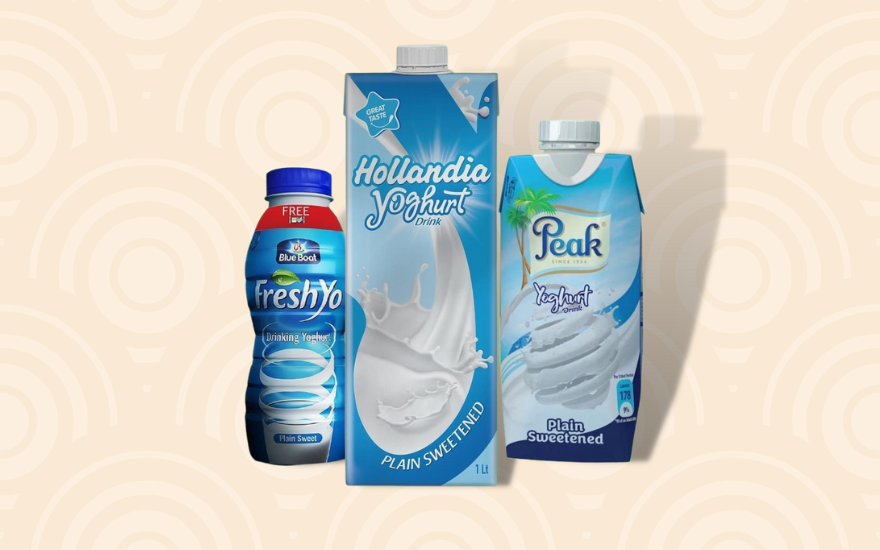 Drinking yogurt in Nigeria
Who is the Yogurt consumer in Nigeria and why is it important to find out? Because this is a booming category in the West African country and for several reasons.
Indeed, the demand for nutrient-rich beverages such as drinking yogurt is driven by rising consumer health consciousness, improving consumer living standards, and also a general push from the Nigerian government to raise awareness on the benefits of a healthy lifestyle.
Quite a few dairy companies are working towards harnessing the growth of drinking yogurts in Nigeria, some for example through innovation with the launch of new exotic flavors. We find a mix of players, some local (Viju Industries) but mostly international companies with local partnerships: Chi Limited (owned by Coca Cola, with Hollandia), Ranona (owned by Olam Group, with Fresh Yo), FrieslandCampina WAMCO (commercializing Peak brand), Danone with Fan Milk, Arla Foods, Lactalis, etc.
Bringing consumers to life
Brand managers usually have a good sense of who their target consumers are. They can tell you which demographic they most belong to, where they live, etc. However, how well do they know their consumers in terms of attitudes and behaviors? How do their consumers compare with the non-consumers? What sets them apart? This can be slightly trickier to identify, yet it is incredibly powerful because it can truly bring consumers to life. 
Leveraging the Brand Health Tracker survey SagaBrand, the consumption tool SagaCube and our online panel capabilities, Sagaci Research is able to draw the pen portrait of African consumers around relevant topics, going beyond pure demographics. Read on to find out how this can be applied to the example of the Yogurt consumer in Nigeria.
Profile of the Yogurt consumer in Nigeria
To draw a relevant profile of consumers of a specific category or brand, we look at the statistical difference between their profile vs. the profile of a control group. This is what we call the 'differentiation score'. In the case of Yogurts, we compare against the data of the general population. For consumers of a particular brand, we would check against the profile of the overall category in scope.
Looking at Yogurt consumer behavior in Nigeria, we can see some interesting features emerging. Indeed, when compared with the general population, they tend to be more represented among females, the 26-55 age groups, within the middle and higher income classes, and among families with children.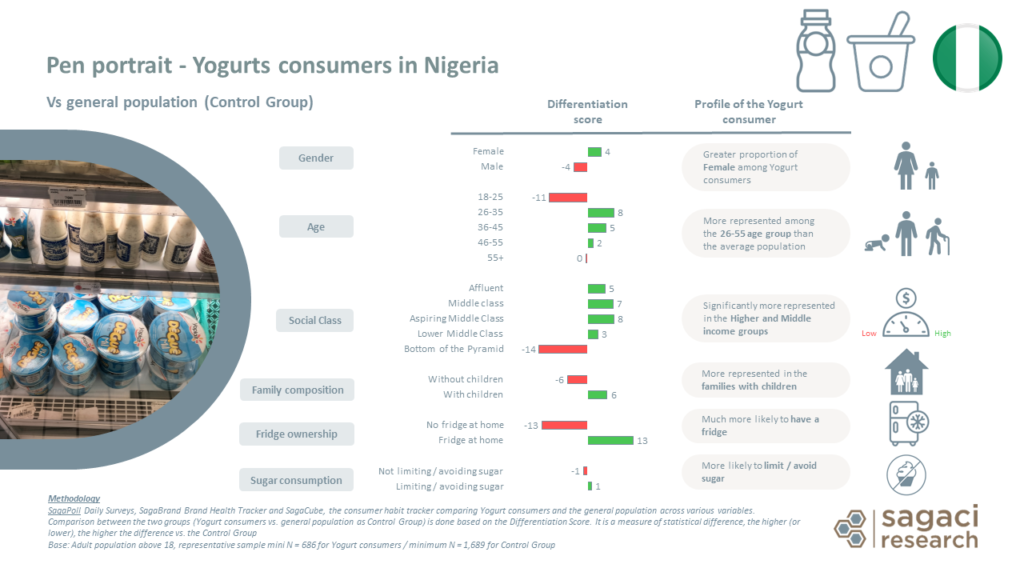 Going beyond these demographics is where things take a new dimension. What are their dietary habits? How do they manage their sugar consumption? We can theoretically profile them against any topic or behavior. Results show that yogurt consumers are more likely to limit or avoid sugar as well as to follow a diet than the general population.
Results show that yogurt consumers in Nigeria are more likely to limit or avoid sugar as well as to follow a diet than the general population.

Sagaci Research, November 2022
What would you like to know about the consumers of your brand?
Who is their favorite artist or role model? How health conscious are they? What is their favorite sport? How concerned are they about the environment? How influenced are they by social media? While the options are endless, a few well defined criteria could significantly help you bring your consumers to life and guide your marketing and communication strategies.
On a related topic, read this Top 10 breakfast cereals in Nigeria for Good Quality – September 2022
Online market research in Nigeria
At Sagaci Research, we specialize in providing a range of custom and off-the-shelf research tools for the African continent. Our SagaCube tracker covers the consumption habits in Africa and all the equipment related topics. It provides a solid and consistent source of key metrics. The Brand Health Tracker tool SagaBrand monitors 16 essential KPIs for over 2,000 brands across dozens of countries in Africa.
This is made possible thanks to our large online research panels across Africa, including our online panel in Nigeria. They allow us to capture consumer feedback in no time on a large variety of topics and brands.
Finally, if you would like to know more about how you can leverage our expertise in market research via online surveys in Africa, please send an email to contact@sagaciresearch.com or click below.
Methodology
SagaPoll daily surveys, SagaBrand Brand Health Tracker and SagaCube, the consumption habit tracker comparing Yogurt consumers profile and the general population across various variables.
Comparison between the two groups (Yogurt consumers vs. general population as Control Group) is done based on the Differentiation Score. It is a measure of statistical difference, the higher (or lower), the higher the difference vs. the Control Group
Base: Adult population above 18, representative sample N = 686 for Yogurt consumers / N = 1,689 for Control Group
Photo credit: @naijamunchies