19/01/2023
Posted by:

Janick Pettit

Categories:

Angola, Automotive, Cameroon, Consumer Goods / FMCG, Cote d'Ivoire, Financial Services, Guinea, Household Care, Insurance, Ivory Coast, Morocco, Nigeria, Non-alcoholic beverages, Online Panels, SagaBrand, Tanzania, Uganda, Wine & Spirits, Zimbabwe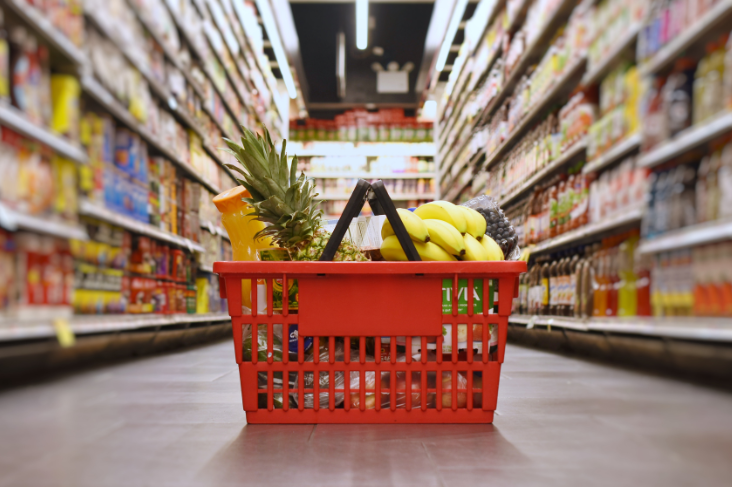 If you are wondering what were consumers' preferred brands in Africa in 2022, read on for some insights. The results might not be what you expect! In fact, several of the preferred brands are local brands, while it is not the usual suspects that we find on top! This, in itself, is an interesting indication about African consumers' loyalty towards companies and brands originating from their own land…
You can also check what are the Preferred social media and communication apps across Africa.
Ranking of the top African brands
We asked members of our online panel in Africa to tell us which brands they prefer among those they have ever used. Here are the results of SagaBrand, the Brand Health Tracker in Africa, with the ranking of the most popular African brands in 2022 across all categories and countries tracked. This ranking is based on the percentage of users choosing the brand as their preferred among those having ever used the brand.
Preferred brands in Africa as per SagaBrand panelists:
Mazoe (Juice concentrate, Zimbabwe, owned by Schweppes Holding Africa)
Real Bull (Rum, Angola, by Unique Beverage SA)
Coyah (Bottled water, Guinea)
Dettol (Antiseptic, by Reckitt Benckiser)
Calao (Vodka, from Ivory Coast, by MIB MIBEM)
Cody's (Energy drink, by German company Cody's)
Uganda Waragi (Gin, Uganda, By Uganda Breweries / Diageo)
Smirnoff (Vodka, international, by Diageo)
Netflix (Online streaming service)
CIH Bank (Bank, Morocco)
Checkers Custard (Custard, Nigeria, by Checkers Africa)
Prudential Assurance (Insurance, Uganda)
National Insurance Corporation (NIC) (Insurance, Tanzania)
Nutri-C (Powdered & Liquid Juice Concentrates, Nigeria)
Toyota (Automotive, Japan)
Captain Morgan (Rum, by Diageo)
Malta Guinness (Energy drinks, Cameroon, by Diageo)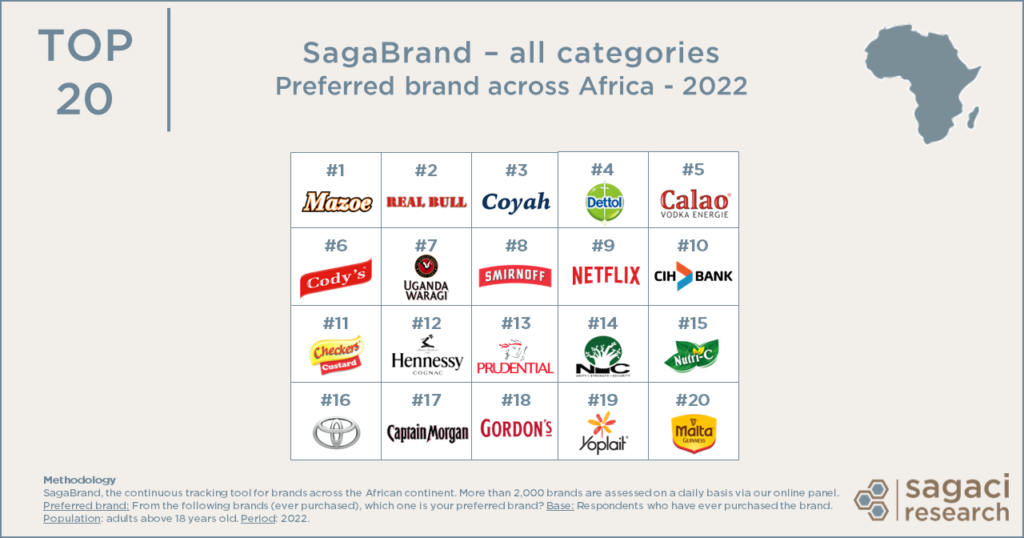 Mazoe from Zimbabwe, considered the most popular African brand
We compiled over 3.4 million data points related to brand preferences from SagaBrand surveys across almost 30 countries throughout 2022. The brand with the highest preference rate among the thousands of brands we track is Mazoe, a juice from Zimbabwe. As it continues to benefit from a long standing brand loyalty, Mazoe, produced by Schweppes Holding Africa Limited and under license from the Coca Cola Company, tops the list with an incredible 98% preference rate.
Interestingly, among the large international brands we find quite a few smaller home-grown brands such as Mazoe. Other local brands make the Top 20 such as Real Bull (rum in Angola), Coyah (water from Guinea), Calao (vodka from Ivory Coast), Uganda Waragi (gin from Uganda), CIH Bank (from Morocco), Checkers Custard (from Nigeria), Malta Guinness (from Cameroon).
Malta Guinness' strong positioning might not come as a surprise. Indeed, it was already performing quite well in mid-2022 in the Top 20 brands in Africa on Quality score.
To complete the list quite a few alcoholic beverages are winning the hearts of consumers in Africa. The British alcoholic beverage company Diageo is particularly well represented in the ranking with 5 of its brands among the most trusted African brands.
If you are interested in further information on brand performance in Africa, you might also want to check the ranking of the Favourite chocolate in Egypt.
Interested in brand health tracking in Africa?
One of the best ways to do market research and specifically to get fast and reliable data on your brand in Africa, is by leveraging SagaBrand, our continuous Brand Health Tracker tool. SagaBrand is a monthly tracker that monitors 16 essential KPIs for over 2,000 brands across dozens of countries in Africa.
Beyond those essential KPIs our online panel can also be useful to dig in deeper and explore specific reasons behind some SagaBrand results. This is where Flash Surveys come in handy to answer your 'Why's". Why are my customers not satisfied? What do they mean by poor quality? Give us a few days and with our nationally representative sample we'll get you what you need.
If you would like to know more about SagaBrand, our Flash surveys or online panel in Africa, please send an email to contact@sagaciresearch.com or click below.
Methodology
SagaBrand, the continuous tracking tool for brands across the African continent. Our online panel assesses around 2,000 brands on a daily basis.
Preferred brand: From the following brands (ever purchased), which one is your preferred brand?
Notes:
Some brands are available in only one country. For the brands available across several markets (eg. Netflix in 27 countries), the preference rate is the average of the performance across all markets where the brand is present
Preference selection is done within brand categories, with a possible difference in the number of brands in each category
Base: Respondents who have ever purchased the brand.
Population: adults above 18 years old.
Period: January to December 2022