03/11/2022
Posted by:

Janick Pettit

Categories:

Confectionery, Consumer Goods / FMCG, Egypt, Online Panels, SagaBrand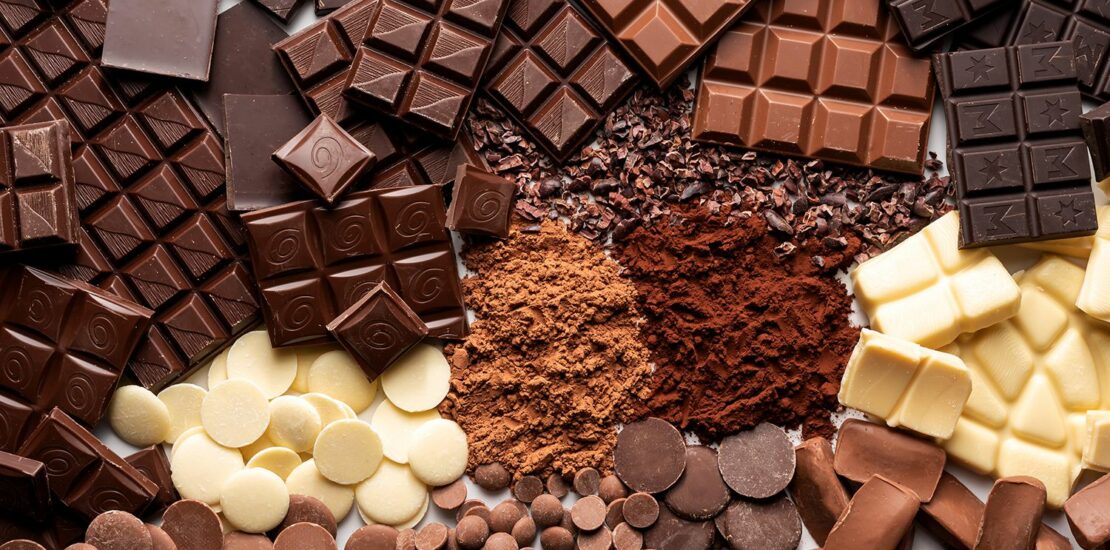 Among milk, dark and white chocolate, everyone has their own go-to favourite. This article is looking at what are consumers' favourite chocolate in Egypt, in terms of type of chocolate but also brands.

Leveraging our SagaPoll online research panel in Egypt and SagaBrand, the continuous brand health tracking survey in Africa, we are able to get quick consumer feedback on what their preferences are and how they have evolved over time. Read on to find out what Egyptians panelists told us…
Best chocolate in Egypt
A clear majority of respondents prefer Milk chocolate (52%) ahead of Dark (32%) and White chocolate (13%) This is the case across all age groups and income levels. However consumers aged 46-55 tend to be overrepresented among those favoring Milk chocolate. In contrast, Dark chocolate performs better among the 36-45 and above 55 age groups while White chocolate is stronger among the under 35. Interestingly, women are more represented among Milk and Dark chocolate lovers than men. On the other hand, men tend to have a higher preference for White chocolate compared to women.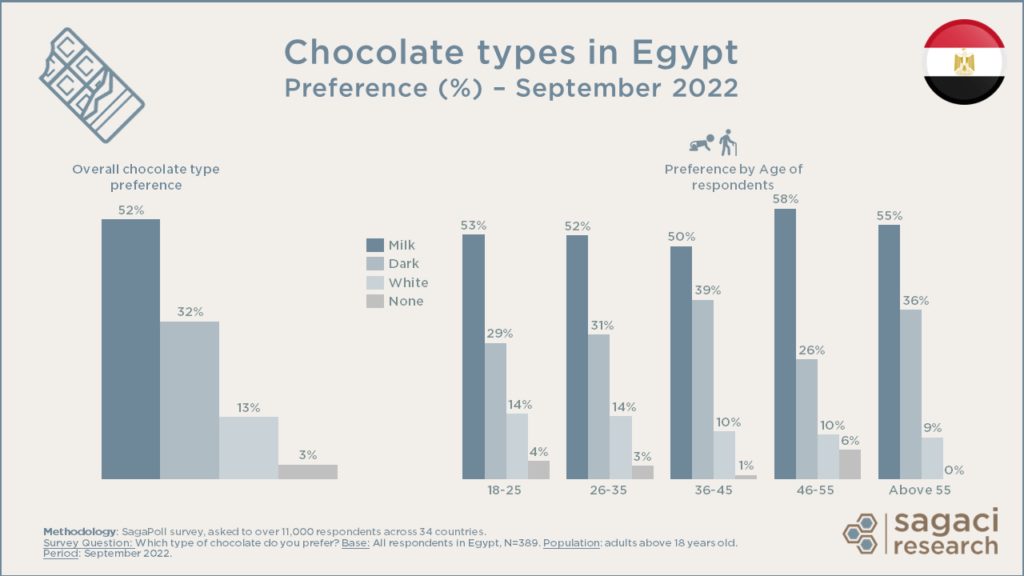 Favourite chocolate brands in Egypt
Now we know what is the favourite type of chocolate for consumers in Egypt. But what about their favourite confectionery brands? How has the brand ranking evolved since we last checked in February 2022? 
Read more on this topic with results from February 2022: Galaxy, KitKat and Cadbury rank within the top 3 for chocolate confectionery in Egypt
According to SagaBrand, the continuous brand health tracking survey, we find that the top 3 brands in terms of recommendation score by consumers remain the same compared to earlier this year. However, some brands have either fallen or moved up in the Top 10 ranking of Confectionery brands in Egypt. While Galaxy, Kitkat and Cadbury are still on top, Loacker has experienced a significant drop, from 4th position down to 7th. Kinder and Twix also went down while Snickers, Milka, and Bounty all moved up by either one or two spots. UAE based Tiffany Break from Iffco made its entrance in the Top 10 and Maltesers is now out, falling from 10th to the 12th position. We still find 5 brands from the American multinational manufacturer Mars within the Top 10.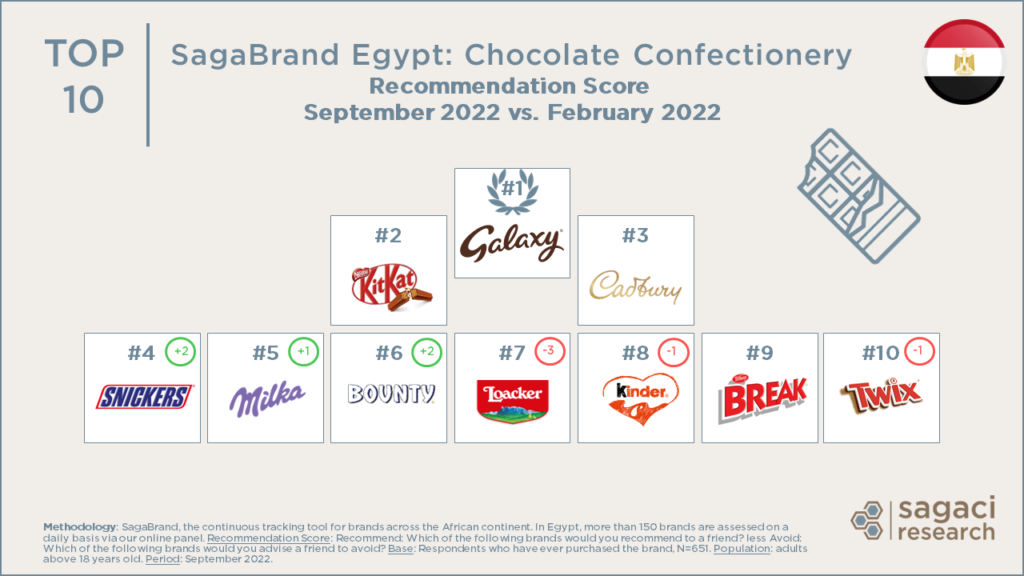 Recommendation scores vary from 74 for the first brand Galaxy down to 52 for the last of the Top 10 brands ranking. To find out the actual scores for all brands, download the report below.
How can a brand health tracker help you?
At Sagaci Research, we specialise in providing a range of custom and off-the-shelf research tools for the African continent. Our Brand Health Tracker tool SagaBrand monitors 16 essential KPIs for over 2,000 brands across dozens of countries in Africa.
This is made possible thanks to our large online research panels across Africa, including our online panel in Egypt. As the main online panel provider in Africa, we are able to capture consumer feedback in no time on a large variety of topics and brands. Finally, if you would like to know more about SagaBrand or how to do market research online in Africa, please send an email to contact@sagaciresearch.com or click below.
Methodology
This article is leveraging two of Sagaci Research's proprietary tools, SagaPoll daily surveys and SagaBrand, the continuous brand tracker in Africa.
SagaPoll, daily survey asked to the SagaPoll online panel on 6th October 2022 to over 14,000 respondents across the African continent.
Question: Which type of chocolate do you prefer?
Base: All respondents in Egypt, N=389.
Population: adults above 18 years old.
Period: October 2022.
SagaBrand, the continuous tracking tool for brands across the African continent. Our online panel assesses around 2,000 brands on a daily basis via our online panel.
Recommendation Score: Recommend: Which of the following brands would you recommend to a friend? less Avoid: Which of the following brands would you advise a friend to avoid?
Base: Respondents who have ever purchased the brand, N=651.
Population: adults above 18 years old.
Period: September 2022.