06/09/2022
Posted by:

Caitlin Beck

Categories:

Angola, Beer, Benin, Burkina Faso, Cameroon, Consumer Goods / FMCG, Cote d'Ivoire, Egypt, Gabon, Ghana, Kenya, Morocco, Mozambique, Nigeria, Online Panels, SagaBrand, SagaCube, SagaTracker, Senegal, South Africa, Tanzania, Togo, Uganda, Zambia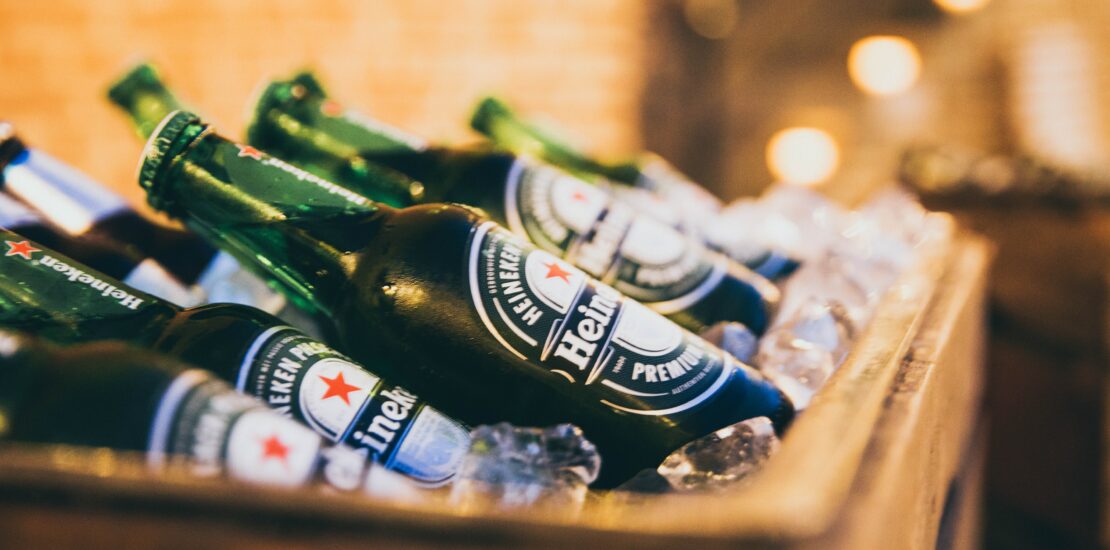 Heineken and Guinness are among the most famous beer companies internationally. But is it the Irish stout or the Dutch pale lager to be crowned the favourite beer in Africa? In order to answer that question, we asked our online panel on our SagaPoll app which of the two they preferred.  Across the continent, the two brands are well-liked. According to our proprietary online panel, our users have rated Guinness and Heineken 3.71 and 3.79 out of 5, respectively. However, important differences exist. Read on to find out about some of our findings.
Noticeably, we look at how local production, sponsorship deals, pack size and availability can influence a consumer's choice of favourite beer.
Heineken vs Guinness: Africa's favourite beer brand?
As seen in the chart below, the results vary vastly between countries. Heineken takes the lead across all of Africa. 56% of all survey respondents prefer it over Guinness. The overall difference is small, but can range quite heavily in favour of either option depending on the country. For example, in Uganda, 66% prefer Guinness whereas in South Africa 86% prefer Heineken. So what causes such differences between each country?
To note that Heineken sells only one single lager across all countries, while Guinness, offers several types of stouts. Foreign Extra Stout, Guinness Extra Smooth are present in different markets with various Alcohol By Volume / ABV. In fact, the higher the ABV and bitterness of the stout the more challenging it is for some consumers. Especially in places where they are not so used to intense spicy flavours. This is where Product Testing can help uncover taste preferences.
Sponsorships influence preferences
A key factor driving preferences is brand sponsorship deals. Heineken has been an official sponsor of The UEFA Champions League (UCL) since 2005. They launched one of the biggest tours of the UCL trophy in Africa for the 2021/2022 season. Without doubt, Heineken's UCL sponsorship has not gone unnoticed by the large population of football fans on the continent. Numerous SagaPoll users mentioned the partnership as a reason for their preference.
Read more: Best adverts in South Africa in July 2022
Pack size and availability matter
In Uganda, out of the two choices, Guinness was clearly the favourite beer. Some survey respondents mentioned liking how "Guinness is packed in smaller volumes for easy drinking" and some believed it was "more readily and widely available".
A retail audit like SagaTracker could quickly confirm this – read more here.
An important historical heritage to account for regional differences
Guinness Foreign Extra Stout is the most common and easily recognizable stout in Africa. However, it is evident from our data that, out of the two choices, Heineken is the much-preferred beverage in some regions. For example, southern African countries such as Angola, Mozambique, and South Africa lean heaviest towards the Dutch beer.
On the other hand, a general trend appears in which East and West African countries prefer Guinness. For example, according to data from SagaBrand in Kenya, 80% of customers would recommend Guinness. As a result, when choosing between the two brands – Heineken and Guinness – 63% chose the former. This is confirmed by Guinness in their latest earnings report which states their main African markets are located in East Africa (Kenya, Uganda,…).
Read more on the topic: Guinness tops SagaBrand rankings for beer in Kenya
Furthermore, historically speaking, Guinness being an Irish beer has found its implementation facilitated in former British colonies in East and West Africa. This might explain its success in those regions and the lack thereof in the Portuguese speaking countries of Mozambique and Angola. South Africa remains an outlier here which is likely to be the result of the diversity of its population and its own historical heritage.
Consumers respect brands with local production
In South Africa, where there is no local production of Guinness, and distribution is still limited, only 14% of respondents preferred Guinness over Heineken.
Heineken, on the other hand, boasts a state of the art brewery in Sedibeng in the Gauteng district of South Africa. What we discovered from this SagaPoll survey was that not only did people enjoy the taste of Heineken, they also respected the brand for providing local jobs to the community.
"We have a Heineken factory in Meyerton, Midvaal. I like it (Heineken) because it gives people jobs."

SagaPoll user, South Africa
Benefits from online panels across the African continent
These results come from SagaPoll, the African online survey app. Such a tool allows us to research market trends across 34 countries, have thousands of respondents in a highly engaged online panel, as well as detailed answers to your questions – with results available in a few days.
More details about our online panels here.
Finally, if you would like to know more about leveraging online panels for your market research needs in Africa or how to research market trends, please send an email to contact@sagaciresearch.com or click below.
Methodology
SagaPoll 1-to-1: asked to over 10,000 respondents across 34 countries leveraging our online panels in countries such as: Angola, Benin, Burkina Faso, Botswana, Cameroon, Côte d'Ivoire, Burundi, Democratic Republic of Congo, Congo Brazzaville, Egypt, Ethiopia, Gabon, Ghana, Guinea, Kenya, Morocco, Mali, Mozambique, Nigeria, Rwanda, Senegal, Togo, Tanzania, Uganda, South Africa, Zambia, Zimbabwe, etc.
Survey Question: Pick one to vote: Guinness vs Heineken
Population: adults above 18 years old. Minimum base size of 30 per county required to show data.
Period: July – August 2022