29/07/2022
Posted by:

Janick Pettit

Categories:

Beauty & Personal Care, Consumer Goods / FMCG, Financial Services, Foodservice, Non-alcoholic beverages, Online Panels, South Africa, Supermarkets, Wine & Spirits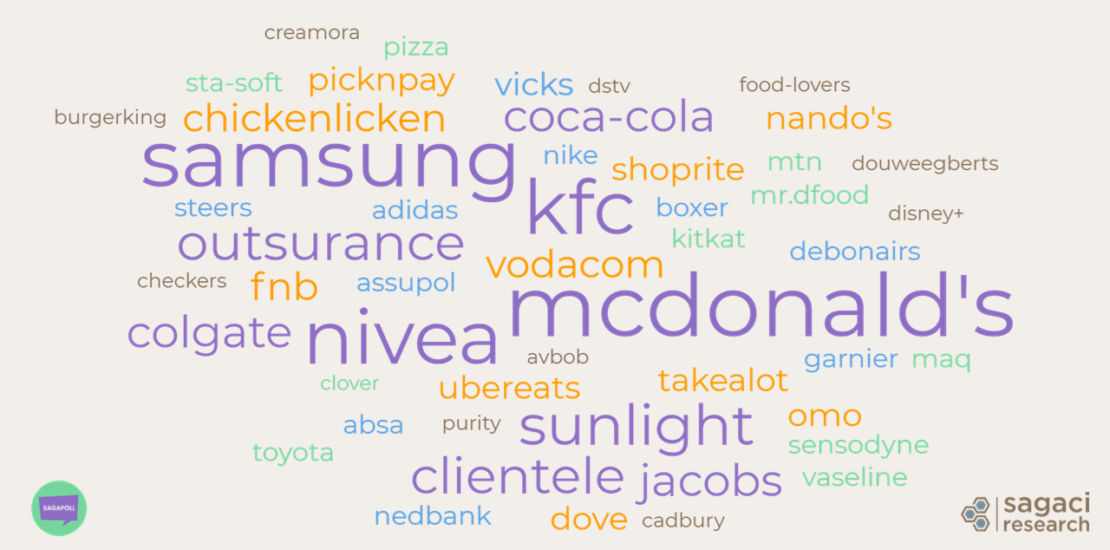 Wondering which are the best adverts in South Africa? We asked our SagaPoll panel across Africa to name the last advert they recalled seeing. This is what members of our online panel in South Africa told us.
In South Africa, over 1,000 respondents gave their top of mind ad-recall. Fast-food giant, KFC, was first to mind for 9% respondents, heading the Top 10 adverts in South Africa. An impressive score given the number of brands respondents could have potentially chosen from!
Although a long way behind KFC, McDonald's and Nando's were frequently recalled by our South African panellists. Respectively 3% and 2% of respondents mentioned the brands as the first advertisement to come to mind.
Online and TV advertisements by sportswear brand Nike were recalled by approximately 4% of respondents. It comes ahead of competitor Adidas at 1%. Personal care brands Nivea and Colgate, respectively recalled by 3% and 2% of the panel, came 3rd and 9th of the ranking. Insurance, telecoms and cell-phone advertisements for brands such as OUTsurance, Assupol, Telkom, MTN, Vodacom and Samsung were also frequently recalled.
Checkers supermarket was another popular response across multiple channels including television, social media, radio, online and print.
Ranking of adverts most recalled by SagaPoll panel members in South Africa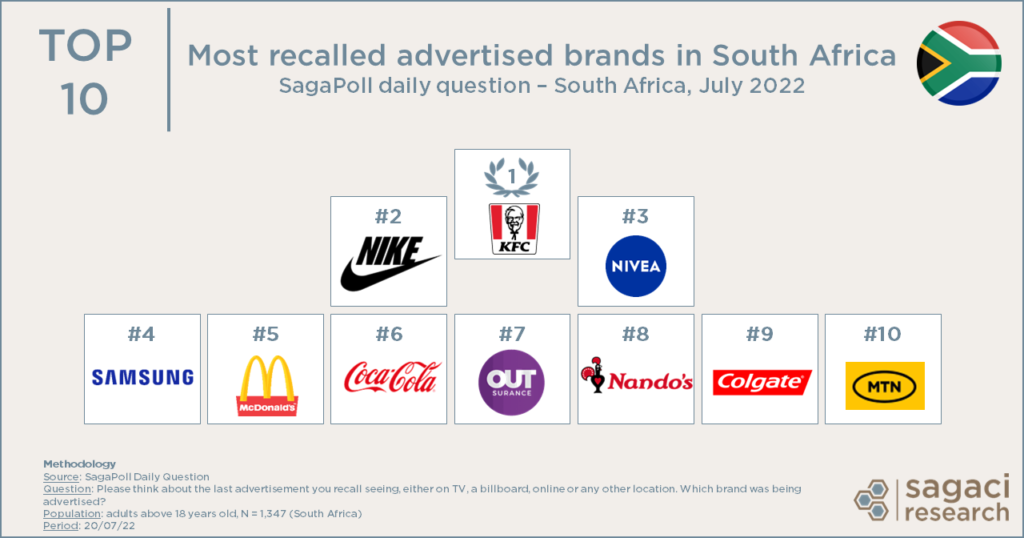 What makes an advert memorable for the best adverts in South Africa?
We also asked our panel what was memorable about their mentioned advertisement. For many who recalled seeing a KFC advert, low prices and combo deals were a key factor in remembering the ad. For others, the free delivery caught their eye! Others, however, were simply interested in the food itself, describing the chicken as "delicious" and "scrumptious".
Some respondents were also impressed by the storylines of the television advertisements. Particularly the comedy of one of KFC's latest advertisements which features a hair dresser's mistake and a KFC order to save the day…
Similarly, many of those who recalled recently seeing a McDonald's advertisement, enjoyed the humour and relatability of the storyline of having a bad day (in reference to the 'Make it a day, the Quarter Pounder way' advert). The bright colours and affordable prices also stood out.
Coca-Cola adverts were, of course, also popular, mentioned by over 3% of survey respondents in South Africa. Respondents loved the vibrancy and the feelings of joy and happiness of sharing the beverage with friends and family.
How successful are brand collaborations in TV adverts?
In South Africa, Nando's has been utilising the current load shedding schedule as a means to market themselves. They offer free sides in their 'Bright Sides' promotions, which have proved popular with many.
Alongside this, what was particularly memorable for some, was the combination of two brands in one advert. Generally speaking, collaborations between brands in advertising are less common. However, the tactic can be successful as it can increase the number of brand users, meaning more chances of catching the ad-viewers attention.
Earlier this year, Nando's collaborated with Savanna cider by Distell. The campaign combines Savanna's new Chilled Chili flavour cider with Nando's spicy chicken. Although the Savanna cider was the predominant focus of the television advert, Savanna scored lower for top-of-mind advertisement recall in our SagaPoll survey, than Nando's did.
The innovation (and risk) of combining an alcoholic beverage with a foodservice brand they had no prior connection to, was bold but memorable. The humour used in this specific advertisement seems to align with other campaigns by the two brands. Perhaps we will see more of these collaborations in the future?
Monitoring impact of advertising campaigns in Africa
Coca-Cola has also experience in partnering up with brands from other industries. Most recently, the Mr Price | Coca-Cola collaboration combines iconic features from both brands in what they describe as "the most thirst-quenching fashion drop".
In conclusion, South African consumers tend to enjoy a combination of humour and great discounts. Although there can be many important factors to attract attention from consumers. The most important aspect is therefore, having the ability to track and monitor the impact of your advertising campaigns.
Get fast access to our online research panels in Africa
Sagaci Research has an established panel of respondents across 34 countries in Africa. Our online panel and data collection capabilities helps businesses understand consumers across the continent.
Our representative online sample across Africa is mobile based to ensure deep reach and fast turnaround times. You will be able to have thousands of respondents in a highly engaged online panel. Obtain detailed answers to your questions, with results available in a few days.
Get in touch to find out what consumers in other parts of the African continent remember most when it comes to advertisements. To hear more about our online panels or how to do market research online, send an email to contact@sagaciresearch.com. Alternatively, contact us by clicking below.
Methodology
Source: SagaPoll Daily Question 20/07/22
Questions: (1) Please think about the last advertisement you recall seeing, either on TV, a billboard, online or any other location. Which brand was being advertised?
(2) Where did you see this advertisement? TV/ Social media / Billboard / Online / Newspaper or magazine / Radio / Other / Don't know.
(3) What was memorable about the advertisement?
N = 12,733 adults across Africa (South Africa = 1,347)