10/02/2023
Posted by:

Janick Pettit

Categories:

Cameroon, Consumer Goods / FMCG, Non-alcoholic beverages, Online Panels, SagaBrand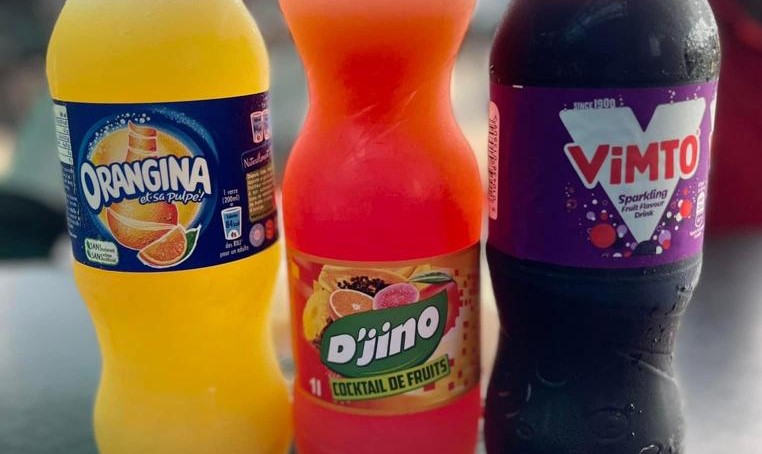 As we continue to explore African consumers' favourite brands, today we look at the non-alcoholic beverages category with the most popular soft drinks brands in Cameroon in 2022.
The soda market in Cameroon is expanding and is the scene of intense competition between local businesses and big international players. This creates a very dynamic environment, with the launch of new products (eg. pan african brand World Cola by Castel in 2022), heavy investment in new technology in bottling and packaging systems (eg. first PET line for UCB built recently), change of partnerships (eg. Coca Cola switched distributors mid 2022 from Boissons du Cameroun to Gracedom Invest), etc…
In this context, we asked members of our online panel in Cameroon which brand of soda they prefer among the brands they have ever purchased. Results show that recent investment efforts by local manufacturers might be paying off…
If you are interested in the Cameroon consumer market you might also want to check which brands in Cameroon ranked best in Quality perception according to consumers surveyed in February 2022.
D'jino, most preferred soft drink in Cameroon
Results from SagaBrand, the monthly Brand Health Tracker, reveals Favourite Carbonated Soft Drinks in Cameroon. Les Boissons du Cameroun (formerly known as SABC) takes the Top 3 places with D'jino, Orangina and Vimto coming as the favourite soda brands in Cameroon. It is in fact the leading manufacturer with a total of 4 brands out 10 represented in the ranking. Coca Cola comes next with 3 brands – Coca Cola, Schweppes and Sprite. Source du Pays / Monarch Beverages earns 2 spots with Bubble Up and Planet while UCB is represented with the Special brand.  
Ranking of the top CSD in Cameroon based on SagaBrand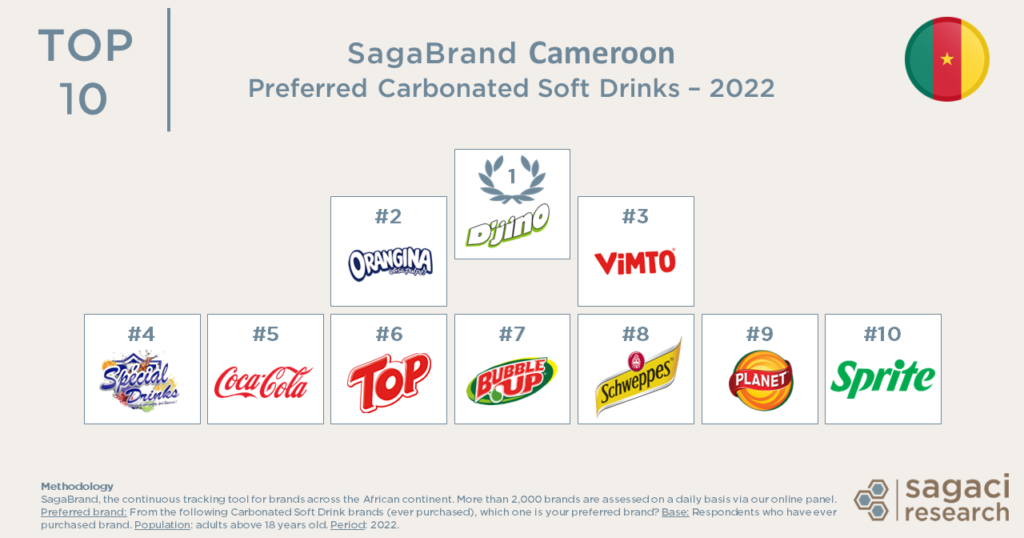 Leveraging SagaBrand, we can get powerful data in many different ways. For example we recently looked at the most preferred brands in Africa in 2022, across all sectors and countries. If you are interested in Soft Drinks Brands in Africa, the ranking of Top Soft Drink brands in Egypt might also be relevant for you.  
Do you have questions about your FMCG brands in Africa?
The Carbonated Soft Drink market in Africa is one of the many categories we track on an on-going basis with the continuous Brand Health Tracker tool SagaBrand. From time to time, we also ask more specific / ad-hoc questions to members of our pan-African online panel. These flash surveys allow us to get quick answers to virtually any questions one might have about African consumers. For example, in mid-2022, we leveraged our panel to explore the soft drink preferences of African consumers between the long time competitors Coca Cola and Pepsi. And some interesting results came out!
If you would like to know more about SagaBrand, conducting flash surveys or simply how to do market research online, please send an email to contact@sagaciresearch.com or click below.
Methodology
SagaBrand, the continuous tracking tool for brands across the African continent. Our online panel assesses around 2,000 brands on a daily basis.
Preferred brand: From the following brands (ever purchased), which one is your preferred brand?
Base: Respondents who have ever purchased the brand.
Population: adults above 18 years old.
Period: January to December 2022