16/03/2022
Posted by:

Janick Pettit

Categories:

Cameroon, SagaBrand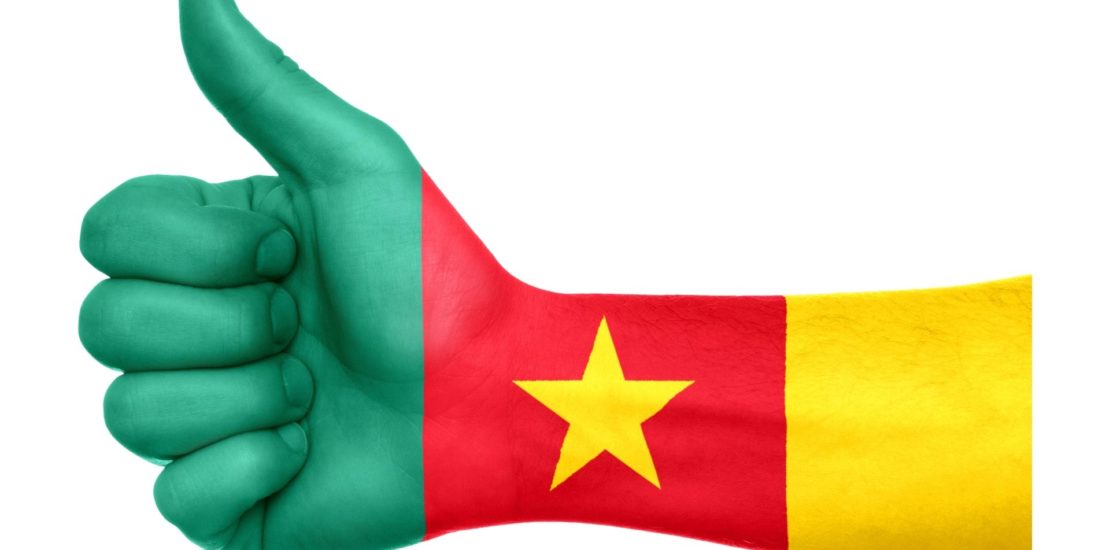 As brands consistently fight to win the heart (and wallet) of consumers, we looked into which brands performed best in February 2022 in Cameroon. Using data collected from our monthly SagaBrand surveys, we have compiled a list of the top 20 brands in Cameroon in terms of Brand Positive Quality and Brand Satisfaction.
Read on to discover how brands performed across some of the 16 key performance indicators (KPIs) tracked by SagaBrand.
Malta Guinness, Samsung, leaders of Top 20 brands in Cameroon in Brand Positive Quality
Last month, we asked our online panel in Cameroon which brands they associate with good quality. Among a variety of categories, the Carbonated Soft Drink brand Malta Guinness came up first of the Top 20 brands in Cameroon. Indeed, 88% of the panellists aware of Malta Guinness associate it with good quality.
Technology brand Samsung came second (85%) ahead of its competitor Apple in 8th position (80%). Several spirit brands such as Hennessy, Jack Daniel's, Gordon's and Smirnoff are within the 10 first brands. Two car maker brands are also associated with good quality: Mercedes-Benz at 81% (7th position) ahead of Toyota at 78% (12th position). Retailer chains are present in the Top 20 brands with French supermarket chain Carrefour ranking 11th at 79% closely followed by the local chain Santa Lucia at 76%.
Other brands who made it to the top 20 of our Brand Health Tracking tool include Orangina, Extra Fresco, D'jino and Frutas in the CSD / Juices category. Chivas, Grant's, Captain Morgan, Ciroc and Napoleon Brandy came up in Spirits.
Spirit brands heading the Top 20 brands in Cameroon for Brand Satisfaction
Additionally, when looking at the Top 20 brands in Cameroon in terms of Brand Satisfaction, Spirit brands Gordon's, Bombay Sapphire and Hennessy head the list with high satisfaction levels. They respectively score 92%, 90% and 88%. On this indicator Malta Guinness is 4th at 87%. Toyota, in 6th position at 86% satisfaction is now ahead of its competitor Mercedes-Benz in 10th position at 83%.
While Samsung is perceived to be of higher quality than competitor Tecno, the Chinese mobile phone brand performs better in terms of Brand Satisfaction. It ranks 18th of the Top 20 brands in Cameroon.
Notably, several Spirit premium brands made it to the Top 20 in terms of satisfaction (Havana Club, Remy Martin, Grey Goose, Hendricks, Absolut, Tanqueray, Martell, Beefeater, McDowell's). This indicates a strong bond with these brands.
February 2022 Top 20 Brand Quality performance ranking in Cameroon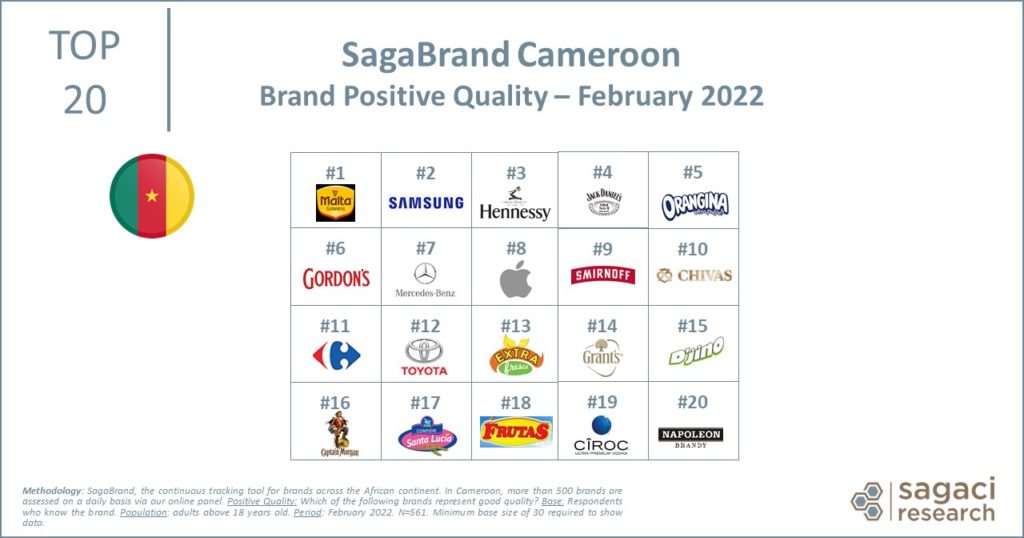 To conclude, a brand health tracking tool, such as SagaBrand, is an efficient way to measure and track consumer perceptions about a brand and its competition in Africa.
Want to find out more?
SagaBrand is now running monthly in Cameroon across multiple categories.
Reach out to us today for more information!
Sagaci Research has an established panel of respondents across 34 countries in Africa. Our online panel and data collection capabilities helps businesses understand consumers across the continent.
Our representative online panel across Africa is mobile based to ensure deep reach and fast turnaround times. You will be able to have thousands of respondents in a highly engaged online panel, and detailed answers to your questions – with results available in a few days.
Get fast access to our online panels
For more information or to receive a personalized quote, send an email to contact@sagaciresearch.com. Alternatively, contact us using the form below.
Methodology
SagaBrand, the continuous tracking tool for brands across the African continent. In Cameroon, our online panel assesses more than 500 brands on a daily basis.
Positive Quality: Which of the following brands represent good quality?
Satisfaction: For which brands are you a satisfied consumer?
Base: Consumers aware of the brand
Population: Adults above 18 years old
Period: February 2022