08/03/2023
Posted by:

Janick Pettit

Categories:

Beauty & Personal Care, Consumer Goods / FMCG, Cote d'Ivoire, Online Panels, SagaCube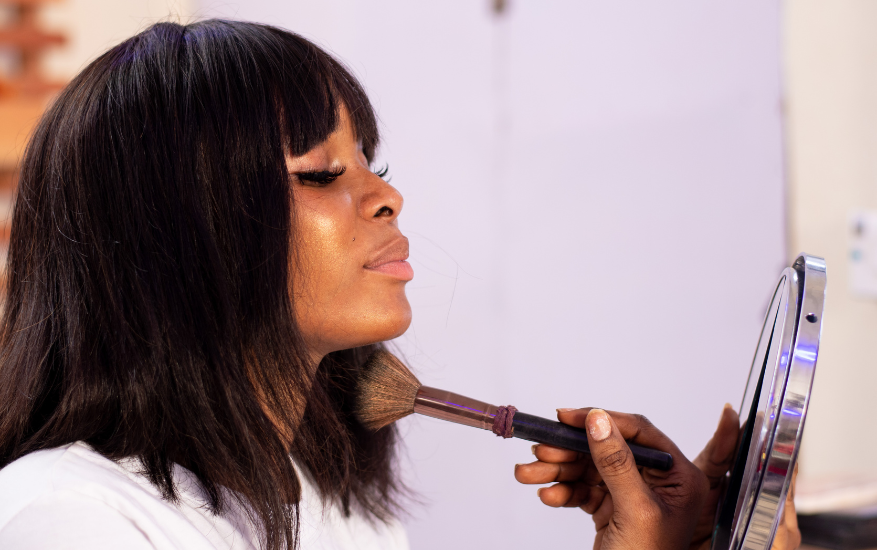 The Make-Up user in Ivory Coast is worth exploring in the context of a booming Beauty industry in the West African country. International players are competing with an increasing number of local brands and products. These are more and more made with natural ingredients and are gaining popularity in the Ivory Coast cosmetics market.
SagaCube, the online tool tracking consumption habits in Africa, allows to profile consumers of a wide range of FMCG categories, including the Personal Care segment, as well as brands against hundreds of topics across the continent. By leveraging our online research panel in Côte d'Ivoire we are able to bring Make-Up users to life, and as a result better understand the Ivory Coast Make-Up industry. Read on to find out more…
Profiling the Make-Up user in Ivory Coast
To draw a relevant profile of consumers of a specific category or brand, we look at the statistical difference between their profile (Target Group) vs. the profile of a Control Group. This is what we call the 'differentiation score'. In the case of color cosmetics users in Ivory Coast (our Target Group), we compare against the data of all Women in the same country (here the Control Group).
Starting with Demographics, compared to all women in Ivory Coast, women who have used Make-Up in the Last 4 weeks tend to:
be more educated (significantly more represented among those who have a Bachelor degree),
have a higher income (41% are from SEC A&B compared to 29% for women in general)
be more represented among the 26 to 45 age group (43% vs. 37%)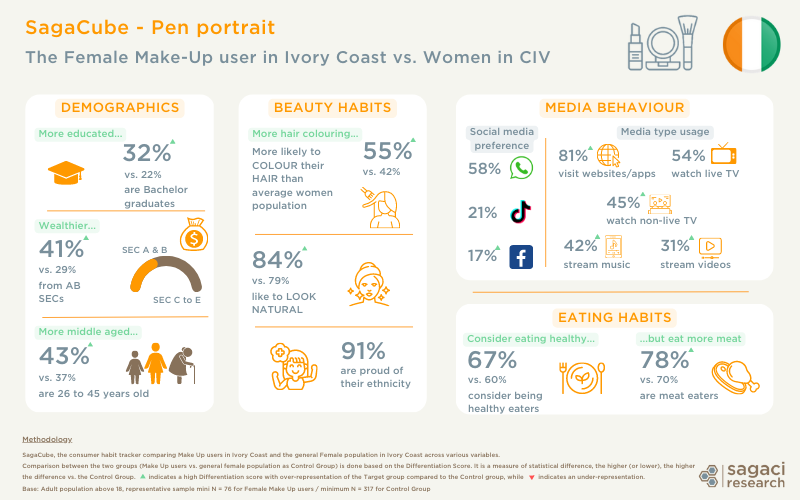 Beauty, Media and Eating habits of Make-Up users in Ivory Coast
When it comes to Beauty habits in Ivory Coast, women using Make-Up are more likely to colour their hair (55% vs. 42%) and ironically at the same time favour a natural look. Indeed, and maybe in spite of using Make-Up, 84% of Make-Up users like to look natural (vs. 79% for women in general). These numbers are worth noting because they are statistically significant in terms of difference between the Target and the Control group.
In terms of media usage, Make-Up users in Ivory Coast tend to be more active media consumers than women in general. For example, they are more represented among women who visit websites or apps, watch non-live TV (streaming), stream music and videos. They are also more likely to prefer Facebook than Ivorian women.
Finally, a majority consider themselves to be a healthy eater (67%). In parallel we find that a fairly high proportion (78%) eat meat, which is higher than the Female population in Ivory Coast (70%).
As we explore the Beauty culture in Ivory Coast, in the same Personal Care category you might also want to read about Beauty trends in Africa.
Profiling your consumers in Africa
Tracking the most popular make-up products or preferences in Ivory Coast is critical to understand the competitive landscape of the sector. But it is not enough to design a successful market entry strategy. One very relevant and complementary instrument is the analysis of the characteristics of the target consumers in terms of attitudes and behaviours. It helps to isolate what uniquely defines them.
Companies such as L'Oreal (with Maybelline), Estée Lauder (with MAC Cosmetics), Black Opal being sold in Ivory Coast might benefit from this type of information. In fact, the hundreds of attitudes and behaviour variables that we track make it possible to accurately portray specific consumers across Africa in a new light and depth. Quickly and affordably.
This analysis can be done for the Personal Care segment but also for dozens of categories as well as thousands of brands across Africa. Other examples of this approach include portraits of the Biscuit consumer in Egypt or the Yogurt consumer in Nigeria.
Market research in Côte d'Ivoire
At Sagaci Research, we specialize in providing a range of custom and off-the-shelf research tools for the African continent. Our powerful online panel and online research in general is becoming one of the best ways to do Market Research in Africa.
For example, our SagaCube tracker, used to generate the data in this article, covers the consumption habits in Africa and all the equipment related topics. As such, it provides a solid and consistent source of key metrics.
So what would you like to know about the consumers of your category? Which artist or role model do they look up to the most? What is their favorite media? What is their relationship with social media? How concerned are they about their health or the environment?
While the options are endless, a few well defined criteria could significantly help you bring your consumers to life and guide your marketing and communication strategies in Côte d'Ivoire.
For more information on conducting online market research in Ivory Coast, please send an email to contact@sagaciresearch.com or click below.
Methodology
SagaCube, the consumption habit tracker, compares the profile of Make-Up users (who have used Make-Up in the Last 4 Weeks) to the profile of the Woman population in Ivory Coast across various variables.
Comparison between the two groups (Make-Up users vs. Women in CIV as Control Group) is done based on the Differentiation Score. It is a measure of statistical difference, the higher (or lower), the higher the difference vs. the Control Group.
Period: March 2023
Base: Adult population above 18 members of SagaPoll online panel in Ivory Coast, representative sample N = 76 for Make-Up users / N = 317 for Control Group