02/03/2023
Posted by:

Janick Pettit

Categories:

Confectionery, Consumer Goods / FMCG, Egypt, Online Panels, SagaCube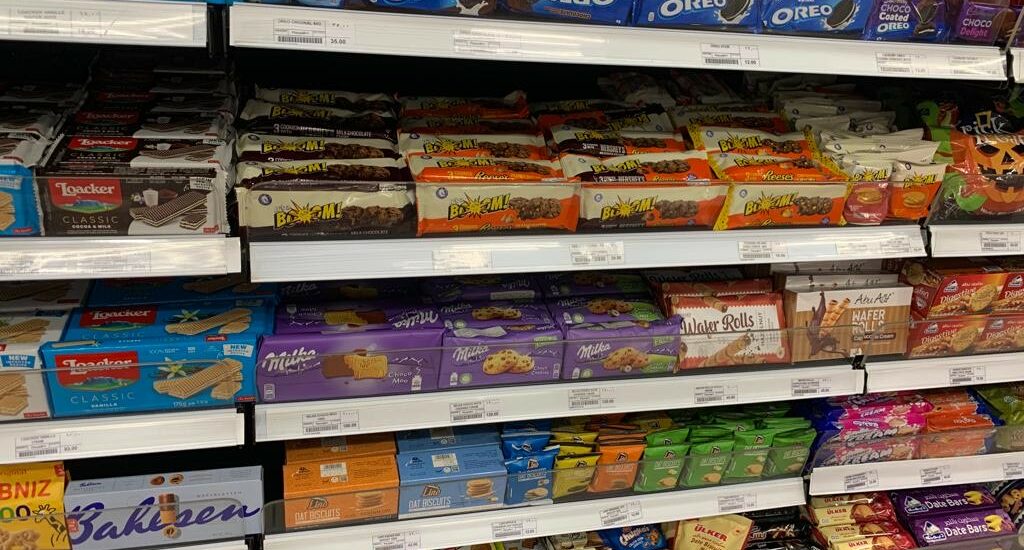 Today we are exploring the biscuit consumer in Egypt: Who are they? What are their food habits? Which social media do they prefer? Thanks to Sagaci Research's powerful online research tools, profiling consumers of a wide range of FMCG categories and brands across Africa is virtually just a few clicks away. By leveraging our online research panel in Egypt we are able to bring Egyptian biscuit consumers to life, thus better understanding the biscuit market in Egypt. Read on to find out more…
Profiling the Biscuit consumer in Egypt
Biscuit consumption in Egypt seems to be driven mostly by women (64% of biscuit consumers) while biscuit consumers are also more likely to be the primary grocery shopper in the family (compared to the average Egyptian population). Interestingly, they are overly represented in the highest income group (51% are from SEC A) compared to the general population where only 35% of people belong to this socio-economic class. They tend to also be more represented among the 36-45 year old age group (almost ⅓ ).
Consumers of biscuits with healthy food habits?
Now, let's explore further… When it comes to healthy food habits, biscuit consumers tend to favor more taste and health factors (over cost) when making food choices. Almost a third of them consider snacking between meals to be bad for them while two thirds are concerned about the sugar content in food.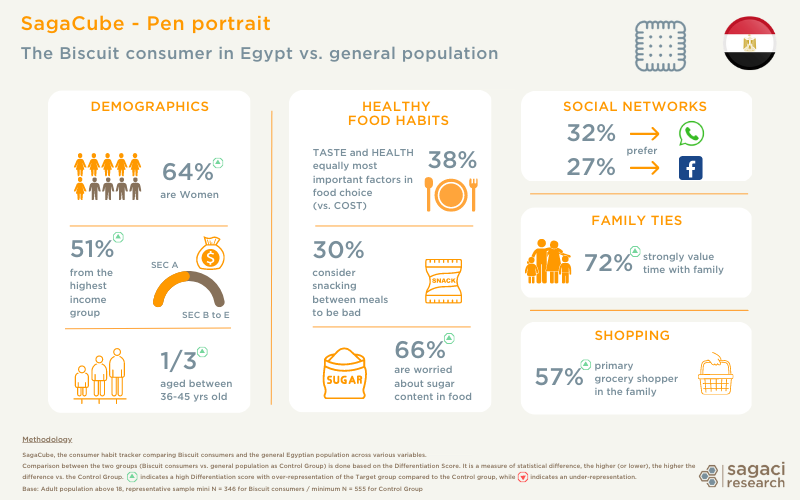 Social behavior of Egyptian consumers of biscuits
When it comes to social media, Whatsapp and Facebook come out as their preferred platforms (in line with the general population preference). On the other hand, their attitude towards family seems to differ from consumer behavior in Egypt when it comes to their relationship with family. Indeed 72% of biscuit consumers in Egypt strongly value time with their family. This is statistically significantly more than the general Egyptian population.
Profiling your consumers in Africa
Beyond tracking the most popular biscuits in Egypt, these behavioral characteristics could be extremely useful to the snack industry in Egypt in order to better understand their target consumers. Companies such as BiscoMisr (Kellogg's), Edita Food Industries, Chipsy for Food Industries (PepsiCo), Nestlé, Corona and the numerous market players in the Egyptian biscuit market might benefit from this type of information. In fact, the hundreds of attitudes and behavior variables that we track daily make it possible to accurately portray specific consumers across Africa in a new light and depth. Quickly and affordably.
This exercise can not only be done for the confectionery segment but for dozens of categories as well as thousands of brands across Africa. Other examples of this approach include portraits of the Yogurt consumer in Nigeria or the Colgate toothpaste user in Kenya.
Online market research in Egypt
At Sagaci Research, we specialize in providing a range of custom and off-the-shelf research tools for the African continent. Our SagaCube tracker covers the consumption habits in Africa and all the equipment related topics. It provides a solid and consistent source of key metrics.
So what would you like to know about the consumers of your brand or your category? Who is their favorite artist or role model? How health conscious are they? What is their most preferred sport? How concerned are they about the environment? How influenced are they by social media? While the options are endless, a few well defined criteria could significantly help you bring your consumers to life and guide your marketing and communication strategies.
Finally, if you would like to know more about conducting online market research in Africa, please send an email to contact@sagaciresearch.com or click below.
Methodology
SagaCube, the consumption habit tracker comparing Biscuit consumers users profile and the general Egyptian population across various variables.
Comparison between the two groups (Biscuit consumers vs. general population as Control Group) is done based on the Differentiation Score. It is a measure of statistical difference, the higher (or lower), the higher the difference vs. the Control Group
Base: Adult population above 18, representative sample N = 346 for Biscuit consumers / N = 555 for Control Group
Period: February 2023