21/10/2022
Posted by:

Janick Pettit

Categories:

Consumer Goods / FMCG, Financial Services, Nigeria, SagaBrand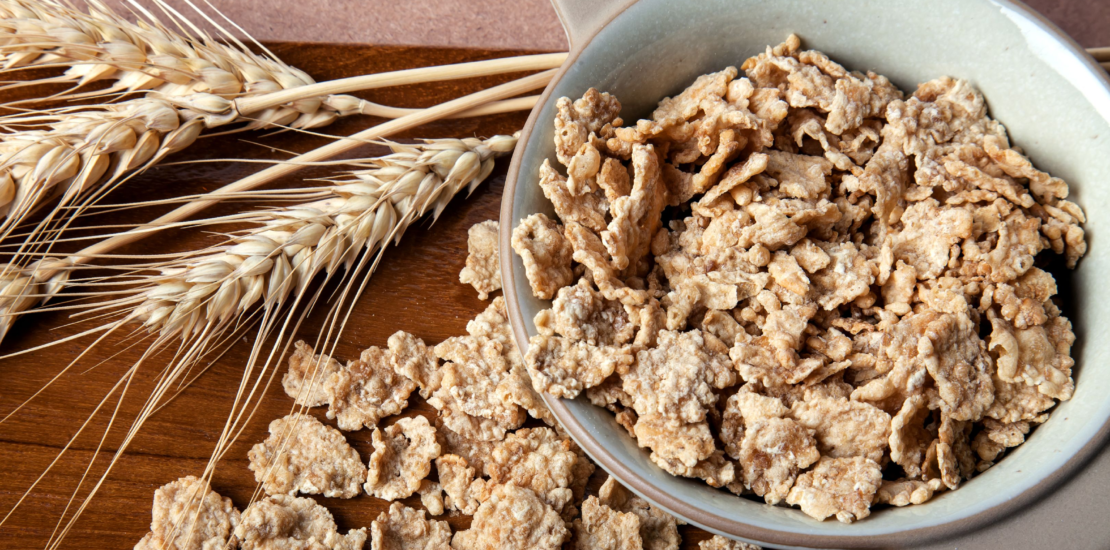 Breakfast cereal market in Nigeria
The breakfast cereals market is growing worldwide, Africa being no exception. Let's look at West Africa and find out which are currently the Top 10 breakfast cereals in Nigeria, where the competition is quite stiff.
An increasingly urban lifestyle has pushed consumers away from more time-consuming traditional breakfast options (such as the hot cornmeal known as "pap") to favour more convenient and quick alternatives. A constantly growing child population, one of the main targets for breakfast cereals, is also boosting demand. Finally, the rising health awareness contributes to growth in demand for nutritious breakfast diets.
Tracking breakfast cereal brands in Nigeria
In this article we reveal the Top 10 breakfast cereals brands in Nigeria in terms of brand quality. It is based on our monthly Brand Health Tracker SagaBrand survey from September 2022. In our survey, we ask consumers to rate the breakfast cereal brands that they are aware of which they believe represent 'good' and 'poor' quality. So what are the top breakfast cereals in Nigeria according to consumers? Read on to find out…
Top breakfast cereals in Nigeria
So this survey shows that Nestlé Golden Morn is the clear winner of the breakfast cereals brands ranking in terms of Quality in Nigeria. Not only because the Nigerian created and produced brand has the highest Good Quality score (93%), it also has the lowest % in terms of Poor Quality.
Quaker Oats and Kellogg's Corn Flakes follow respectively with 86% and 85% in terms of Good Quality. Nestlé Milo Cereal comes in 4th position at 84% Good quality, ahead of Nasco at 79%. While Nasco is the first locally produced cereal brand in the West African nation, it has the highest % of poor quality among the top rated breakfast cereals brands in Nigeria (7%). Intense competition from a growing number of international players raising the bar in the market could explain this lukewarm feedback on one of the oldest established breakfast cereal brands in Nigeria. More investigation would be needed to identify the actual reasons behind such performance.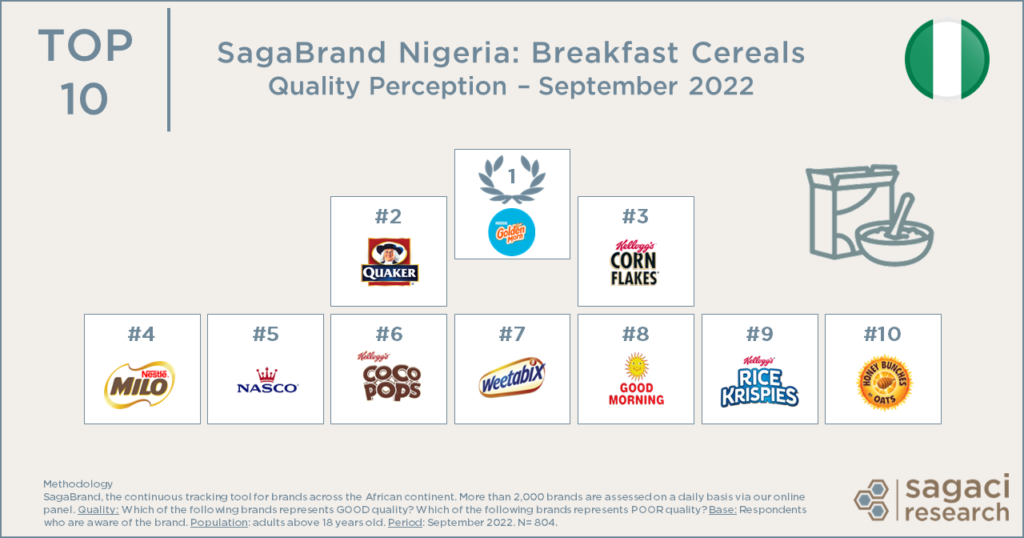 Read also this related article: Nigeria's Best Quality Food Services
Ranking of breakfast cereals brands in Nigeria
Here is the full ranking based on online SagaBrand survey from September 2022.
Good Morning
Other brands closing the ranking include Kellogg's Coco Pops, Weetabix, Good Morning, Kellogg's Rice Krispies and Honey Bunches of Oats.
For more detailed results on Good and Poor performance by brand, go ahead and download the full report below.
How can a brand health tracker help you?
At Sagaci Research, we specialise in providing a range of custom and off-the-shelf research tools for the African continent. Our Brand Health Tracker tool SagaBrand monitors 16 essential KPIs for over 2,000 brands across dozens of countries in Africa.
This is made possible thanks to our large online research panels across Africa, including our online panel in Nigeria. They allow us to capture consumer feedback in no time on a large variety of topics and brands. Finally, if you would like to know more about SagaBrand or how you can leverage our expertise in market research via online surveys in Africa, please send an email to contact@sagaciresearch.com or click below.
Methodology
SagaBrand, the continuous tracking tool for brands across the African continent. Our online panel assesses around 2,000 brands on a daily basis.
Quality: Which of the following brands represents GOOD quality? Which of the following brands represents POOR quality?
Base: Respondents who are aware of the brand. N= 804
Population: adults above 18 years old.
Period: September 2022