02/02/2023
Posted by:

Janick Pettit

Categories:

Beer, Nigeria, Online Panels, SagaBrand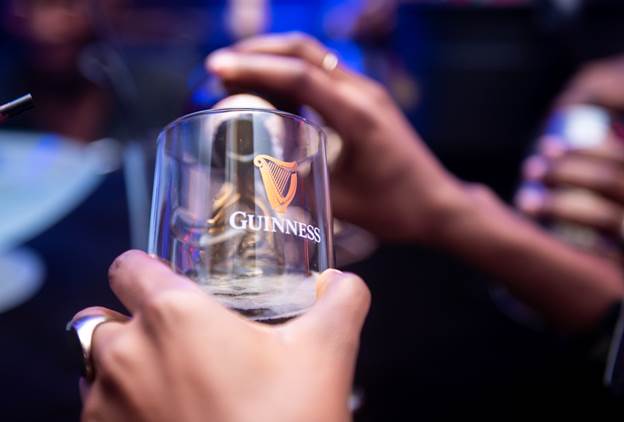 A recent SagaBrand survey shows that, among the main beer brands in Nigeria, Guinness is the most recommended beer (in terms of recommendation score).
Over 700 members of our online panel in Nigeria shared their views on Nigerian beers brands. We asked panellists to tell us which brand, among the beer brands they have ever purchased, they would recommend to their peers as well as avoid. And here are the full results.
Top beer brands in Nigeria, the same but different
We find the same market leaders in the top 4 beer brands in Nigeria as we did two years ago. The only difference between now and when we looked at the Beer Brands with the highest recommendation score in 2020 is the brand order. In 2022, Guinness became the top recommended beer in Nigeria. Incidentally, it is also the most known beer brand in the country (also according to SagaBrand, on Awareness rating), It now comes ahead of Heineken, formerly first of the ranking. Budweiser has moved from 2nd to 3rd place while Orijin remains the 4th most recommended beer in Nigeria.
Here is the Top 10 Beer brands in Nigeria based on Recommendation score in 2022: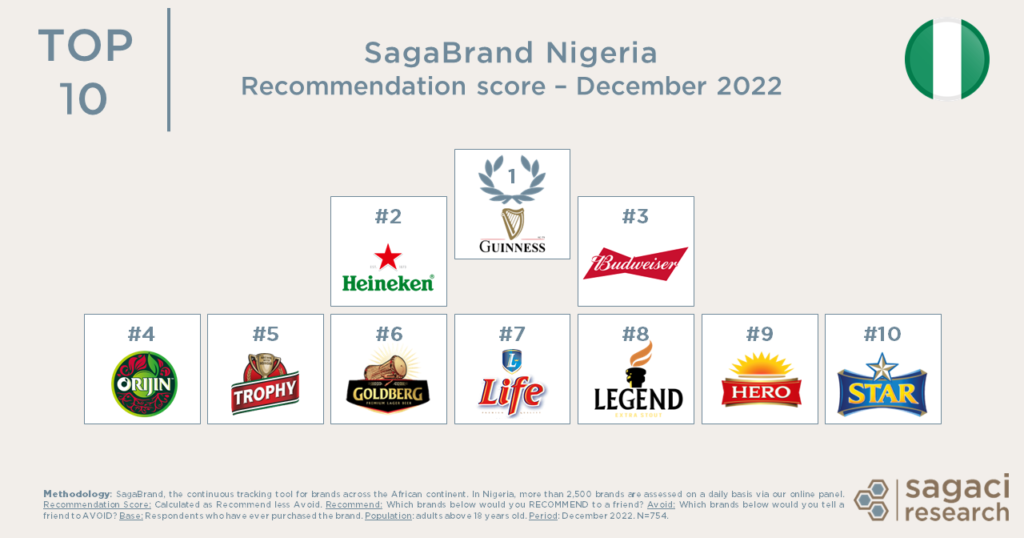 Guinness, a long love story with Nigeria and beyond
These results confirm earlier findings which showed Guinness being the preferred beer brand in Africa when compared to Heineken. When asked to choose between the two brands in the summer 2022, panellists from many African countries leaned towards the Irish Stout, including in Nigeria. Guinness Nigeria is home of the first Guinness brewery outside of the British Isles. The West African country also happens to be the world's second largest market for Guinness so it is no surprise it is one of the most popular beers in Nigeria. We found a similar pattern in Kenya in a Brand Health Tracker study conducted in 2021 with Guinness also leading the way.
Interested in brand health tracking in Africa?
One of the best ways to do market research and specifically to get fast and reliable data on your brand in Africa, is by leveraging SagaBrand, our continuous Brand Health Tracker tool. SagaBrand is a monthly tracker that monitors 16 essential KPIs for over 2,000 brands across dozens of countries in Africa.
Beyond those essential KPIs our online panel can also be useful to dig in deeper and explore specific reasons behind some SagaBrand results. Give us a few days and with our nationally representative sample we'll get you what you need.
Leveraging SagaBrand, we can get powerful data in many different ways. For example we recently looked at the most preferred brands in Africa in 2022, across all sectors and countries.
To conclude, if you would like to know more about SagaBrand or how to do market research online in Africa, please send an email to contact@sagaciresearch.com or click below.
Methodology
SagaBrand, the continuous tracking tool for brands across the African continent. Our online panel assesses around 2,000 brands on a daily basis.
Recommendation Score: Calculated as Recommend less Avoid. Recommend: Which brands below would you RECOMMEND to a friend? Avoid: Which brands below would you tell a friend to AVOID?
Base: Respondents who have ever purchased the brand. 
Population: adults above 18 years old.
Period: December 2022