16/09/2022
Posted by:

Janick Pettit

Categories:

Consumer Goods / FMCG, Corporate, Egypt, Guinea, Retail, SagaTracker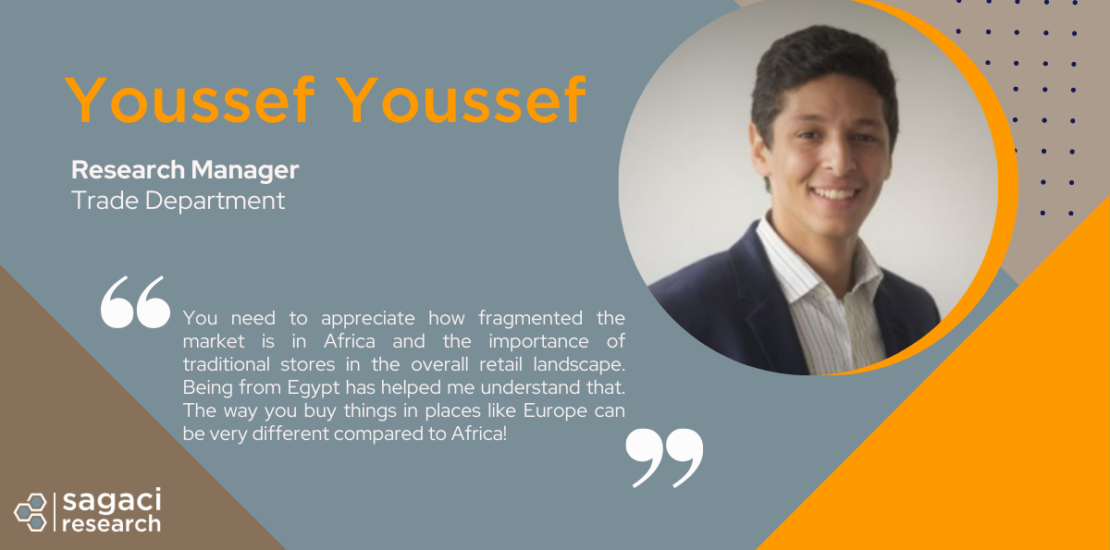 Today we speak to Youssef Youssef, Research Manager in the Trade Department at Sagaci Research. He tells us about his background, his current role and experience in implementing Retail Audits in Africa.
Hi Youssef, can you tell us a bit about your background?
Originally from Egypt, I studied Business Administration and Economics. I joined Sagaci Research in Egypt office in 2015 soon after graduating (this is still my first job!). I then took a short break in 2017 to travel across South East Asia. Initially I worked on management consultancy type of projects. Later on, I dealt with a mix of consumer, market sizing and market intelligence projects. My roles basically evolved at the same time as the company focus did. I now work in the Trade department, which is one of our key pillars [Editor's note: along with Consumer Understanding with SagaBrand and SagaCube products].
Can you describe your role at Sagaci Research and your responsibilities?
I am a Research Manager in the Trade department where I handle Retail Audit projects in Africa. The bulk of our work is around syndicated Retail audits with our SagaTracker product. With this tool we monitor brand performance in Africa. It covers a representative panel of stores for 64 FMCG categories, in both modern and traditional distribution channels across 13 countries on a regular basis. We track key market indicators such as market share, numeric and weighted distribution, etc.
We also do ad-hoc retail surveys when clients need a more customized approach. For example some brands might need a higher frequency (monthly instead of quarterly). They might also want to capture elements of the picture of success (promotional materials), or get a sense of the margin retailers apply, etc.
My job is essentially to ensure all goes smoothly from data collection stage to report / dashboard delivery and client presentation. For this I coordinate with several teams: Operations teams on the ground to set up fieldwork, Quality Control team (a critical aspect!), IT team and research executives who handle the day to day.
What are the most critical components of your work?
I would say there are two key things when running Retail Audits in Africa and they are closely related. The first one is the focus on Quality, while the second is Technology. The latter actually helps us in many ways in managing Quality.
Quality focus
As it is the case in all research projects, in all steps of the way Quality is at the forefront of our concerns!
First, we build our outlet panel in a way that it is representative of the retail landscape and large enough so we can look at breakdowns with enough granularity. We really make sure we have consistency in the panel throughout waves and working with the same local teams helps.
Technology in Retail Audits
That is where Technology comes in. Until a few years ago we used to rely on 3rd party tools for data collection. We now have an extensive IT team who developed and continuously improves our own application (SagaPoll). It was designed with our exact needs in mind and offers really powerful features for the SagaTracker survey (among other applications like our online panel). It significantly reduces possible errors with geofencing systems to identify panel stores, built-in measures during and post-data collection. For example it controls the expected number of products and categories to be captured by type of stores, compares GPS points, checks data consistency across waves, etc. It helps streamline most of the data management process with automated calculations. To this we add an extra layer of human verification of outlet pictures ensuring the right stores are being visited.
"The consistency we find across datasets, cities, teams, and waves proves that the technology and this approach works."
All in all, the entire process becomes extremely reliable and smooth! And also easier for our clients since data analysis and reporting is automated on our online client portal.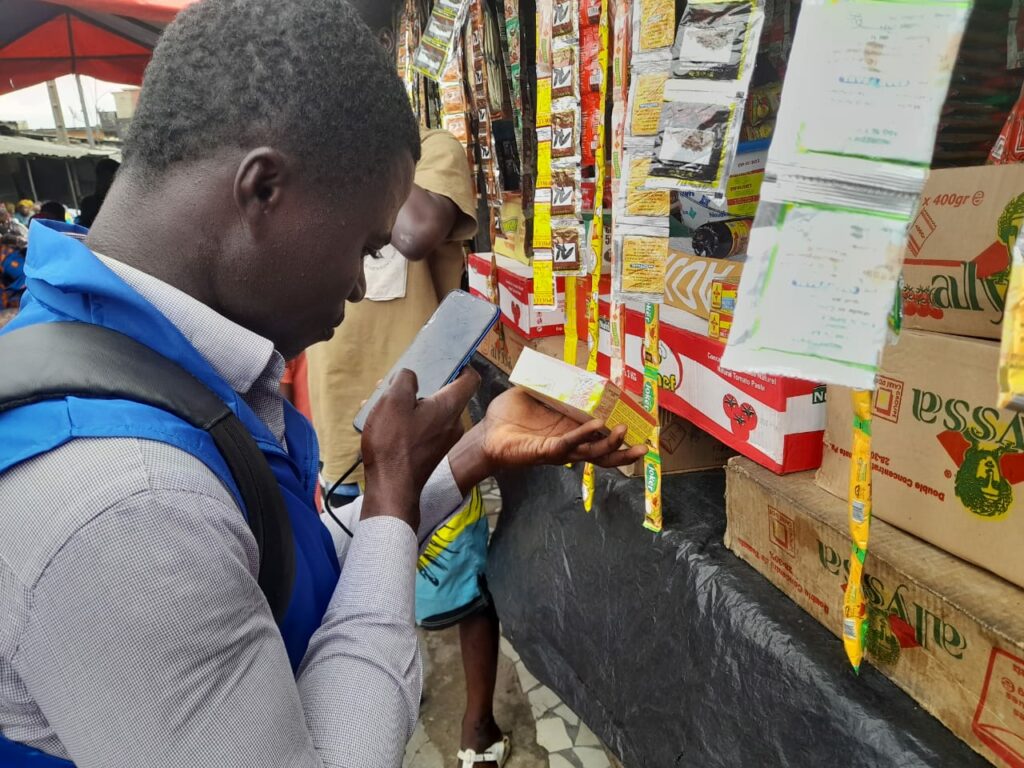 The consistency we find across datasets, cities, teams, and waves proves that the technology and this approach works. And when we find sudden changes in metrics in the data, our clients can usually confirm them later (eg. temporary distribution disruption,..).
How do you see Retail Audits in Africa evolving in the future?
I think we are only at the early stages of what can be done. A lot more improvements are possible. For example, we are currently relying on manual data collection in stores. It really helps building a strong panel but eventually we could be equipping stores to provide data themselves digitally. We could leverage digital tools such as those allowing payment.
What would you say are the main challenges that you face when running Retail Audits in Africa?
Getting consistency in data collection when dealing with large teams, large panel sizes in spread out cities (such as Conakry) is tricky. Luckily we have now built solid data collection capacity across the geographies we work in. Also getting the buy-in of store managers can be challenging, as not all of them easily agree to let the teams manipulate products and scan barcodes!
What motivates you about working at Sagaci Research?
What I enjoy the most in my role and the company is the flexibility and the variety of possibilities. There is room to achieve what you want to do. In fact, I have done many different things since I joined the company!
Also the structure of the company makes it easy to communicate with everyone in spite of the fact that most of us are based in different countries.
If you had to give some advice to someone starting to work in Trade Research in Africa, what would it be?
First understanding that Africa is not just one block. It is 54 countries, each with its own unique culture. Being from Egypt has helped me understand how things are in Africa and how retail works. You need to appreciate how fragmented the market is and the importance of traditional stores in the overall retail landscape.
The way you buy things in places like Europe can be very different compared to what happens in Africa!
You also need to be able to deal with a lot of inputs and make sense of them. Spotting inconsistencies requires some comfort with numbers, with a strong analytical mind and attention to details. Finally, it is very important to go beyond pure numbers. Indeed, you need to derive implications for clients and be able to make relevant recommendations.
To conclude Youssef, could you share with us a fact about you that we might not know?
I am an avid photographer and enjoy playing guitar. Actually, a few of my colleagues also play an instrument. Soon we will be able to start a Sagaci band!
Want to know more about Retail Audits in Africa?
Wondering how to get started with SagaTracker or how we run our syndicated Retail Audits in Africa? Are you curious about our market research methods? Click below or email us at sagatracker@sagaciresearch.com.
Alternatively, if you are interested in working with Sagaci Research, we would love to hear from you! We are constantly growing and looking for talents. Check our recruitment page for open positions or reach out to us at contact@sagaciresearch.com.