02/11/2023
Posted by:

Issa Sawadogo

Categories:

Cote d'Ivoire, Dairy, Non-alcoholic beverages, SagaBrand, SagaCube, Senegal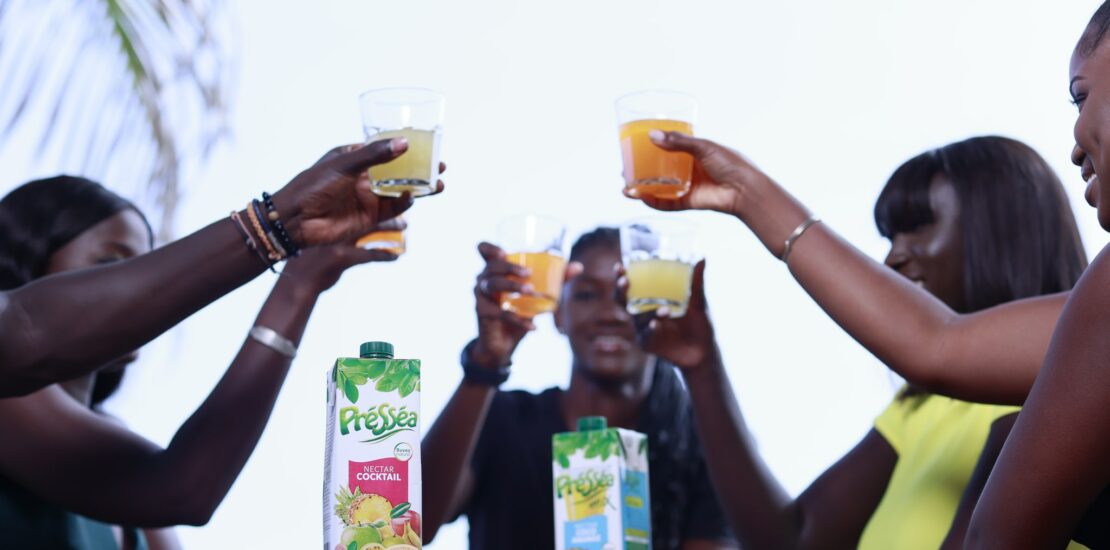 In this article, we focus on juice consumers in Africa, more specifically Présséa consumers in West Africa. Owned by the Kirène Group, Présséa was recently elected the most preferred juice brand in Africa based on SagaBrand, the Brand Health Tracker tool in Africa. With a leading position in its core markets of Senegal and Côte d'Ivoire, one can wonder how Présséa consumers in these two countries compare to each other. Should the same marketing and communication approach be used to address them or are there differences in their values and preferences that would be worth considering?
Kirène: one of the leading non-alcoholic beverage groups in Senegal
The Kirene Group was founded in Senegal in 2001 by Siagro (Société Industrielle Agroalimentaire). Initially focused on water, it has expanded its portfolio of non-alcoholic beverages over the years to include fruit juices and milk. The group markets dairy products, through a partnership with the French group Candia in collaboration with Sodiaal.
More recently it added Carbonated Soft Drinks with a partnership with Pepsico through which it distributes soda brands such as Pepsi, Seven Up and Mirinda. It is now one of the major players in the West African juice market with the brand Présséa. It has recently expanded to Côte d'Ivoire (2020) through its Agroci subsidiary.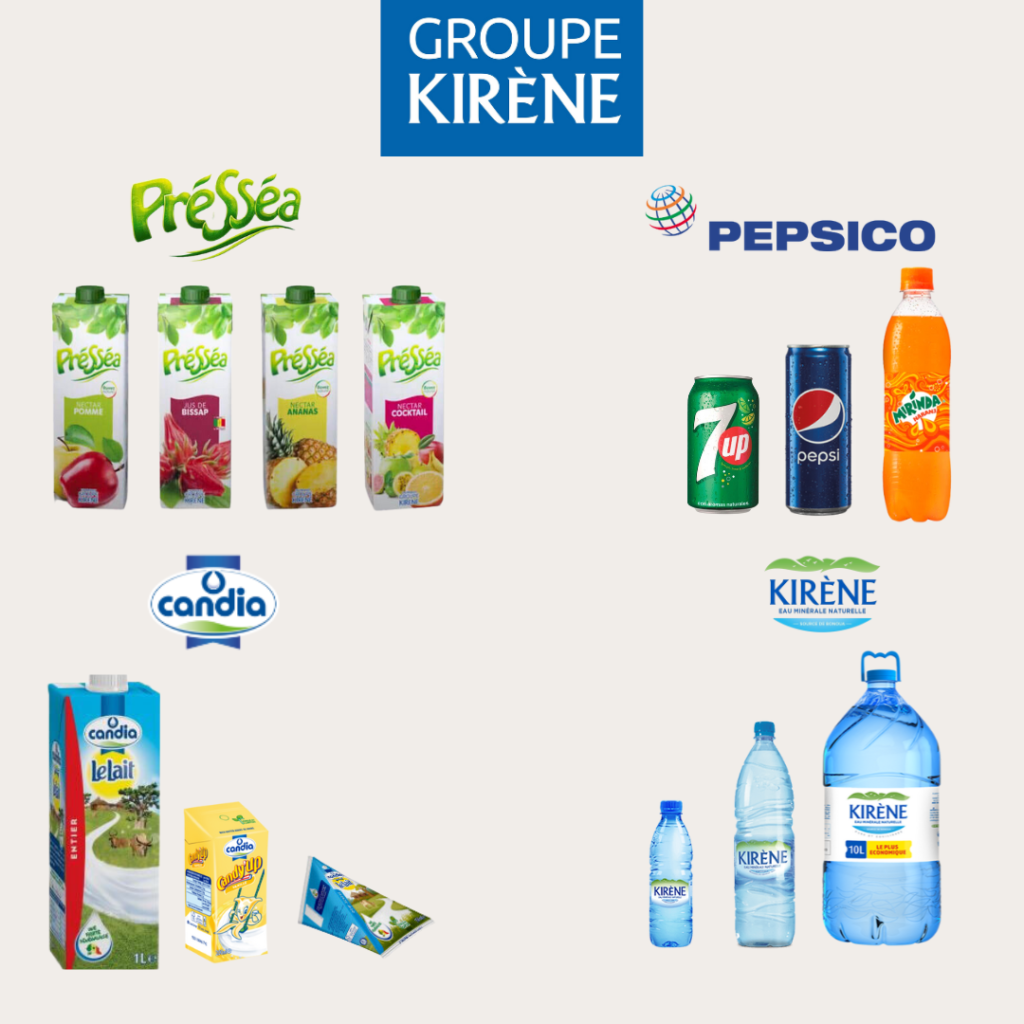 Profiling juice consumers in Africa leveraging brand and consumer research tools
SagaBrand, the Brand Health Tracker tool can be combined with the Consumer behaviour tracking tool SagaCube so that together they highlight the consumer behaviour of certain brands. For example, it becomes easy to explore what particular consumers think, value, consume, aspire to, etc. So who are Présséa consumers in Senegal and Côte d'Ivoire?
Présséa, more of a lunchtime drink in Senegal
With the use of consumer behaviour data, we are able to observe certain differences between Présséa consumers in Senegal and Côte d'Ivoire. For example, Senegal consumers tend to be more male and younger than their Ivorian counterparts. In terms of juice consumption habits, they are also more likely to drink juice during lunchtime in Senegal. Ivorian consumers, on the other hand, enjoy juice more often on the go during their daily routine. Additionally, in terms of juice packaging trends in Africa, we find that Senegalese Présséa drinkers are more actively engaged in reducing their plastic usage compared to consumers in Côte d'Ivoire.
Cans and Tetra Pack in Senegal, plastic bottles in Côte d'Ivoire
Présséa is available in several types of packaging (can, Tetra pack and plastic bottle). Consumer preferences seem to differ slightly between the two markets. Senegalese consumers tend to prefer buying juice in cans and Tetra Pack whereas the plastic bottle is the way to go in Côte Ivoire.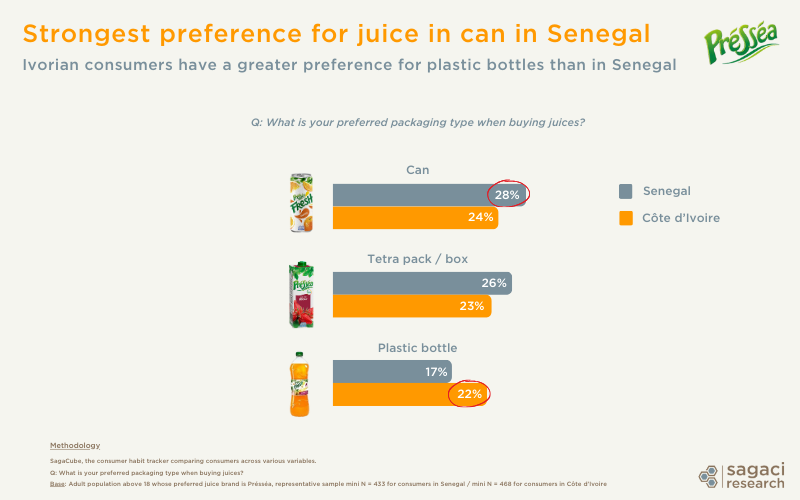 Different juice consumer demographics and preferences in terms of juice flavours
If Senegalese Présséa consumers are more represented among men. We find the opposite trend in Côte d'Ivoire where there is a higher proportion of female consumers (55% vs. 47% in Senegal). They are also wealthier in Senegal (more represented in SEC AB).
Also, it is interesting to note that flavour preferences differ between the two markets. Présséa offers 13 different juice flavours, with Ivorians demonstrating a stronger preference for orange (36% in Côte d'Ivoire vs. 21% in Senegal). Conversely, Senegalese juice drinkers favour the local Bissap.
Finally, Présséa consumers from Côte d'Ivoire express greater concern about the sugar content in their food than Senegalese (79% vs 73%).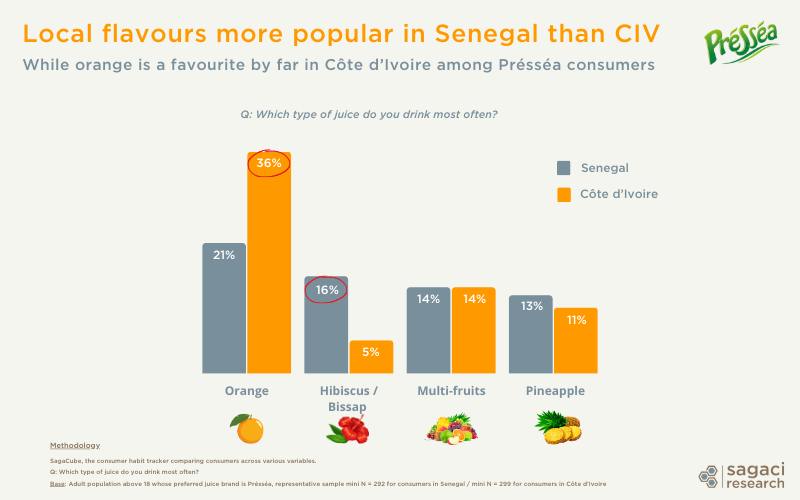 Want to find out more?
Sagaci Research has an established panel of respondents across 34 countries in Africa including in Senegal and Côte d'Ivoire. Our online panel and data collection capabilities help businesses understand consumers across the continent.
Our representative online panel across Africa is mobile based to ensure deep reach and fast turnaround times. You will be able to have thousands of respondents in a highly engaged online panel, and detailed answers to your questions – with results available in a few days.
Get fast access to our online panels
Finally, for more information on juice consumption across Africa, or how to research market trends, please send an email to contact@sagaciresearch.com. Alternatively, contact us using the form below.
Methodology
SagaBrand, the continuous tracking tool for brands across the African continent. Our online panel assesses around 2,000 brands on a daily basis, including the juice category.
SagaCube, the consumer habit tracker in Africa
Questions :
From the following juice brand ever purchased, which one is your preferred brand? Présséa (SagaBrand)
On which occasions do you ever drink juices?
Which type of juice do you drink most often?
What is your preferred packaging type when buying juices?
Base: Consumers whose preferred juice brand is Présséa in Senegal and Côte d'Ivoire. Mini sample per brand: n = 292
Population: Adults above 18 years old
Period: January to July 2023
Image source: @présséa