23/08/2022
Posted by:

Caitlin Beck

Categories:

Botswana, Burkina Faso, Cameroon, Consumer Goods / FMCG, Cote d'Ivoire, Egypt, Ethiopia, Ghana, Ivory Coast, Kenya, Mozambique, Nigeria, Non-alcoholic beverages, Online Panels, South Africa, Tanzania, Togo, Uganda, Zambia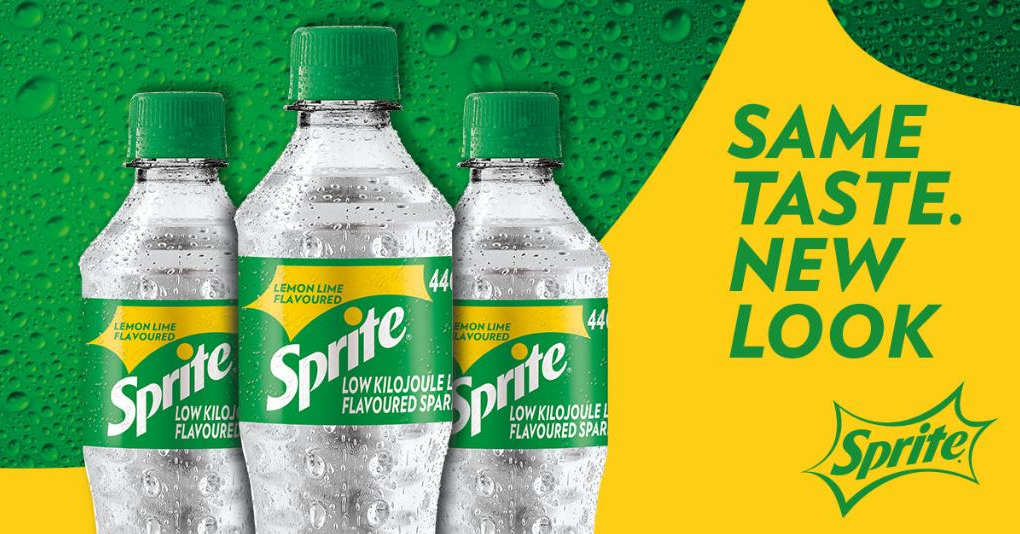 In a bid to reduce their impact on the environment, more brands are switching to more eco-friendly packaging, including in Africa. Below, we take a look at how Sprite, the carbonated soft drink brand owned by The Coca-Cola Company, have made changes to their iconic plastic packaging. The changes have been implemented in Africa and the rest of the world in order to reduce their impact on the planet. Read on to discover how consumers across the continent have reacted to this.
Sprite replaces iconic green bottle with eco-friendly packaging alternative
The Coca-Cola Hellenic Bottling Company operates in 29 markets, including Egypt and Nigeria, which together make up 25% of the population of Africa. As part of their World Without Waste strategy, one of their latest initiatives has been to swap out Sprite's iconic green plastic bottles for a 100 percent recyclable clear bottle. Campaigns across social media have publicised the changes using catchphrases like "Transparent is the new green!". So far, the African nations of South Africa, Nigeria, Ethiopia, Kenya and Uganda have seen the changes. The roll out also continues worldwide with announcements made across the US in recent weeks.
Have consumers in Africa noticed the packaging change?
At Sagaci Research, we wanted to know if consumers have noticed this packaging change. Leveraging our proprietary panel, we found that Kenyans had the keenest eye for detail. 87% reported having seen the clear bottles, compared to only 59% of Ethiopians.
Should other drink manufacturers make similar changes towards more eco-friendly packaging?
Recycling facilities can be somewhat limited across Africa. Despite this, 85% percent of respondents across the continent thought that other CSD manufacturers should make similar packaging changes to their bottles as those made by Sprite. This viewpoint was fairly unanimous across the continent.
In all countries surveyed, over 70% of respondents supported other brands making similar environment-focused packaging choices. Our Botswana, South African and Kenyan panels had some of the strongest opinions with 92-94% in support.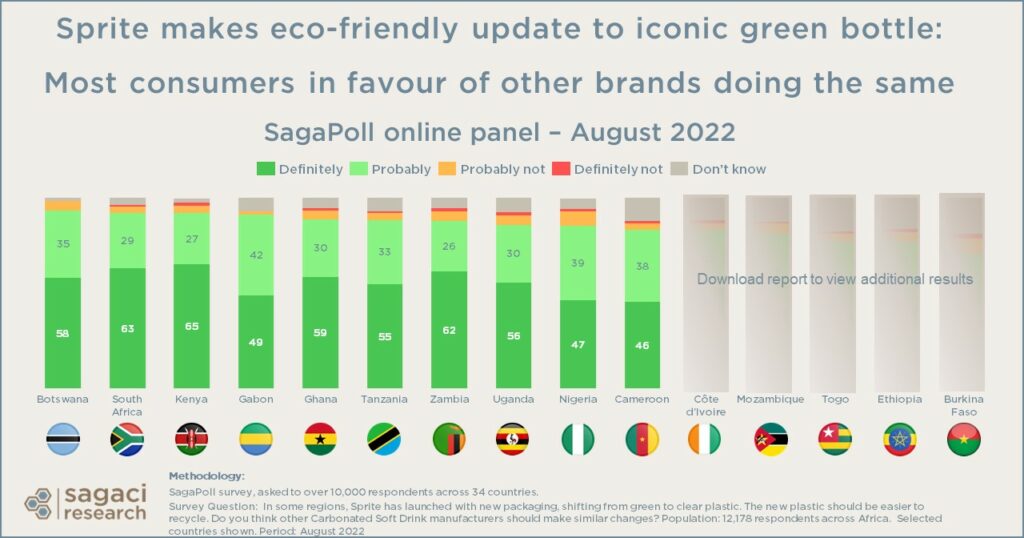 The strong support for Sprite's efforts to shift towards more eco-friendly packaging in Africa aligns with the strong brand image held by consumers. In recent SagaBrand surveys*, Sprite ranked within the top 3 Good Quality carbonated soft drink brands in Nigeria (behind Coca-Cola and Fanta) and within the top 6 for Customer Satisfaction in Egypt (behind Schweppes, Pepsi, 7up, Mountain Dew and Freez).
Read more about BHT in Africa: Top 10 Carbonated Soft Drinks brands in Egypt
Next steps for rival CSD bottling manufacturers?
The reality of whether or not the bottles end up being recycled via official channels or not remains to be seen. However, for the bottles that are, swapping out the green plastic for the 100% recyclable clear plastic takes the brand one step closer to reducing its environmental footprint. In addition to recycling used bottles, consumers may choose to reuse the bottles for various purposes. For example, this could be for the resale of small quantities of gasoline, or as 'Ecobricks' for innovative building projects.
Without a doubt, manufacturers should be combining their sustainability targets with what consumers want… why not leverage our SagaPoll online research panel to find out exactly what that is? Conducting packaging testing could also prove extremely useful for brands engaging in such transitions.
Related articles: Preferred CSD brand in Africa: Coca Cola or Pepsi?
Discover online research panels
The above results come from SagaPoll, the African online survey app. Such a tool allows us to research market trends across 34 countries. It gathers thousands of respondents in a highly engaged online panel, providing detailed answers to your questions. Results available in just a few days.
Finally, if you would like to know more about leveraging online panels for your market research needs in Africa, please send an email to contact@sagaciresearch.com or click below.
Methodology
SagaPoll survey asked to over 10,000 respondents across 34 countries. The survey leveraged our online panels in countries such as: Angola, Benin, Burkina Faso, Botswana, Cameroon, Côte d'Ivoire, Burundi, Democratic Republic of Congo, Congo Brazzaville, Egypt, Ethiopia, Gabon, Ghana, Guinea, Kenya, Morocco, Mali, Mozambique, Nigeria, Rwanda, Senegal, Togo, Tanzania, Uganda, South Africa, Zambia, Zimbabwe, etc.
Survey Questions:
In some regions, Sprite has launched with new packaging, shifting from green to clear plastic. Have you seen any of these bottles of Sprite in the clear plastic yet? Yes / No / Don't know
The new plastic should be easier to recycle. Do you think other Carbonated Soft Drink manufacturers should make similar changes? Definitely / Probably / Probably not / Definitely not / Don't know
Population: 12,178 respondents across Africa. Minimum base size of 30 per county required to show data.
Period: August 2022
* Data from SagaBrand, the continuous tracking tool for brands across the African continent