22/11/2023
Posted by:

Issa Sawadogo

Categories:

Consumer Goods / FMCG, Morocco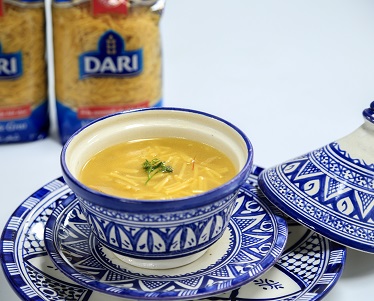 Today, we take a look at the top pasta brands in Morocco based on SagaBrand, the Brand Health Tracker in Africa. While Moroccan cuisine is most known for couscous, pasta is also part of some traditional Moroccan dishes (such as rfissa or chorba with vermicelli noodles).
Among the 16 standard KPIs SagaBrand tracks monthly, we asked our online panel in Morocco which pasta brands they are aware of, and among these which ones they perceive as good quality. Read on to find out which are the most popular pasta brands in Morocco in October 2023 on these two performance indicators.
Top pasta brands in Morocco are mostly local
Our recent online survey reveals that Moroccan family owned brand Dari tops the pasta brand ranking in Morocco in terms of awareness (67%). It comes ahead of Alitkane (60%), owned by the Zine Capital Invest Group, and Tria (56%).
Morocco is a large crop producer, particularly cereals such as wheat. So it's not surprising to find 8 national pasta manufacturers among the 10 best-known pasta brands in Morocco. These companies often also produce other wheat related products such as couscous, flour and semolina.
Conversely Moroccan pasta consumers are less familiar with foreign brands. French brand Panzani and Spanish brand Gallo close the ranking with 14% and 8% awareness respectively.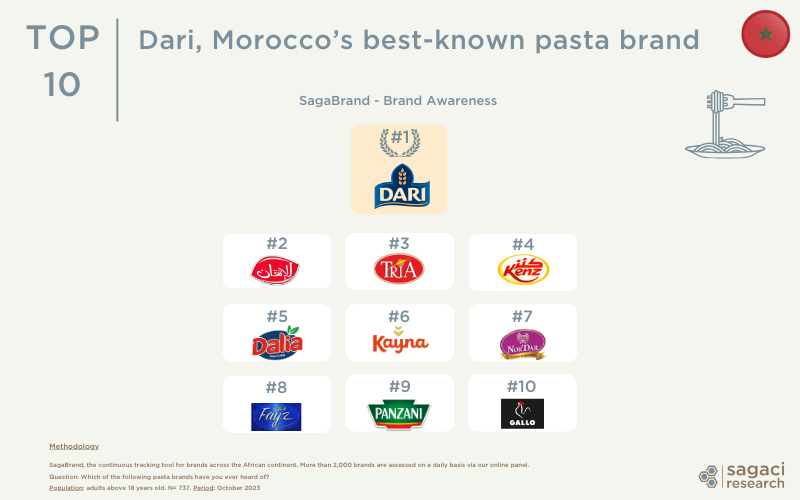 Here is the Top pasta brands in Morocco in terms of brand awareness:
The pasta market in Morocco dominated by 3 brands on Quality
In terms of Quality perception, the picture is slightly different. Indeed, AlItkane now emerges as the leader in terms of perceived quality, with a score of 73% while Dari, the most known pasta brand in Morocco, falls in third position (70%). These two brands, along with Panzani, are clearly the Moroccan pasta market leaders on this indicator.
Also to note that if foreign brands are less well known than local brands, they generally perform better when they are evaluated on Quality perception. In fact, Panzani jumps to 2nd spot on Quality at 72% and Gallo ranks 5th at 52%.
The top pasta brands in Morocco based on Good quality indicator.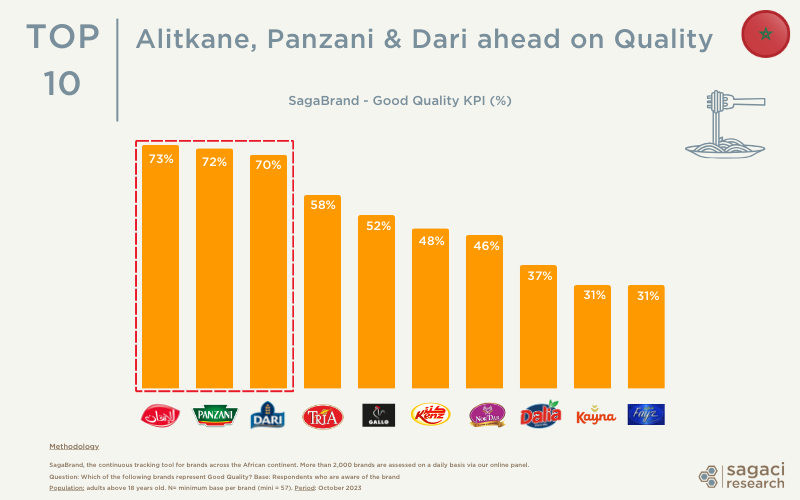 Want to find out more about brand performance tracking in Africa?
Sagaci Research's proprietary representative online panel spans across 34 countries in Africa. It enables businesses to gain insights into consumer behavior and preferences throughout the continent. Our online panel is mobile-based, ensuring quick turnaround times. With thousands of engaged respondents, marketers can expect comprehensive and detailed responses to any brand inquiries.
For further information regarding the top pasta companies in Morocco or inquiries about online market research in Africa, please send an email to contact@sagaciresearch.com. Or reach out to us via the form below.
Methodology
SagaBrand, the continuous tracking tool for brands across the African continent. In Morocco, our online panel assesses more than 500 brands on a daily basis across a wide range of product categories including pasta, other food categories as well as beverages.
Brand Awareness: Which of the following pasta brands have you ever heard of?
Base: Adults above 18 years old, n = 737
Positive Quality: Which of the following brands represent Good Quality?
Base: Consumers who are aware of the brand. Minimum sample per brand (mini n = 57).
Period: October 2023
Image: Dari