28/04/2023
Posted by:

Janick Pettit

Categories:

e-commerce, Morocco, Online Panels, Retail, SagaBrand, SagaCube, Supermarkets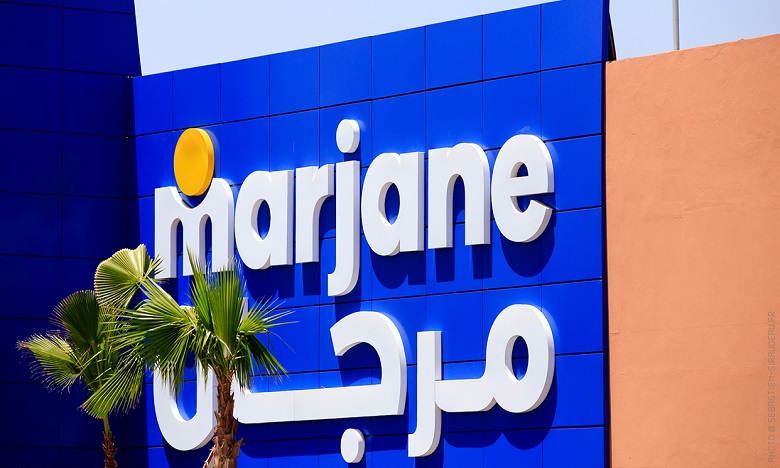 Supermarkets in Morocco and the overall Morocco retail industry have been experiencing significant growth over the past decade. This is due mostly to a high demographic growth, rapid urbanisation and increased disposable income. This results in a growing appetite from key players to extend their footprint even beyond the major urban centres.
With the modern retail landscape in the Kingdom becoming highly competitive, let's explore consumer preferences. Which retailers do they consider the most popular supermarkets in Morocco?
Preferred supermarkets in Morocco: what do consumers tell us?
Results from a March 2023 survey on SagaBrand online panel in Morocco show that Marjane supermarket (owned by Marjane Holding) is the most preferred retail brand in Morocco. And by far. 62% of respondents who have ever purchased from the retailer declared it their preferred brand. Way ahead of BIM, the Turkish hard discount chain, only preferred by 39% of our Moroccan panel. Coming in 3rd position Carrefour (owned by Label'Vie) is at 30%, in front of the Moroccan group Aswak Assalam (owned by Ynna Holding) at 18%. Atacadao (brazilian cash and carry chain, owned by Label'Vie in Morocco) is 5th at 15%. Closing the ranking we find Label'Vie at 8% and finally Acima (owned by Marjane) at 5%.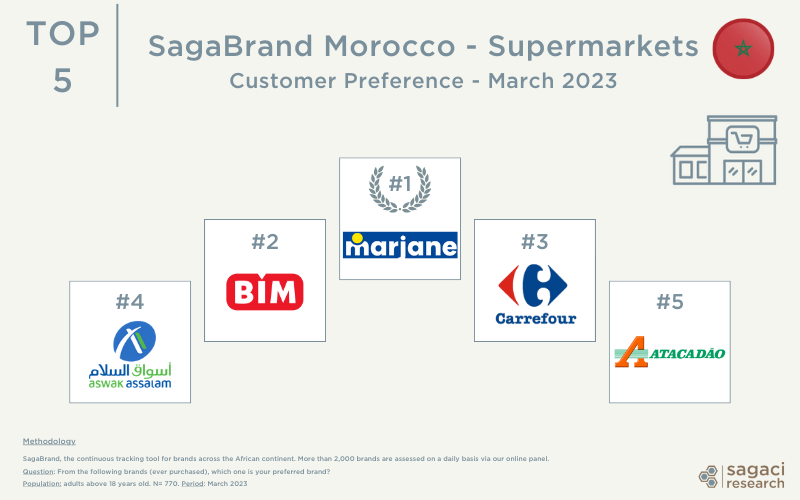 Supermarkets in Morocco: Marjane on all fronts
Marjane's strong results are not exactly a surprise. It is indeed one of the largest players of the Moroccan retail sector with currently over 130 stores in Morocco.
It owns Acima (originally created in partnership with Auchan). In a strategic move to challenge Carrefour Market in the neighborhood convenience store segment, Marjane rebranded Acima stores in 2019 into Marjane Market.
Following the Covid crisis and to address evolving consumer shopping habits, online grocery shopping in Morocco has grown significantly. Indeed, many Moroccan grocery stores now offer online ordering and delivery services. To capture further retail market share and improve its customers shopping experience Marjane launched its delivery service app in 2021.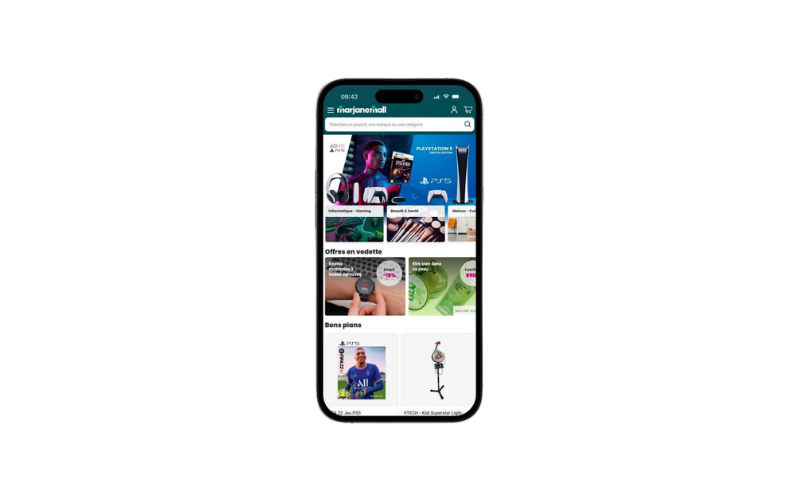 Convinced by the significant growth expected in the e-commerce sector in Morocco in the near future, Marjane launched early this year its own marketplace 'MarjaneMall'. It sells a variety of household items, electronics, etc relying on a network of third party vendors. Capitalising on its strong brand image, MarjaneMall is competing directly with established players in a highly competitive market: Jumia, AliExpress, Amazon, etc. It will be interesting to see if they manage to establish themselves as one of the key leaders in the Moroccan online shopping landscape in the coming months. How will they differentiate themselves from existing players? Depth of product selection from both local and international sources leveraging their existing supply chain? product quality? low prices? flexible payment options and return policy? speed of delivery?…
How to track brand performance in Africa?
One of the best ways to do market research and specifically to get fast and reliable data on your brand in Africa, is by leveraging SagaBrand, the continuous Brand Health Tracker tool. The monthly tracker monitors 16 essential KPIs for over 2,000 brands across dozens of countries in Africa.
Beyond those essential KPIs our online panel can also be useful to dig in deeper and explore specific reasons behind some SagaBrand results. Give us a few days and with our nationally representative sample we'll get you what you need.
To conclude, if you would like to know more about SagaBrand or how to research online consumer preferences in Morocco, please send an email to contact@sagaciresearch.com or click below.
Methodology
SagaBrand, the continuous tracking tool for brands across the African continent. Our online panel assesses around 2,000 brands on a daily basis.
Question: From the following brands (ever purchased), which one is your preferred brand?
Population: adults above 18 years old.
Photo credits: Le Matin / La Vie Eco