30/09/2022
Posted by:

Janick Pettit

Categories:

Beauty & Personal Care, Consumer Goods / FMCG, Kenya, Online Panels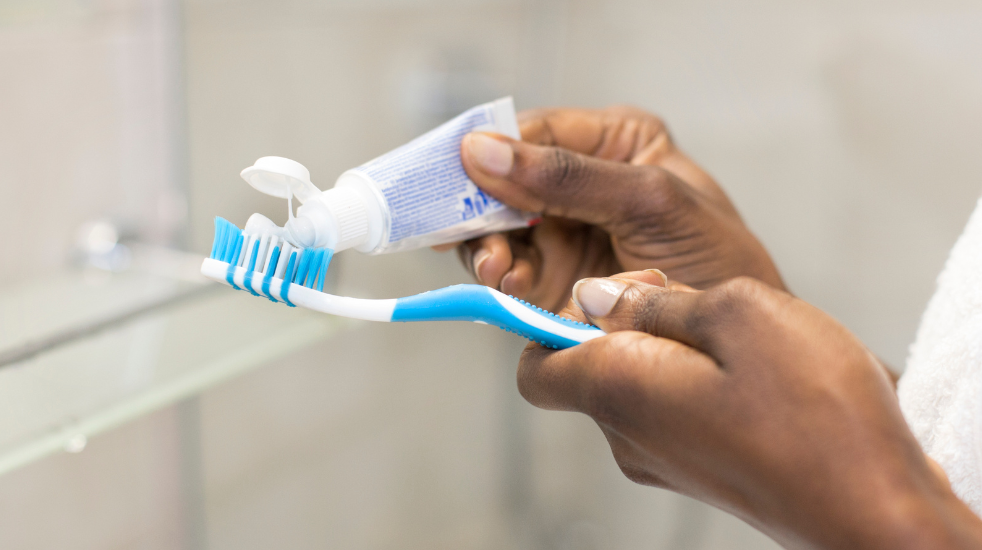 Oral care market in Kenya
The oral care market remains robust in Kenya, especially for staple items such as toothpaste and toothbrushes. To find out which are the Top 5 toothpaste brands in Kenya based on what consumers have in their homes, we asked our SagaPoll panel members. SagaPoll, our online panel in Africa, allows us to collect hundreds of responses from members throughout the continent in just a few hours.
Kenyan panelists shared with us the most recent toothpaste brand they bought, as well as price, pack size, and a picture. Read on to find out which brands are currently most popular based on this pantry check in Kenya.
Top 5 toothpaste brands in Kenya
So what did we find in the homes of our panel members in Kenya when it comes to toothpaste?
Here is the Top 5 toothpaste brands most found in Kenyan homes based on share of pantry (by volume):
Colgate, from Colgate-Palmolive, is leading the ranking with the biggest market share at 39%. Incidentally it is the first commercially produced toothpaste in the world and it has been the historical dominant player in the competitive Kenyan market. The American brand might owe its popularity partially to strong advertisement visibility. For example, earlier this year Colgate has relaunched in Kenya a new and improved toothpaste (Colgate Maximum Cavity Protection). The brand is also active in the East African country with its Bright Smile, Bright Future community program. It aims at promoting Oral Health education to underserved children and families across the world.
The closest competitor to Colgate is international brand Pepsodent (from Unilever) in second position at 24% market share. Chinese manufactured T-Guard comes 3rd at 10% and Closeup, also from Unilever is 4th at 9%. We find only one local brand in the Top 5 ranking with East African Whitedent closing the list at 3%.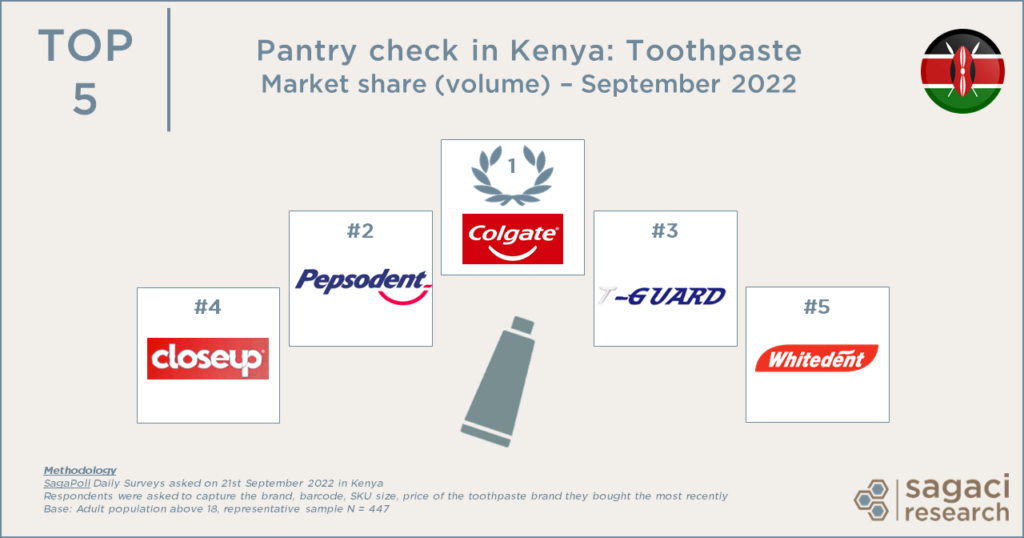 Preferred format and channels for toothpaste in Kenya
The most popular format of toothpaste in Kenya is the standard 150g tube (found in 20% of homes). The 2nd most found pack size is the pocket size 35g sold mostly by leader Colgate (14% of homes).
Kenyan consumers buy toothpaste almost exclusively in supermarkets (66%) and to a lesser extent in kiosks (27%).
Toothpaste brands price positioning in Kenya
We asked panel members to tell us the price they paid for the toothpaste they bought most recently. The average price per g / ml across brands is 2.2 KES. This is slightly above the average price of the leading market brands. Indeed, Colgate averages at 1.8 KES per g / ml, Pepsodent at 1.2 KES and T-Guard at only 0.4 KES, one of the cheapest in the market. On the other end of the spectrum, we find premium brand Sensodyne averaging at 7.3 KES.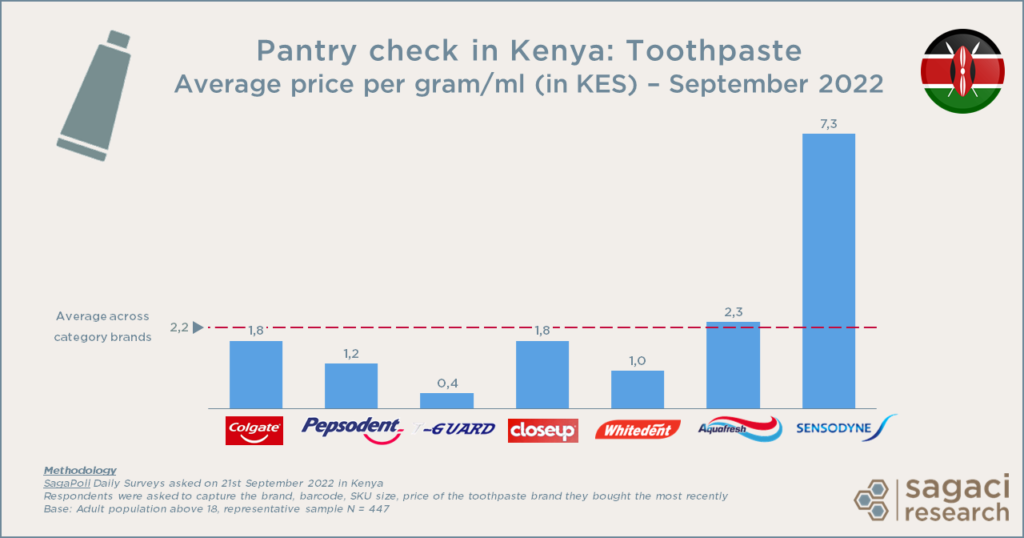 Which toothpaste brand for which income group?
Interestingly, Colgate, which is priced higher than Pepsodent on average, performs better with the lower income groups compared to the Unilever brand. Over half of Colgate's consumers earn less than 250 USD / month while this group represents only a third of Pepsodent users.
Such online surveys allow for fairly deep granular analysis by brand, demographic, etc. Contact us for further details.
Get fast access to our online panels in Africa
To conclude, pantry check is just one of the ways we leverage our online panel across 34 countries in Africa.
Our representative online panel across Africa is mobile based to ensure deep reach and fast turnaround times. You will be able to have thousands of respondents in a highly engaged online panel to help you understand consumers across the continent. Obtain detailed answers to your questions – with results available in a few days.
Countries we cover include Angola, Benin, Burkina Faso, Botswana, Cameroon, Côte d'Ivoire, Burundi, Democratic Republic of Congo, Congo Brazzaville. We also have panels in Egypt, Ethiopia, Gabon, Ghana, Guinea, Kenya, Morocco, Mali, Mozambique, Nigeria, Rwanda, Senegal, Togo, Tanzania, Uganda, South Africa, Zambia and Zimbabwe.
For more information on consumers habits in Africa or how to conduct market research in Kenya send an email to contact@sagaciresearch.com. Alternatively, contact us using the form below.
Methodology
SagaPoll Daily Surveys asked on 21st September 2022 in Kenya
Respondents were asked to capture the brand, barcode, SKU size, price of the toothpaste brand they bought the most recently
Base: Adult population above 18, representative sample N = 447