12/08/2022
Posted by:

Janick Pettit

Categories:

Insurance, SagaBrand, Uganda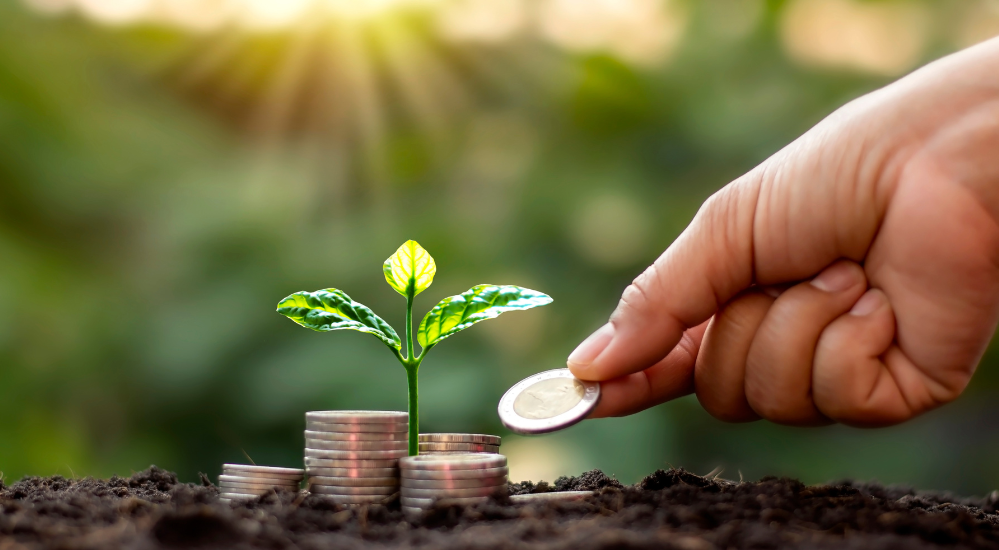 The insurance sector in Africa is expected to grow significantly in the coming years. As such it is critical for players in the sector to stay ahead of the game to secure clients and market share. To identify the best insurance companies in Uganda, we checked the latest feedback from SagaBrand, our continuous Brand Health Tracker in Africa. Read on to find out how insurance companies in Uganda rated in terms of customer satisfaction in July 2022. Which one received the most praises and conversely which ones are not making their customers happy?
Which are the best insurance companies in Uganda?
The good news is that all main players within the top insurance companies in Uganda achieve a fairly high level of customer satisfaction. UK owned Prudential comes first with a strong 87% of its customers being satisfied by the company services. Not too far behind, UAP Old Mutual comes 2nd at 80% satisfaction level followed by Jubilee and Britam both at 77%. South African owned Sanlam, Ugandan Swico, East African Alliance Africa General Insurance close the ranking of insurance companies in Uganda with respectively 75%, 74% and 72%.
Read more on this topic: Top 10 banks in Uganda for customer satisfaction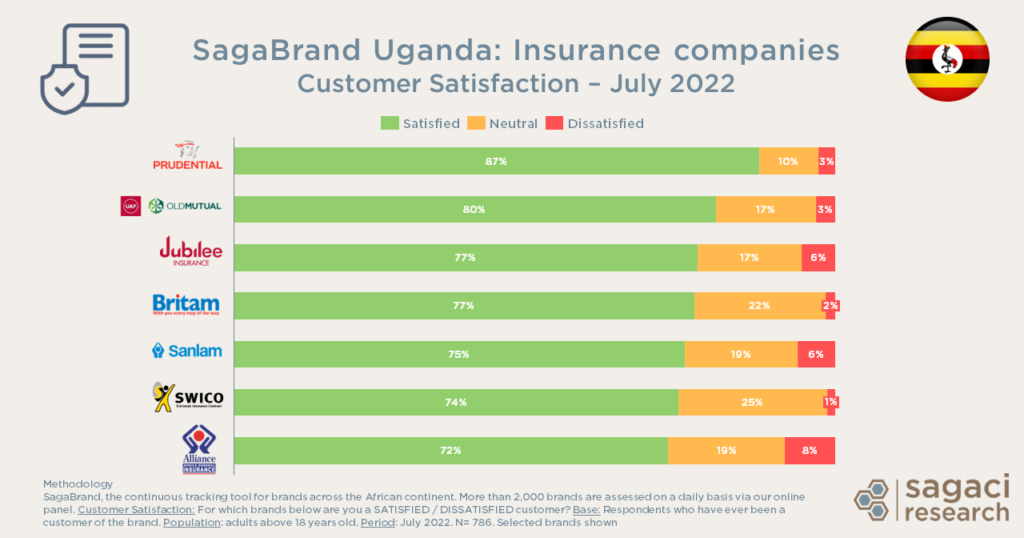 Which insurance company in Uganda has the most room for improvement?
Overall, dissatisfaction levels are fairly low across competitors. However there are some slight differences to note between players. For example, Alliance is the insurance company with the highest level of dissatisfaction. Indeed, 8% of its customers find themselves not happy with the company. In comparison, Prudential only has 3% of dissatisfied customers, Swico only 1%.
In fact, Swico has the lowest % of dissatisfaction. However the Ugandan insurance company also has the highest level of customers being neutral. When a quarter of customers do not have an opinion, it could mean that the company has not done anything wrong to turn them off. It might also show that it has not particularly convinced them either.
Wouldn't this be a great opportunity to explore customers expectations and perceptions with further market research to find out what is important to them and where the gaps are?
Read more on this topic: The best banks in Zimbabwe for customer satisfaction
How can a brand health tracker help you?
At Sagaci Research, we specialise in providing a range of custom and off-the-shelf research tools for the African continent. Our Brand Health Tracker tool SagaBrand monitors 16 essential KPIs for over 2,000 brands across dozens of countries in Africa.
Our large online research panels across Africa, including our online panel in Uganda, allow us to capture consumer feedback in no time on a large variety of topics and brands. 
Finally, if you would like to know more about SagaBrand or how you can leverage our expertise in market research via online surveys in Africa, please send an email to contact@sagaciresearch.com or click below.
Methodology
SagaBrand, the continuous tracking tool for brands across the African continent. Our online panel assesses around 2,000 brands on a daily basis.
Customer Satisfaction: For which brands below are you a SATISFIED / DISSATISFIED customer?
Base: Respondents who have ever been a customer of the brand. N= 786
NB: For the purpose of this article we do not make the distinction between Life and Non-Life insurance companies.
Population: adults above 18 years old. Period: July 2022