18/08/2022
Posted by:

Caitlin Beck

Categories:

Insurance, SagaBrand, Tanzania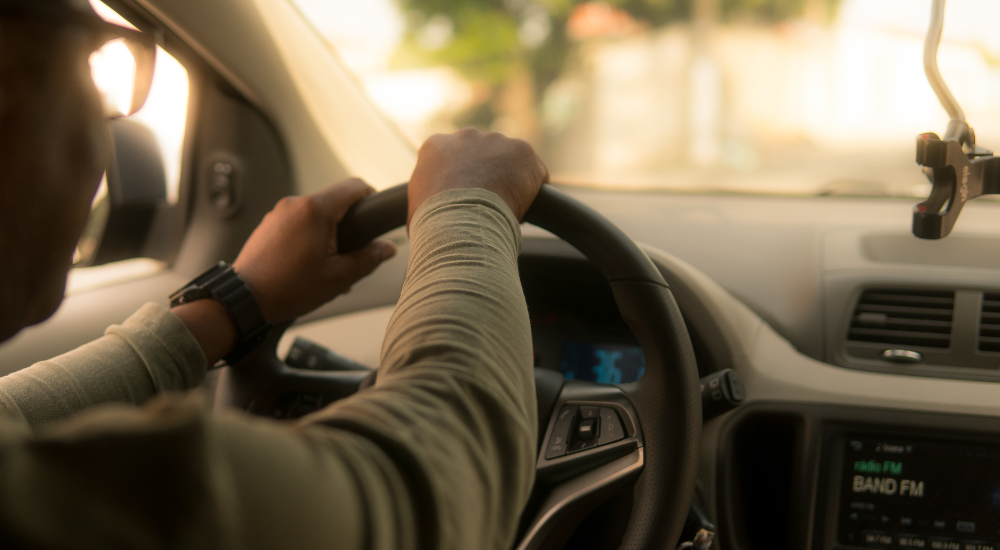 Tanzania boasts a crowded insurance market with over dozens of players. So, which are the best insurance companies in Tanzania in the eyes of consumers? In July 2022, we asked our online panel in Tanzania to tell us how satisfied they are with their insurance company. Find out in this article the ranking of insurance companies based on the results of SagaBrand. SagaBrand is Sagaci Research's Brand Health Tracker survey.
Market landscape of insurance companies in Tanzania
Tanzania has one of the lowest insurance penetration in Africa. Yet, some factors should help boost it in the future. Growing life expectancy, tax incentives on insurance products, economic growth and increased consumer awareness about insurance products makes it a promising market. Growth will increase the already stiff competition among the numerous players. As a result, there is high emphasis on quality of service and prices.
Above all, this is typically where SagaBrand can be strategically useful for businesses. SagaBrand allows you to measure actual performance in comparison to the competition. This way they can understand precisely how they fare within the best insurance companies in Tanzania.
Which are the best insurance companies in Tanzania?
As one of the first insurance companies established in the East African country in the 1960's, the National Insurance Company (NIC) leads the ranking of the top insurance companies in Tanzania. It is clearly ahead of the pack with 86% satisfaction level. SagaBrand also revealed NIC as Tanzania's most known insurance firm, with 65% of our survey respondents having previously heard of the brand.
Jubilee Insurance, also one of the oldest East African insurance companies, comes in 2nd position for both awareness and satisfaction. Jubilee Insurance scored 79% satisfaction level among its customers, ahead of Bumaco Insurance Company at 72%.
Following are Alliance Insurance and Insurance Group of Tanzania. Britam and Heritage Insurance, also closed the ranking at 67% satisfaction level.
In this case, higher satisfaction correlates with higher brand awareness. A logical suggestion for this would be that high customer satisfaction often leads to more recommendations which can help to spread awareness of the brand.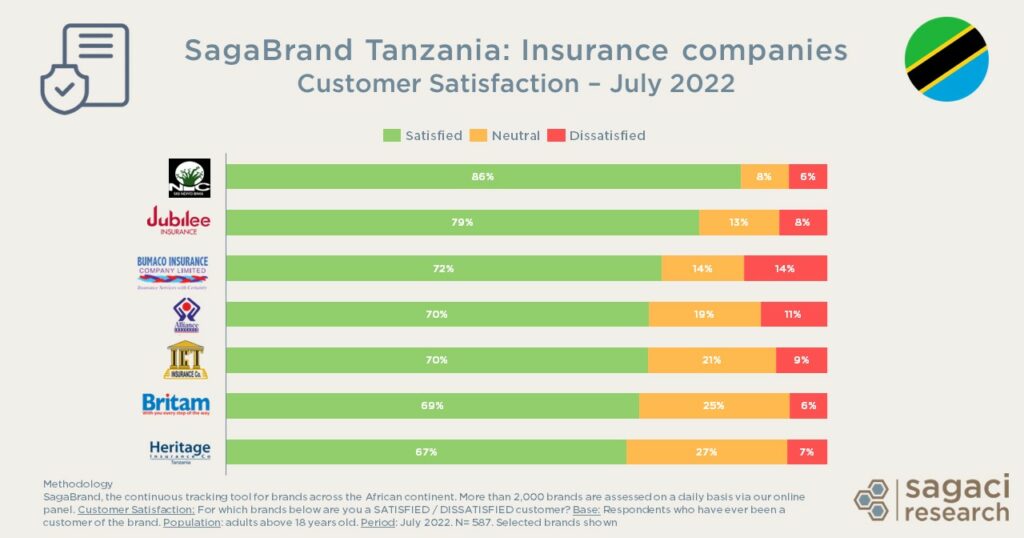 Read more on this topic: The best insurance companies in Uganda for Customer Satisfaction in July 2022
Concerns over high dissatisfaction among top insurance companies in Tanzania
Quite a few insurance customers have expressed some level of dissatisfaction with their company. In fact, 14% of Bumaco Insurance's customers declared dissatisfaction in our Brand Health Tracker survey. In addition, 11% of Alliance customers were also dissatisfied. It therefore poses the question, what could be the reasons behind this feedback?
Another area worth investigating would be Britam's and Heritage's very high level of neutral responses, for instance. Up to 27% of their customers are neither satisfied nor dissatisfied. It is therefore important to understand what could make them more engaged and even actual advocates for the brands.
Read more on this topic: The best banks in Zimbabwe for customer satisfaction
How can a brand health tracker help you?
To conclude, more research would certainly be needed to understand potential gaps in the company's services. You can approach this in two ways:
Buying syndicated market research data; or
Commissioning ad hoc market research online surveys
At Sagaci Research, we specialise in providing a range of custom and off-the-shelf research tools for the African continent. Our Brand Health Tracker tool SagaBrand monitors 16 essential KPIs for over 2,000 brands across dozens of countries in Africa.
Our large online research panels across Africa make this possible. They allow us to capture consumer feedback in no time on a large variety of topics and brands.
Finally, would you like to know more about SagaBrand or how you can leverage our expertise in market research via online surveys in Africa? If so, please send an email to contact@sagaciresearch.com or click below.
Methodology
SagaBrand, the continuous tracking tool for brands across the African continent. Our online panel assesses around 2,000 brands on a daily basis.
Customer Satisfaction: For which brands below are you a SATISFIED / DISSATISFIED customer?
Base: Respondents who have ever been a customer of the brand. N=587
NB: For the purpose of this article, we do not make the distinction between Life and Non-Life insurance companies
Population: adults above 18 years old. Period: July 2022