08/07/2022
Posted by:

Janick Pettit

Categories:

Angola, Ethiopia, Guinea, Kenya, Mali, Morocco, Mozambique, Nigeria, Online Panels, South Africa, Zambia, Zimbabwe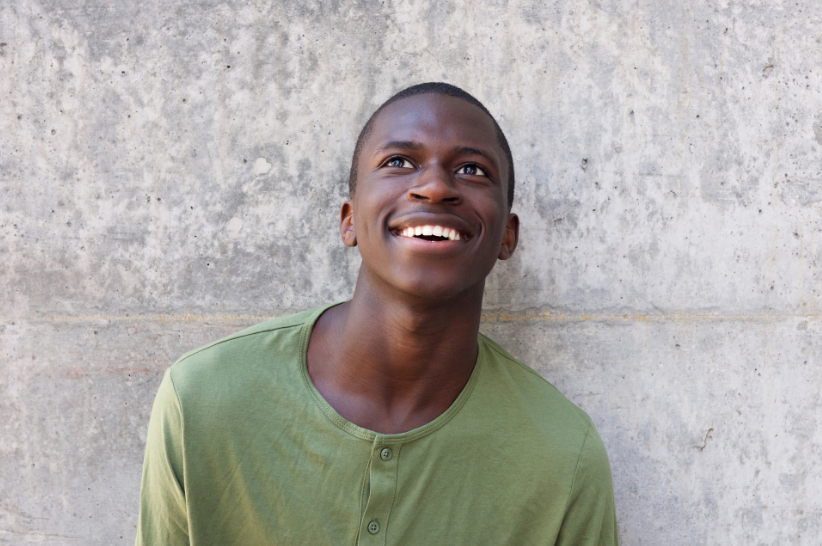 We recently asked our online research panel across Africa some questions about how they feel about the future of their country as well as their own future. As the post-covid world is being shaken by increasing commodity prices and inflation, we wanted to check the current mood among our panel members in Africa.
What does our online research panel feel about the future of their country?
When asked about the future of their country, on average only 40% of all respondents surveyed across 34 African countries feel definitely optimistic. Another 26% feel somewhat optimistic, and 17% not so much or definitely not optimistic. These numbers hide some significant contrast across countries. More than half of Guineans, Zambians, Nigerians and Malians feel resolutely optimistic about where their country is going. On the other end of the spectrum, less than a quarter of Mozambicans, Angolans and Moroccans feel the same way.
More positive outlook of the online panel on their own future
Our panel members find themselves more positive about their own personal future than the future of their country. Perhaps because this is something more tangible for them and that they have more control over?
Indeed, 71% declare being definitely optimistic with an additional 15% being somewhat optimistic. Again Moroccans end up as the least optimistic (only 26% are definitely optimistic) ahead of Ethiopia. The most optimistic for themselves are Nigerians (85% definitely optimistic), and Kenyan (77%). Across countries the younger generation tend to be more optimistic than older people (72% of 18-25 are definitely optimistic vs. 64% for 46+).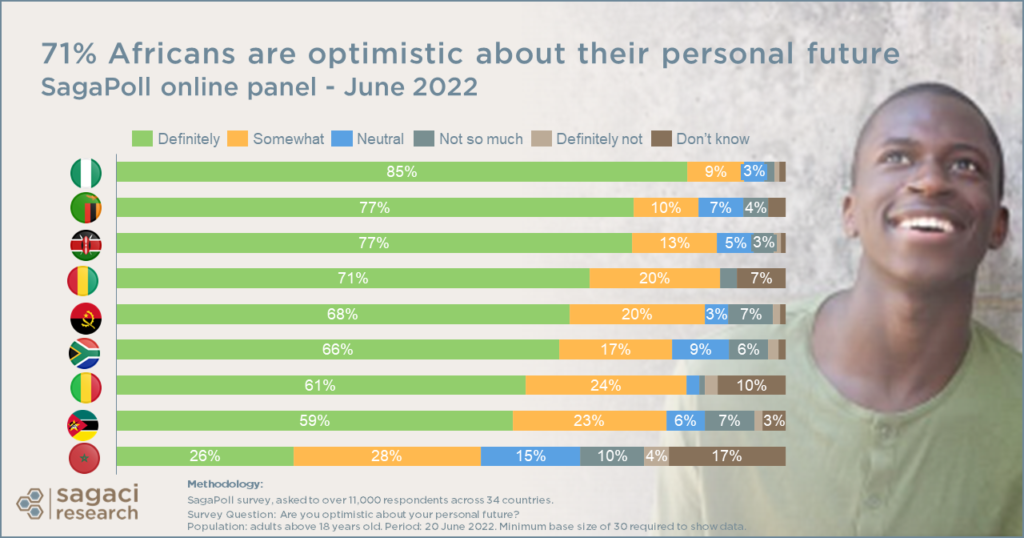 How does the online research panel feel about emigrating to another country?
A majority of Africans (62%) would like to emigrate to another country in the next 3 to 5 years. Interestingly, a lack of optimism is not necessarily linked to a strong desire to leave their country. For example Nigerians are among the most optimistic for their country and themselves. Yet, it is one of the countries where the desire to move abroad is the strongest (78%). Panel members from Guinea, Ghana and Angola are also quite keen to leave their home country. As could be expected, the younger the population the higher the desire to move abroad and build a better future for themselves.
Benefits from online panels across the continent
These results come from SagaPoll, the African online survey app. Such a tool allows us to research market trends across 34 countries, have thousands of respondents in a highly engaged online panel, as well as detailed answers to your questions – with results available in a few days.
More details about our online panels here and more specifically for countries like Ghana, Morocco and Guinea.
Finally, if you would like to know more about leveraging online panels for your market research needs in Africa or how we can help you to do market research online in Africa, please send an email to contact@sagaciresearch.com or click below.
Methodology
SagaPoll survey, asked to over 11,000 respondents across 34 countries leveraging our online panel in: Algeria, Angola, Benin, Burkina Faso, Botswana, Cameroon, Côte d'Ivoire, Burundi, Democratic Republic of Congo, Congo Brazzaville, Ethiopia, Gabon, Ghana, Gambia, Guinea, Kenya, Morocco, Madagascar, Mali, Malawi, Mozambique, Namibia, Niger, Nigeria, Rwanda, Senegal, Togo, Tanzania, Uganda, South Africa, Zambia, Zimbabwe, etc.
Survey Questions: Are you optimistic about the future of your country? Are you optimistic about your personal future? Would you like to emigrate to another country in the next 3-5 years?
Population: adults above 18 years old. Minimum base size of 30 required to show data.
Period: 20th June 2022