30/03/2022
Posted by:

Caitlin Beck

Categories:

Confectionery, Consumer Goods / FMCG, Egypt, SagaBrand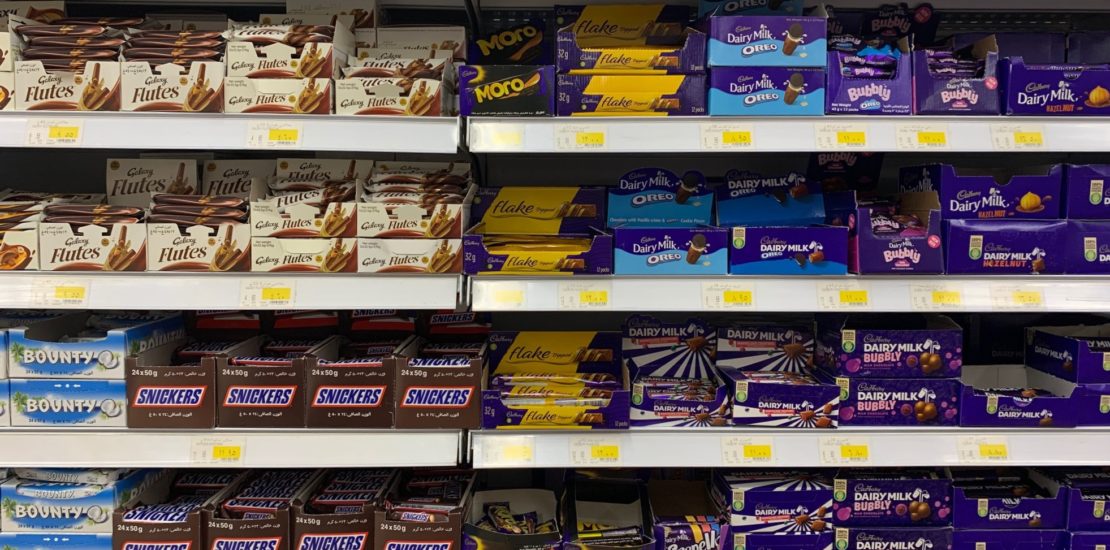 Consumers rate top chocolate confectionery brands in Egypt
In our continuous brand health tracking survey across Egypt, chocolate confectionery consumers reveal how likely they are to recommend brands to a friend. Galaxy, KitKat and Cadbury rank within the top 3 for most recommended chocolate confectionery in Egypt.
Read more about SagaBrand – our continuous brand health tracker
Mars, Nestlé and Mondelez brands each had a chance in the spotlight in Egypt. In first place, Galaxy (made and marketed by Mars Incorporated) earned a recommendation score of 72. KitKat (a Nestlé brand) followed at 69. Cadbury, which is now owned by Mondelez International, then followed in third place, scoring 65.
Other brands to make the top 10 included Loacker, Milka and Snickers. Kinder, Twix, Bounty and Maltesers came further down the list.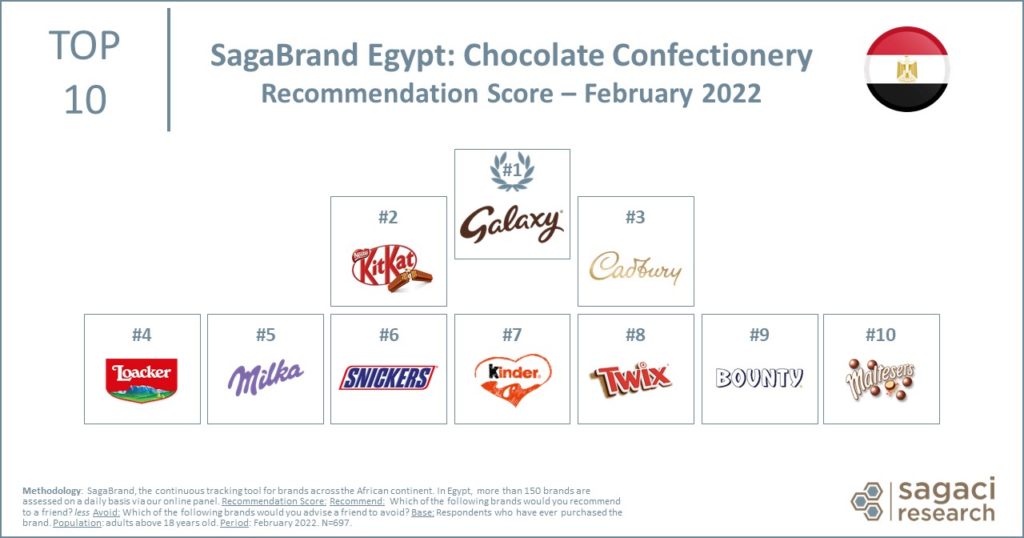 Galaxy performed strongly in all aspects of brand health
Based on the results, the Galaxy brand seems a clear preference amongst respondents in Egypt. Indeed, the brand performed strongly across all indicators tracked.
9 out of 10 people surveyed were aware of the brand, and close to 70% of these would consider buying it in future. Customer satisfaction was also high – even more so amongst males.
Furthermore, the Galaxy brand appeared to generate the most buzz in Egypt. 81% of this was noted as being positive.
Finally, in order for the results to have relevant application to marketeers, SagaBrand allows results to be tracked on a monthly basis. In other words, the impact of campaigns can be quantified by tracking the uplift in advertising reach and awareness over time.
Want to know more about our online panel in Egypt?
Sagaci Research has an established panel of respondents across 34 countries in Africa. Our online panel and data collection capabilities help businesses understand consumers across the continent.
For more information or to receive a quote, send an email to contact@sagaciresearch.com. Alternatively, contact us using the form below.
Methodology
SagaBrand, the continuous tracking tool for brands across the African continent. In Egypt, our online panels assess more than 150 brands on a daily basis.
Recommendation Score: Calculated as 'Recommend' less 'Avoid'. Recommend: Which of the following brands would you recommend to a friend? Avoid: Which of the following brands would you advise a friend to avoid?
Base: People who have ever purchased the brand.
Population: Adults in Egypt above 18 years old
Period: February 2022
Join the panel
Based in Africa and want to get your voice heard? Join our consumer panel today!