24/04/2023
Posted by:

Janick Pettit

Categories:

Consumer Goods / FMCG, Kenya, Online Panels, SagaBrand, SagaCube, Wine & Spirits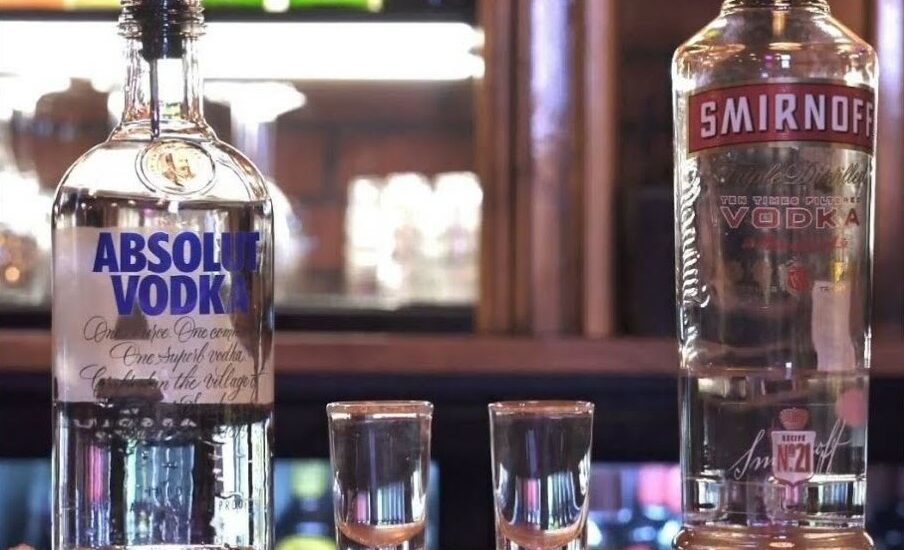 This month we explore Kenya's Vodka Market. Not only is it a growing category within the alcohol industry in Kenya but Vodka seems to be one of the most popular spirits in the East African country. In fact, based on SagaCube data, its consumption penetration among the Kenyan population is the highest at 62%. It is at par with Gin (also 62%), and ahead of Whisky (56%).
Now when it comes to Vodka brands in Kenya, according to SagaBrand, the Brand Health Tracker in Kenya, Smirnoff is clearly the market leader ahead of all competitors on most KPIs. For example, on brand satisfaction, the brand distributed by UDV Kenya and owned by EABL and Diageo leads with a whopping 85% customer satisfaction score. It is followed by Ciroc (from Maison Villevert also owned by Diageo), Flirt and Absolut vodka (from Pernod Ricard) at 55%.
Who are the consumers in Kenya's vodka market?
Going one step further to understand Kenyan vodka drinkers, let's compare the profiles of consumers of Smirnoff and Absolut. Are they the same people? If not, what distinguishes them?
To get an in-depth picture of consumers we use the SagaCube portraying tool. It allows to compare the profiles of specific consumers using statistical differences across a set of demographic and behavioural variables.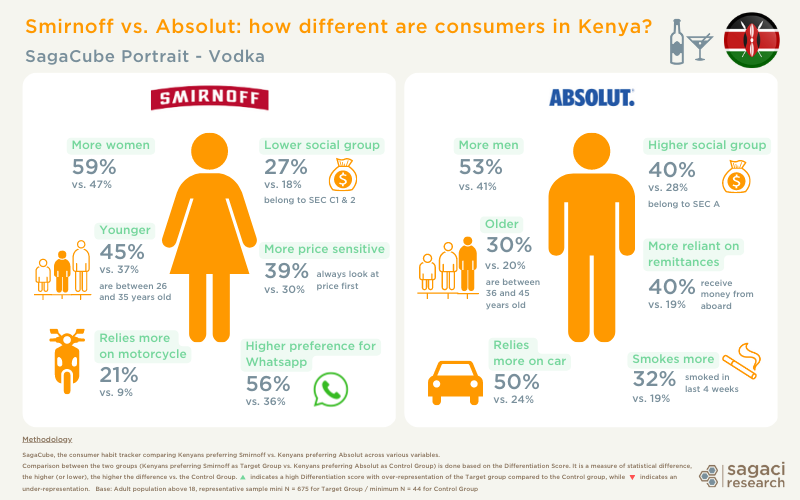 In a nutshell, the Smirnoff drinker in Kenya (compared to the Absolut drinker in Kenya) would be a younger woman from a low to mid-income background (SEC C). She is more price sensitive and relies more on motorcycles as a main mode of transport. She is also more represented among those who prefer Whatsapp social media.
On the contrary, the Absolut drinker is more likely to be an older man from a higher income background (SEC A). He receives more foreign remittances and uses a car as a main mode of transport. Finally he is also more into smoking compared to the Smirnoff drinker.
So we have two Kenyan vodka drinkers, yet quite different profiles when it comes to targeting them from a marketing perspective…
If you are looking for consumer insights in Kenya or more generally market research data in Africa, please send an email to contact@sagaciresearch.com or click below. Reach out to us as well if you have specific questions about the vodka consumption in Kenya, or the spirits industry in Kenya.
Methodology
The data was collected leveraging our online panel in Kenya and more specifically two of our market tracking tools SagaBrand and SagaCube.
SagaCube, the syndicated category consumption habit tracker tool in Africa, covering 144 categories across 26 countries combining 400+ usages & attitudes variables and 1,000s of brands usage. In this example, we explore spirits category penetration.
The comparison is between two groups: respondents preferring Smirnoff vodka in Kenya as Target Group vs. respondents preferring Absolut vodka in Kenya as Control Group. The comparision is based on the Differentiation Score, a measure of statistical difference, the higher (or lower), the higher the difference vs. the Control Group.
Base: Adult population above 18, representative sample mini N = 675 for Target Group / minimum N = 44 for Control Group.
SagaBrand, the continuous Brand Health Tracker in Africa monitoring 16 essential KPIs for over 2,000 brands across dozens of countries in Africa.
Questions: For which brands below are you a SATISFIED/ DISSATISFIED customer?
Brand Satisfaction score calculated with Satisfaction % minus Dissatisfaction %, Feb 2023
Base: Respondents who have ever purchased the brand, adult population above 18. N = 552 for Smirnoff and n = 114 for Absolut.
Photo credit: @MBsMancave