26/05/2023
Posted by:

Janick Pettit

Categories:

Consumer Goods / FMCG, Countries, Ghana, Non-alcoholic beverages, SagaTracker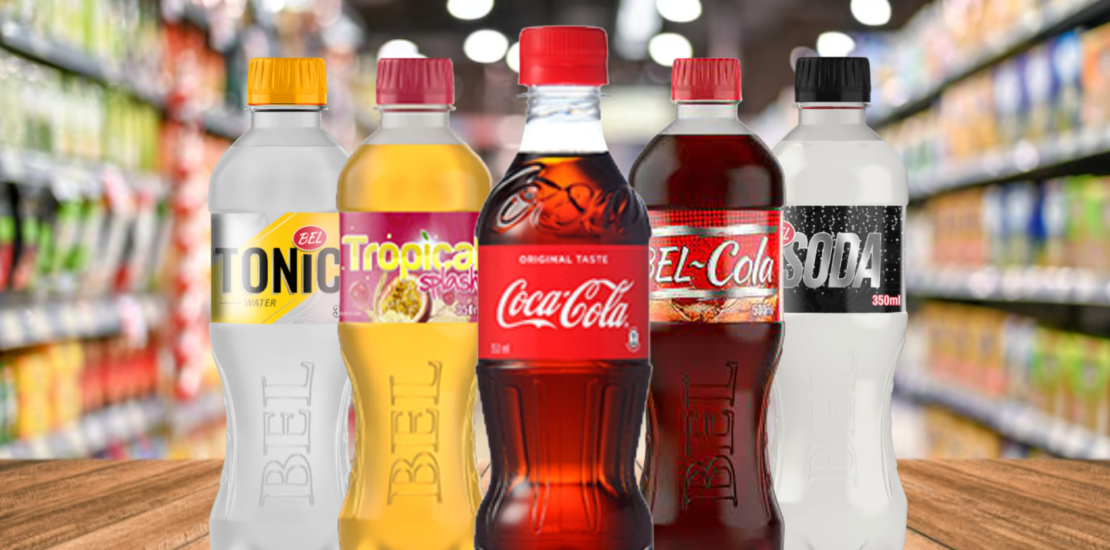 Inflation and Carbonated Soft Drinks in Ghana
The category of Carbonated Soft Drinks in Ghana was hit hard by inflation in recent months. In 2022, inflation in Ghana was high: up to 54% in December 2022 vs. 12.6% in December 2021.
Looking into the soft drinks industry in Ghana and particularly brands from groups like Coca-Cola Company and BlowChem (part of the Blow Group of Companies), we find that both companies faced different outcomes. Partially due to their positioning, brand equity and distribution strategy.
Carbonated Soft Drinks in Ghana: the lowest bidder takes it all, or almost
While the Coca-Cola brand is significantly stronger than international soda brand Pepsi in Ghana, local CSD brands are the real threat.   
In our measurements of price evolution of the Ghanaian carbonated beverage market, Coca-Cola 35cl PET cost 7.8 GHS / liter in January 2022, rising to 14 GHS / liter in December 2022. This represents a price increase of almost 80%.
Despite its usual leading position, Coca-Cola lost sales share to its local competitors. It dropped from 5.9% to 5.2% of market share by volume.
In the meantime, 35cl Bel CSD brands and Tropical Splash from BlowChem, already cheaper, faced roughly 20% to 50% price increase between January and December 2022. However they gained significant market share, especially Bel brands, rising from 15.2% early 2022 to 26.3% in December 2022.

In a nutshell, to Ghanaian consumers in 2022, a quality product was an affordable one.
Never-ending battle between retailers and manufacturers over price level
On one hand, this situation raises the topic of the strategy used by manufacturers to stay relevant in the eyes of consumers. Either they favour short-term margins, regardless of purchasing power. Or they adapt to customers and risk possible equity dilution, hoping for minimised volume market share loss but long term gains in loyalty.
On the other hand, this evolution also raises the question of the power struggles between retailers and brands. As a retailer, you want to make sure consumers continue to buy your products at affordable prices. As a manufacturer, placing products in retail outlets, it must ensure that it compensates for inflation by increasing prices, thus ensuring that its own margins are respected.
Early 2023 in some European countries, Carrefour withdrew Tropicana from its shelves due to negotiations stalling on prices. How will the market dynamics of carbonated soft drinks evolve in Ghana? Are the traditional trade outlets or supermarkets (such as Melcom or Shoprite) powerful enough to impose their terms in the same way?
Monitor your brands with Retail Audit in Africa
To explore these market shares as well as price trends in the Ghanaian soda market, we leveraged SagaTracker, the syndicated retail audit tool. It covers over 70 FMCG categories (including non alcoholic beverages) across 13 markets in Africa. SagaTracker provides an objective, quantifiable and cost effective view of the performance of different brands within a category in a given country.
If you would like to know more about retail audits in Africa, please send an email to contact@sagaciresearch.com. Or simply click below.
Methodology
SagaTracker survey, the syndicated Retail Audit tool in Africa
*Bel = average of all Bel CSD brands excluding Tropical Splash
CSD category data collected monthly from a representative sample of outlets in Ghana from Q1 to Q4 2022