23/02/2022
Posted by:

Caitlin Beck

Categories:

Consumer Goods / FMCG, SagaBrand, Uganda, Wine & Spirits

SagaBrand provides efficient brand health tracking in Uganda, as well as other countries across the African continent. In a recent SagaBrand survey in Uganda, Uganda Breweries' local gin, Uganda Waragi, was a clear favourite.
Read on to discover how the brand performed across the 16 key performance indicators (KPIs) tracked by SagaBrand.
The success of Uganda Waragi
Uganda Waragi claims their gin is 'the spirit of Uganda'. The brand's packaging features the colours of the Ugandan flag, and the logo depicts a crested crane to represent the authenticity and solidarity of the Ugandan Waragi drinkers. This intended unity seems to have been achieved based on the results of a SagaBrand survey conducted in February 2022.
When asked which gin brands they were aware of, 92% of our panel responded that they knew of the Uganda Waragi brand. In contrast, less than 10% knew of international brands; Tanqueray, Beefeater or Bombay Sapphire.
In addition, 86% of Uganda Waragi drinkers were satisfied with the brand and 88% were happy to recommend the brand to a friend. In an outstanding performance, the brand ranked in first place across the board.
It is therefore important to track the continual performance of the brand as the international rivals compete to overtake the current Ugandan favourite.
February 2022 rankings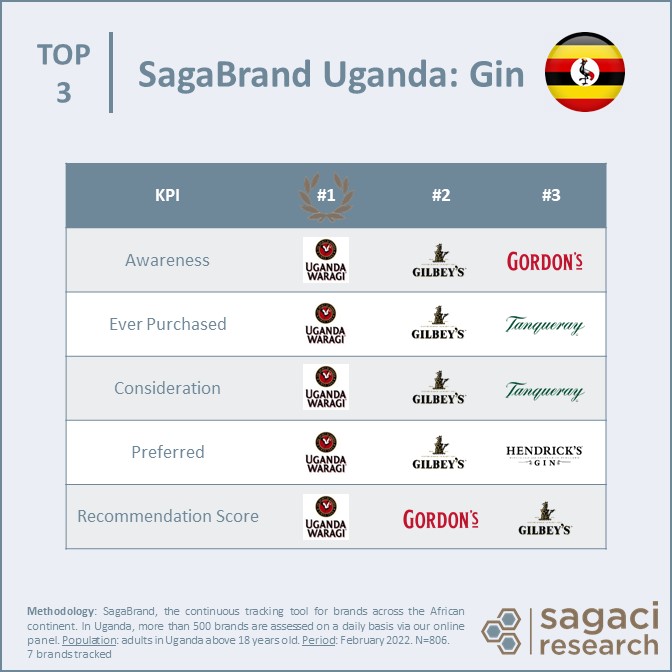 Local over international brands
Despite the lower awareness, the international brands did however prove to be a popular second choice amongst those aware. Diageo's other brands, Gilbey's and Tanqueray, ranked well for purchase and consideration. 51% of people aware of Gilbey's said they had ever purchased the brand. In comparison, Uganda Waragi scored a little higher at 65%.
In addition, 58% of people aware of the brand were likely to consider purchasing Uganda Waragi. Although Gilbey's, Tanqueray, Bombay Sapphire and Beefeater were not far behind, with each scoring above 50% for consideration.
To conclude, a brand health tracking tool, such as SagaBrand, is an efficient way to measure consumer perceptions about a brand and its competition,
Interested in brand health tracking in Uganda?
At Sagaci Research, we specialise in providing a range of custom and off-the-shelf research tools, only for the African continent. We have local teams located in each country that we provide services for, to ensure our knowledge of the local markets is relevant and up to date.
If you would like to know more about SagaBrand or any other services in Uganda, please send an email to sagabrand@sagaciresearch.com or complete the web-contact form using the link below.
Methodology
SagaBrand, the continuous tracking tool for brands across the African continent. In Uganda, our online panels assess more than 500 brands on a daily basis.
Awareness: Which of the following brands have you ever heard of?
Base: All respondents
Population: Adults in Uganda above 18 years old
Period: February 2022
© Cover Photo by Uganda Breweries Limited