30/03/2023
Posted by:

Janick Pettit

Categories:

Confectionery, Consumer Goods / FMCG, Online Panels, SagaBrand, South Africa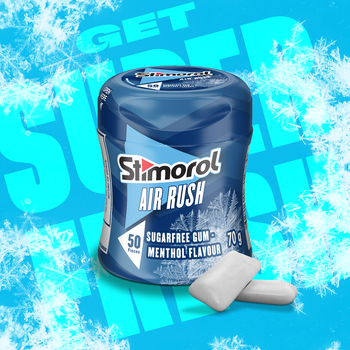 Wondering which are the best gum brands in South Africa in terms of customer satisfaction? SagaBrand, the Brand Health Tracker in South Africa, can provide the answer. Read on to discover gum consumer feedback collected in February 2023 from our online panel in South Africa.
Ranking of the top Gum brands in South Africa
We asked gum consumers, among the gum brands they have ever consumed, for which ones they consider themselves a satisfied or dissatisfied customer.
Here is the ranking of the best gum brands in South Africa based on customer satisfaction: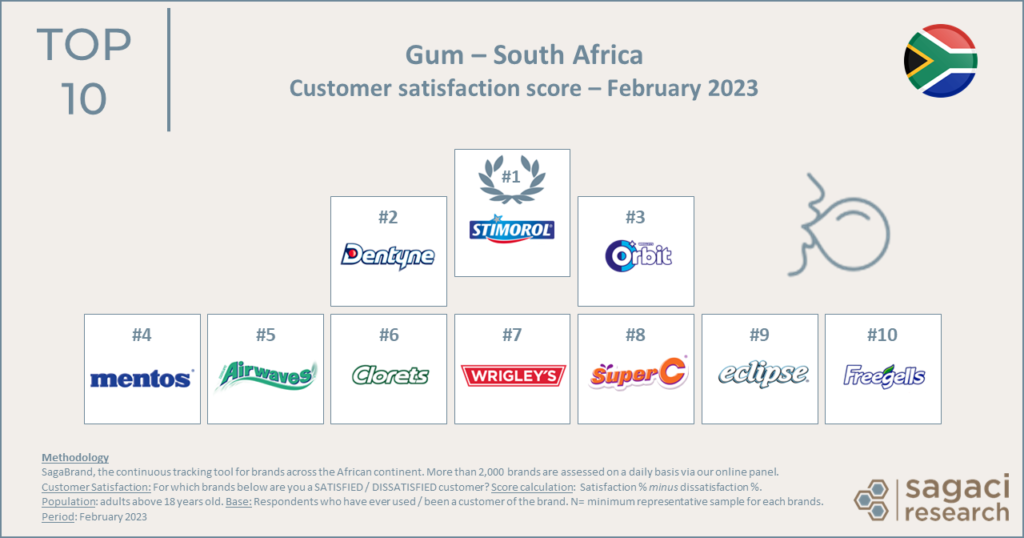 Stimorol tops the chewing gum brand ranking in South Africa
Results from the most recent Brand Health Tracker in South Africa reveals that the Gum brand customers are most satisfied with is Stimorol with an overall 72% satisfaction rate. Along with one of the lowest dissatisfaction scores of the Top 10 brands (3%), Stimorol, soon to be owned by Perfetti Van Melle, also benefits from the lowest 'neutral' rate across all brands. It implies that the brand has done a good job at convincing a majority of its consumers with only a quarter of them (26%) left with no opinion, neither positive nor negative. The closest competitors are Dentyne and Orbit, respectively 2nd and 3rd on satisfaction at 67% and 66%. To note that these two brands enjoy the lowest dissatisfaction rate of all brands at only 2%.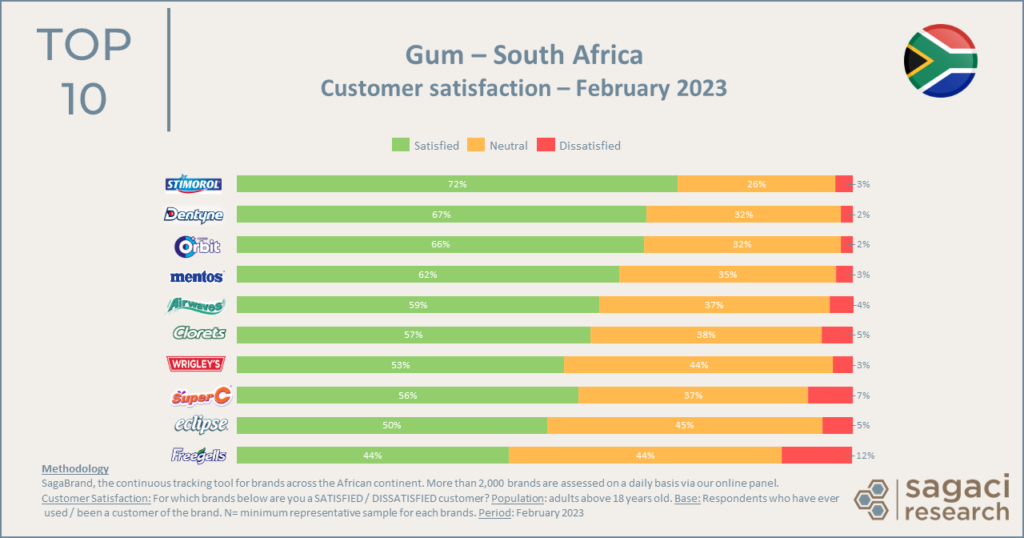 The bubble gum market in South Africa dominated by international players
The next five competitors range between 50% and 59% satisfaction level (Airwaves, Clorets, Wrigley's, Super C, Eclipse) while Freegells closes the ranking at 44% satisfaction rate and the highest dissatisfaction level (12%) across all brands.
In a category dominated by large multinationals, it is no surprise to find very few local brands in the Top 10 ranking. It is however the case for Super C from South African consumer goods company Premier. The rest of the brands come from large international groups Mars Wrigley (with four brands), Mondelez (with three brands), Italian-Dutch multinational Perfetti Van Melle and Brazilian Riclan.
In the confectionery category, we also explored recently consumers' perception of Chocolate brands in Egypt.
Higher customer satisfaction among men and older consumers
Taking a closer look into demographics, we notice that satisfaction levels are usually higher among men compared to women. For example 75% of men consumers are satisfied with Stimorol vs. 69% of women. The same trend is found for example among consumers of Orbit, Mentos, Airwaves and Eclipse. The gap between gender is significantly less pronounced with Dentyne which performs almost equally across gender.
In terms of consumer ages, some of the top rated brands tend to have higher satisfaction levels among older consumers. This is particularly true with a brand like Airwaves showing a very contrasted performance across ages. From a low 22% satisfaction score for the 18-25 years old it goes as high as 73% for the oldest age group of the over 55.
However, there is an exception. Indeed, Stimorol enjoys an average of around 70% satisfaction score across all ages, except one: the 46-55 age group with only 56% satisfaction score. What could be the reason for this lower performance? Further research would be needed to understand the potential issue with this particular age group: could it be related to taste, flavour, level of refreshment, packaging, brand image, increased competition from sugar-free chewing gums alternatives, etc?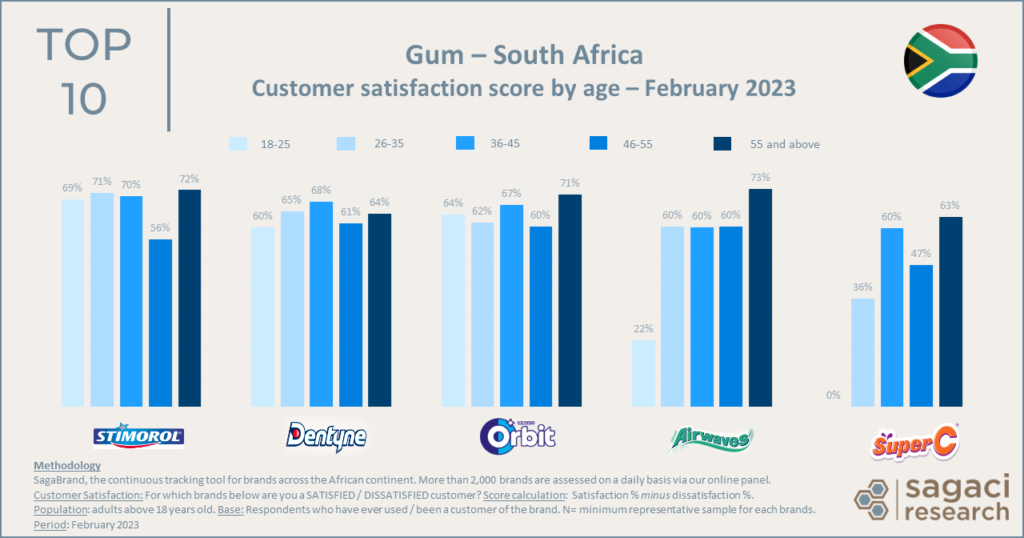 Middle class gum consumers most satisfied
Zooming in on consumer income, among the top brands, the highest satisfaction score comes from the Middle Class income group (consumers earning a monthly average household income between 500 and 1,000 USD). Surprisingly, Super C, the only local brand, appeals a lot more to the higher income groups and significantly less to the lower income groups. A closer look into their positioning and pricing strategy might help understand this performance.
Interested in brand health tracking in Africa?
One of the best ways to do market research and specifically to get fast and reliable data on your brand in Africa, is by leveraging SagaBrand, the continuous Brand Health Tracker tool. SagaBrand is a monthly tracker that monitors 16 essential KPIs for over 2,000 brands across dozens of countries in Africa. 
Beyond those essential KPIs our online panel can also be helpful to further explore specific reasons behind some results. This is where Flash Surveys come in handy to answer your 'Why's". Why is my brand loyalty lower for a particular income group? Why is my customers' satisfaction dropping? For example here, what are the main turn offs for Airwaves' youngest consumers explaining their significantly lower satisfaction rate? Give us a few days and with our nationally representative sample we can get you what you need.
So if you would like to know more about SagaBrand, how to do market research online and specifically in South Africa, please send an email to contact@sagaciresearch.com or click below.
Methodology
SagaBrand, the continuous tracking tool for brands across the African continent. Our online panel assesses around 2,000 brands on a daily basis.
Customer Satisfaction: For which brands below are you a SATISFIED, NEUTRAL or DISSATISFIED customer?
Customer Satisfaction score: Satisfaction % minus Dissatisfaction %
Base: Respondents who have ever been a customer of the brand. N = minimum representative sample for each brand
Population: adults above 18 years old
Period: February 2023
Photo credit: @StimorolSA