12/12/2022
Posted by:

Janick Pettit

Categories:

Foodservice, SagaBrand, South Africa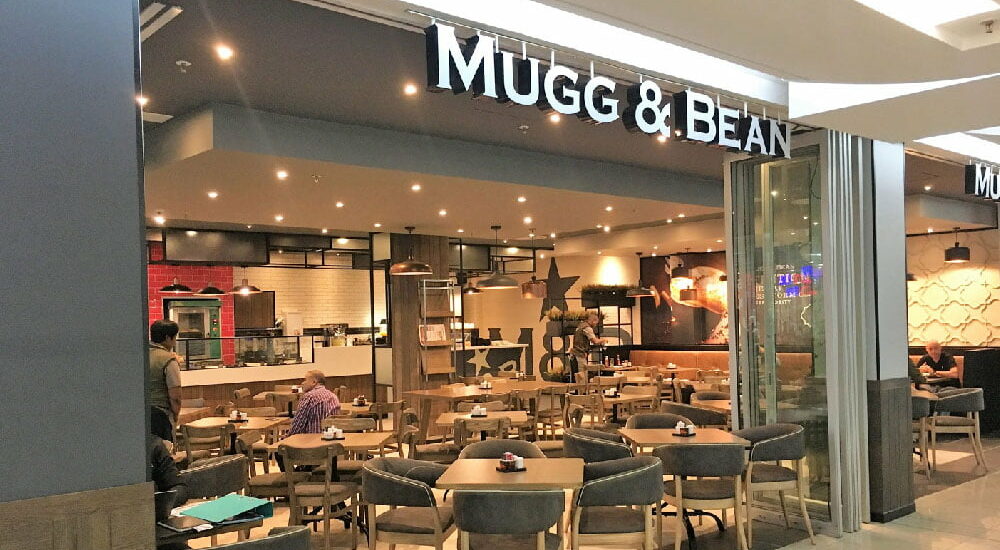 During the month of October, we checked consumers' opinions about the best foodservice brands in South Africa. Our online survey asked panelists in the rainbow nation to tell us if they would recommend the QSR (Quick Service Restaurants) brands they have ever used in South Africa. The KPI used in this article is the Recommendation score. It is calculated by deducting the Avoid % from the Recommendation % to create a net score. To note that the term Foodservice here includes both restaurants and coffee shops / cafés. 
Read on to discover the feedback from our online panel in South Africa and the ranking of the best foodservice brands in South Africa in October 2022 and how their performance has evolved compared to last year. 
Ranking of the Top 10 Foodservice brands in South Africa
Below is the ranking of Foodservice brands in South Africa based on their recommendation score:
Read also this related article with results from last year: Foodservice in South Africa: Which brands do consumers recommend?
Mugg & Bean, the top recommended foodservice brand by consumers in South Africa 
According to SagaBrand, the continuous brand health tracking survey in South Africa, we find that the top 2 brands in terms of recommendation score by consumers are the same compared to last year. Mugg & Bean and Spur still lead the ranking, however with higher scores this year. Mugg & Bean went from 62% recommendation score in September 2021 to 73% in October 2022 while Spur jumped from 63% to 71%. Looking into more details it seems that quite a few people who were previously neutral towards the brands have since been positively convinced.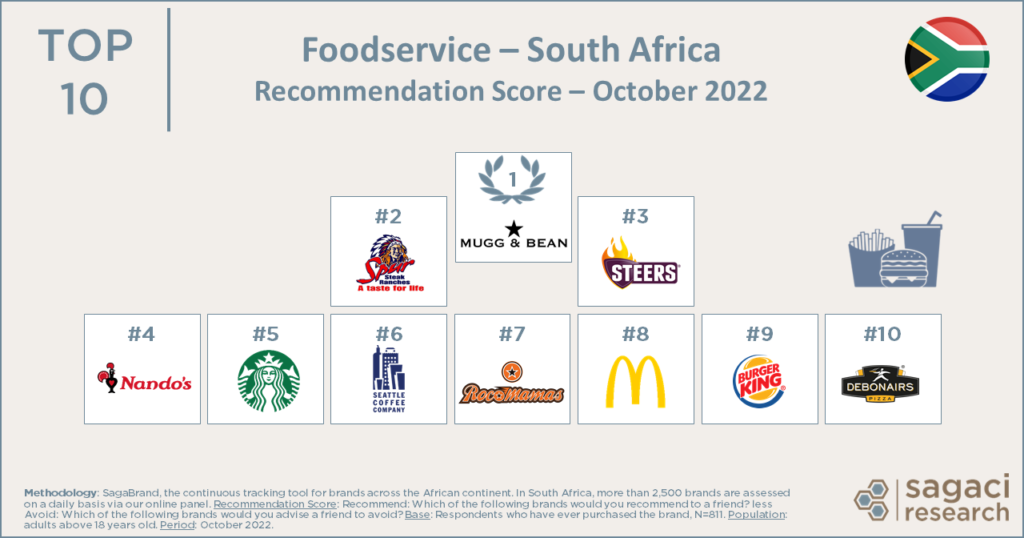 South African coffee chain Mugg & Bean still comes ahead of the other main coffee players in the country. American brand Starbucks is not far behind with 69% recommendation score while South African Seattle Coffee Company scores 67%.   
Starbucks and to an even greater extent Seattle Coffee Company perform better among women compared to men. For example 74% of women who have consumed at Seattle Coffee Company have recommended the brand, against only 58% of men. Conversely Mugg & Bean seems slightly stronger among men.
Mugg & Bean consumers advocating for the brand come largely from higher income groups with 81% of the Affluent group / earners above 1,000 USD per month recommending the brand.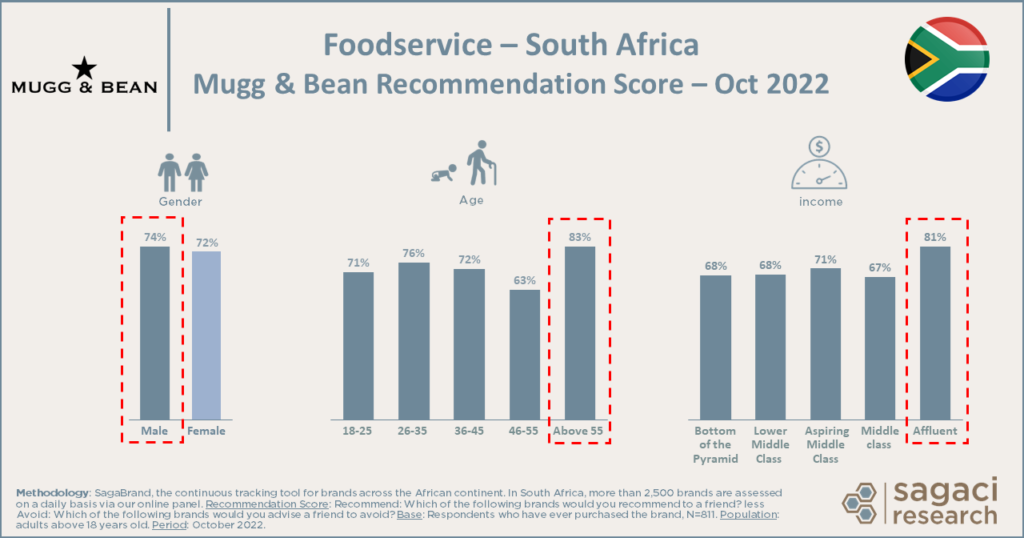 Most recommended restaurants in South Africa
Interestingly South Africa might be one of the only African markets where the majority of the top foodservice brands are home-grown. In this survey we find 7 South African brands out of the first Top 10 brands, the rest being global American chains. This may be no surprise in a country that has developed its own cuisine from the diversity of its traditions. South Africa has also embraced the fast food culture with a myriad of casual dining options in most modern cities.    Focusing on restaurants specifically, South African Spur,  Nando's and Steers are most recommended by their local customers. McDonald's only comes in 6th position while Burger King closes the Top 10 ranking.
Read more here on related topics:
Interested in brand health tracking in Africa?
One of the best ways to do market research and specifically to get fast and reliable data on your brand in Africa, is by leveraging SagaBrand, our continuous Brand Health Tracker tool. SagaBrand is a monthly tracker that monitors 16 essential KPIs for over 2,000 brands across dozens of countries in Africa. 
Beyond those essential KPIs our online panel can also be useful to dig deeper and explore specific reasons behind some SagaBrand results. You can get results at a granular level, by demographics, to better understand who exactly is driving your KPIs and rooting (or not!) for your brand. Give us a few days and with our nationally representative sample we'll get you what you need.   If you would like to know more about SagaBrand, our Flash surveys or online panel, please send an email to contact@sagaciresearch.com or click below.
Methodology
SagaBrand, the continuous tracking tool for brands across the African continent. Our online panel assesses around 2,000 brands on a daily basis.
Recommendation Score: 'Recommend: Which of the following brands would you recommend to a friend?' less 'Avoid: Which of the following brands would you advise a friend to avoid?' 
Base: Respondents who have ever purchased the brand, N=811. 
Population: adults above 18 years old. 
Period: October 2022.