20/10/2021
Posted by:

Caitlin Beck

Categories:

Foodservice, SagaBrand, South Africa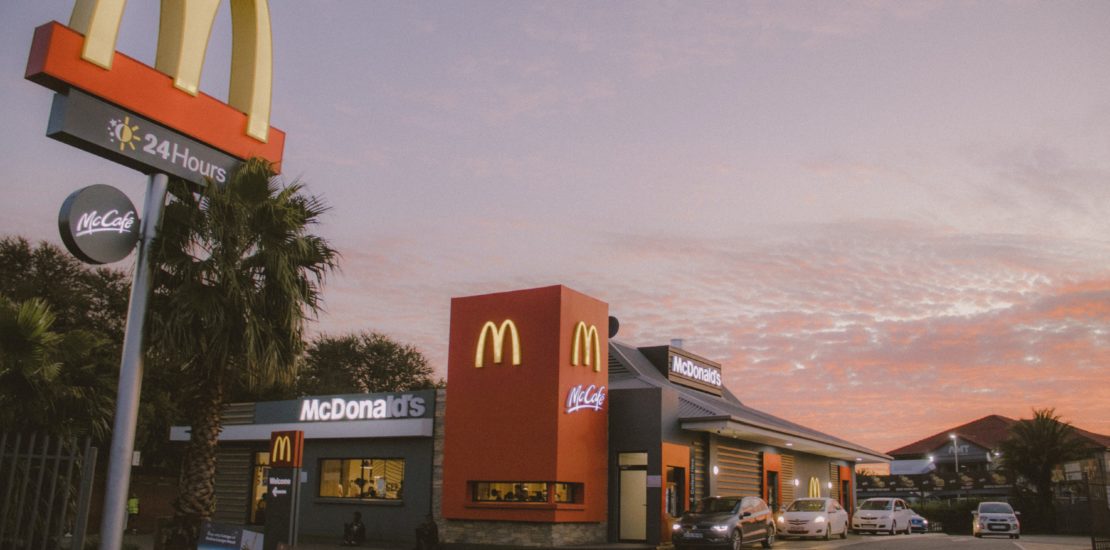 In this article, we share the results of the September brand-tracker, taking a look at which brands consumers would recommend most for foodservice in South Africa.
Each month, consumers across Africa provide their opinions about the brands they love and hate. The results from the SagaBrand surveys can provide you with an insight into the reasons why your trade may be performing as it is. It is also gives you up-to-date information about competitors. With this knowledge, you can position your brand and marketing campaigns to suit your intended market.
Local brands lead for foodservice in South Africa
Firstly, our dedicated panel in South Africa has shown how the nation favours its local brands. When it comes to recommendation score, the top 3 include Spur, Mugg & Bean and Ocean Basket – all South African brands.
The results for the top 10 recommended foodservice brands, show a varied mix of restaurant offerings. These ranged from seafood to pizza, from steaks to coffee shops.
The remaining brands to make the top 10 included Starbucks, Nando's, McDonald's, RocoMamas, Seattle Coffee Company, Debonairs Pizza and Steers.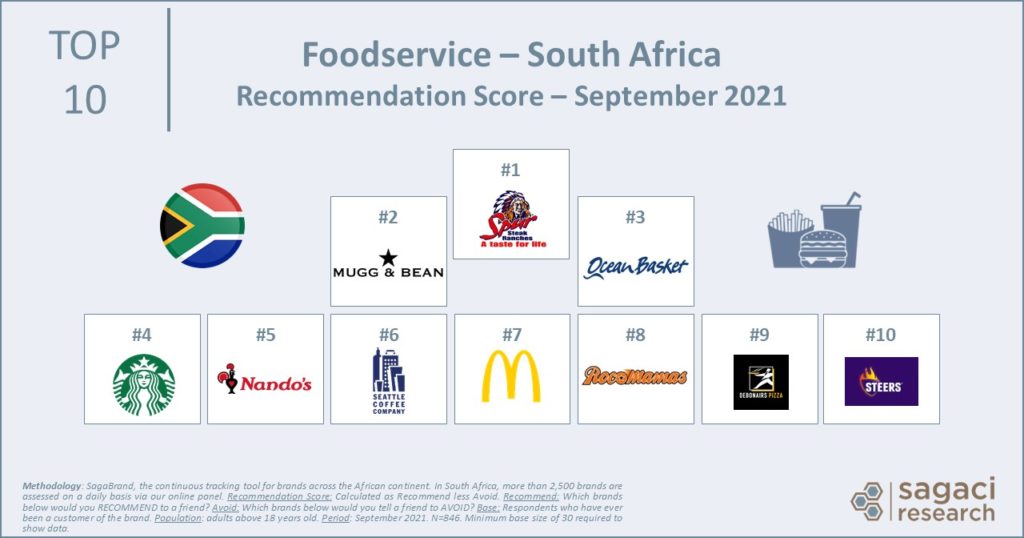 Despite the nation's love for fast food, KFC sadly didn't come so highly recommended. McDonald's and Nando's, on the other hand, scored well for recommendation score.
KFC and McDonalds were both known by over 95% of respondents in South Africa. However, McDonald's received a recommendation score of 59, whereas KFC scored only 39.

SagaBrand, September 2021
Which coffee shops do South Africans recommend?
Everyone needs their coffee. But where do South Africans recommend? In the September rankings, Mugg & Bean beat global coffee giant, Starbucks, by two places in the rankings.
Only 24% of our consumer panel were aware of the Seattle Coffee Company brand, yet it came highly recommended. The chain came in at number 6 on the recommendation score leader board, sitting just behind Starbucks. Not bad for a family-owned company.
Want to find out more?
We are currently tracking Foodservice brands in 13 countries across Africa.
Have a question or want to know more about how the SagaBrand tracker can help your brand? Reach out to us today.
Send us an email at sagabrand@sagaciresearch.com or click below to download the full results for South Africa.
Methodology
SagaBrand, the continuous tracking tool for brands across the African continent. In South Africa, our online panel assesses more than 2,500 brands on a daily basis.
Recommendation Score: Calculated as 'Recommend' less 'Avoid'. Recommend: Which brands below would you RECOMMEND to a friend? Avoid: Which brands below would you tell a friend to AVOID?
Base: Respondents in South Africa who have ever been a customer of the brand.
Population: Adults above 18 years old
Period: September 2021