01/07/2023
Posted by:

Baptiste Pioch

Categories:

Algeria, Cote d'Ivoire, Retail, SagaBrand, Senegal, Supermarkets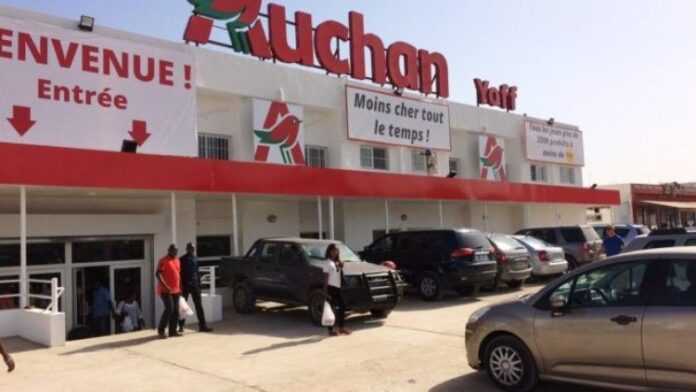 Auchan's growth in Africa has been steady since it started operating on the continent almost ten years ago. The French retailer launched its activities on the Senegalese market in 2014, and has more recently expanded into Côte d'Ivoire (2022). The retail giant owned by the Mulliez family (which also owns Decathlon Group, Kiabi and Leroy Merlin / Adeo Group) currently operates over fifty stores on the continent with plans to enter the Algerian market in the coming months in partnership with Algerian distribution group Great Way.
Leveraging SagaBrand, the Brand Health Tracker across Africa, we zoom in on the Auchan brand position in both the Senegalese and Ivorian retail markets and track the evolution of Auchan's growth in Africa.
Auchan's growth in Africa started in Senegal
Auchan occupies a dominant position in the local Senegalese retail market with over 37 outlets operating across the country. According to a recent SagaBrand survey, Auchan has the highest penetration rate in Senegal, mostly due to the high number of stores compared to the competition. A total of 80% of surveyed consumers have ever shopped at Auchan in Senegal, strongly ahead of Casino (39%) and Hypermarché Exclusive (30%). It is also recognized as the most preferred supermarket brand by consumers and by far.
Among those Auchan customers, almost ¾ of them (73%) declared the brand as their preferred one. In terms of preference, Auchan is right now unreachable by competitors. Hypermarché Exclusive convinces only 28% of its customers followed by Supeco (joint venture between Carrefour and CFAO) at 27%. French group Casino (operated by group Mercure International) convinces 18% of its customers and Carrefour Market (also from CFAO) 16%.
Auchan's massive footprint in the country is currently keeping other players at bay. With Casino's financial woes at home and the recent social unrest affecting some retailers, there is a good chance that Auchan in Senegal will keep other players on the sidelines for some time to come.
In less than 10 years, Auchan has opened a mix of outlets. 20 supermarkets, 16 convenience stores and one hypermarket spread across the main cities of Dakar, Mbour and other urban centres. The red bird brand plans to continue its expansion in cities such as Saint-Louis and Kaolack.
Auchan's rapid growth in Côte d'Ivoire
With the upsurge in foreign investment, economic development and Auchan's strong footprint in Senegal, the retail giant entered Côte d'Ivoire in 2022 to expand its operations in West Africa. This move introduced the Ivorian consumers to a new shopping experience. Auchan's emphasis on quality, affordability, and convenience resonated with the local consumers, leading to a positive response and increased footfall in their outlets.
As of June 2023, Auchan operates 14 stores in key cities such as Abidjan and Bouaké, with the latest outlets opening in Treichville only a few days ago. We also noticed that 4 of them opened in just the last 2 months with most outlets being proximity neighborhood convenience stores close to consumers.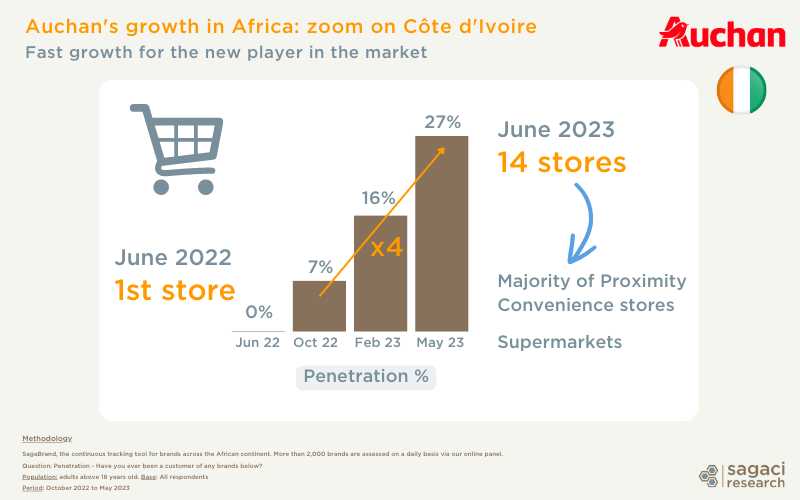 In May 2023, Auchan's penetration reached 27%, almost multiplying by four with October 2022 results at 7%. In other words, over a quarter of respondents to our mobile based panel in Côte d'Ivoire have ever bought something at Auchan, only a year after kicking off operations. This puts them in 9th position behind BonPrix, CDCI and King Cash, respectively 1st, 2nd and 3rd in penetration. Given the dynamism of the retail market in Africa, It will be interesting to keep an eye on Auchan's African market expansion and monitor their brand performance across these markets.
Tracking retail brands in Africa
One of the benefits of tracking your brand is that it allows you to compare your brand performance against your competition as well as across countries. SagaBrand, the continuous tracking tool for brands across the African continent, can support the African retail industry in keeping a close eye on the market. In fact, more than 2,000 brands (including retail brands) are assessed on a daily basis via our Pan-African online panel. In the case of this article, we are leveraging the online panel in Senegal and in Côte d'Ivoire. For more information on how SagaBrand could support your brand growth, reach out to us on contact@sagaciresearch.com or click below.
Methodology
SagaBrand, the continuous tracking tool for brands across the African continent. More than 2,000 brands are assessed on a daily basis via our online panel. In the case of this article, we are leveraging our online panel in Senegal and Côte d'Ivoire.
Question: KPI Penetration – Have you ever been a customer of any brands below? Base: All respondents.
Question: KPI Preference – From the following brands (ever purchased), which one is your preferred brand? Base: Respondents who ever purchased the brands.
Population: adults above 18 years old.
Period: October 2022 to May 2023 (Côte d'Ivoire) / May 2023 (Senegal)