13/10/2022
Posted by:

Janick Pettit

Categories:

Consumer Goods / FMCG, Kenya, Online Panels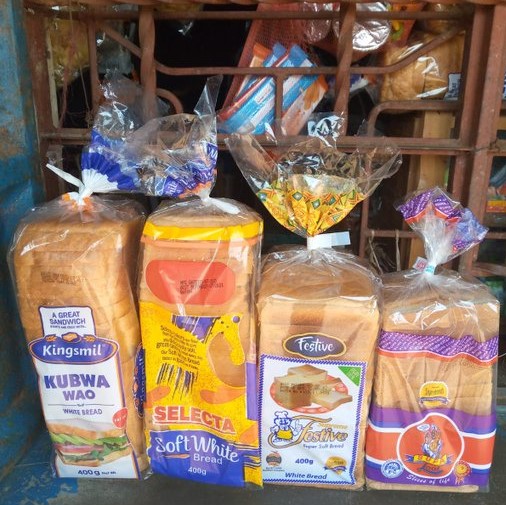 Bread market in Kenya
Bread is one of the popular staple items in Kenya pantries. In a fragmented market where competition is fierce, especially from growing supermarket brands, we checked recently which bread brands are currently the most popular in consumers' pantries in Kenya.
To find out which are the Top 5 bread brands in Kenya based on what consumers have in their homes, we asked our SagaPoll panel members. SagaPoll, our online panel in Africa, allows us to collect hundreds of responses from members throughout the continent in just a few hours.
Kenyan panelists shared with us the most recent bread brand they bought, as well as price, pack size, a picture and the type of outlet where they made the purchase. Read on to find out which brands are currently most popular based on this pantry check in Kenya.
Top 5 bread brands in Kenya
Here is the Top 5 bread brands most found in Kenyan homes based on share of pantry (by volume):
Other brands with smaller pantry share include Kenblest, Loafa and Selecta. Quite a few brands share the rest of the pie, including supermarket brands (Quickmart, Cleanshelf, Naivas…).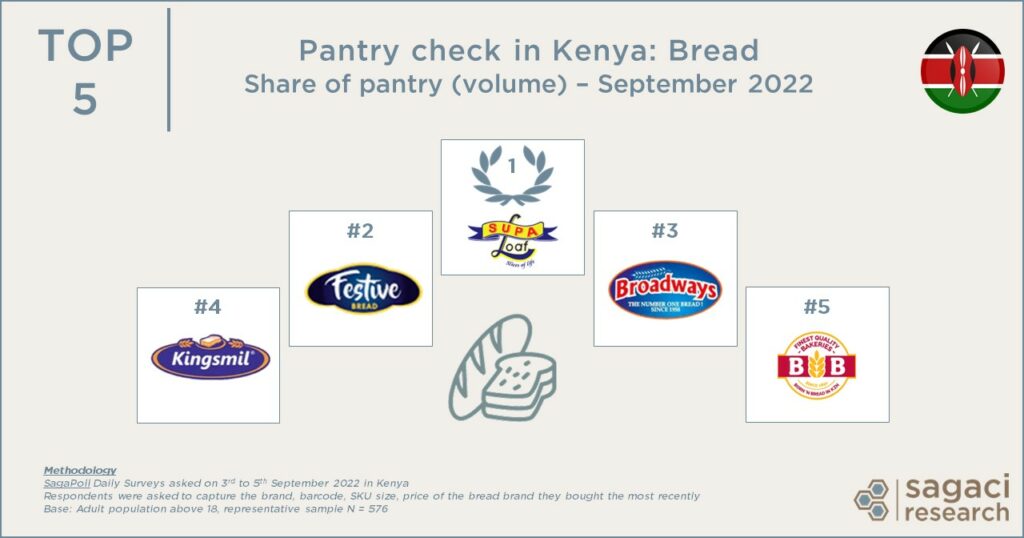 Preferred format and channels for bread in Kenya
Among the best bread brands in Kenya, the most popular format is the 400g packaging and by far (71%). Only a few consumers buy the 800g format (16%) and 600g format (13%). In fact, some brands, such as Festive, only sell the standard 400g packaging.
In terms of preferred channels of purchase, bread consumers in Kenya have clear habits. Indeed, the vast majority buy bread in kiosks (54%) for convenience, and 43% purchase bread in supermarkets.
Bread brands price positioning in Kenya
Price is critical for a product so ingrained in Kenyans' lives and consumed on a daily basis by most. If we look at prices panellists paid, we find that it is fairly consistent across brands but with some nuances. For example, the most popular size, the 400g packaging, currently costs on average 60.4 KES. Some brands are slightly lower like Festive (60.1 KES) and Kingsmil (60.2 KES) while some tend to be priced slightly higher. Super Loaf is found at 60.9 KES, Broadway at 60.6 KES and BB at 61.3 KES.
So who buys which bread brand in Kenya?
Without much surprise, bread brands in Kenya with a lowest average price tend to perform better with lower incomes. For example a majority of Festive consumers (55%) earn less than 250 USD. On the contrary, Supa Loaf and Broadway do better with higher income groups. For example 29% of Broadway consumers earn over 500 USD compared to only 19% for Festive consumers.
As demonstrated, a pantry check in Kenya or across most African markets allows one to get a quick understanding of consumers across the continent. Quick implementation, yet a deep granular analysis by brands and demographics (age, gender, income, etc). Contact us for further details.
Get fast access to our online panels in Africa
To conclude, pantry check is just one of the ways we leverage our online panel across 34 countries in Africa.
Our representative online panel across Africa is mobile based to ensure deep reach and fast turnaround times. You will be able to have thousands of respondents in a highly engaged online panel to help you understand consumers across the continent. Obtain detailed answers to your questions – with results available in a few days.
Countries we cover include Angola, Benin, Burkina Faso, Botswana, Cameroon, Côte d'Ivoire, Burundi, Democratic Republic of Congo, Congo Brazzaville. We also have panels in Egypt, Ethiopia, Gabon, Ghana, Guinea, Kenya, Morocco, Mali, Mozambique, Nigeria, Rwanda, Senegal, Togo, Tanzania, Uganda, South Africa, Zambia and Zimbabwe.
For more information on how to do market research online or more specifically how to conduct market research in Kenya send an email to contact@sagaciresearch.com. Alternatively, contact us using the form below.
Methodology
SagaPoll Daily Surveys asked on 3rd to 5th September 2022 in Kenya
Respondents were asked to capture the brand, barcode, SKU size, price of the bread brand they bought the most recently
Base: Adult population above 18, representative sample N = 576
Photo by @QueenGathoni