11/04/2022
Posted by:

Caitlin Beck

Categories:

Cameroon, Cote d'Ivoire, Ivory Coast, Retail, SagaBrand, Supermarkets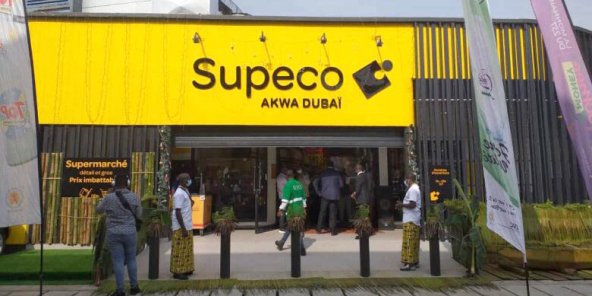 In December 2021 CFAO Retail Cameroon opened in Douala the first Supeco Akwa Dubai in Cameroon. This is one of the newest retailer brands in Cameroon. It is targeting the working classes and competing with BAO, from the Casino group.
How did these players perform in the ranking of Retailer Brands in Cameroon?
In our March 2022 ranking of Retailer Brands in Cameroon (according to the Awareness score), Cameroon brand Santa Lucia came #1. Another local retailer Dôvv follows at #2. Meanwhile the CFAO group with Carrefour is #3. The Casino Group secures two spots with Casino (#5) and BAO (#9). Finally the other international brands in the list are Super U (#6) and Spar (#10).
Ranking of Retailer brands in Cameroon, based on their awareness score in March 2022:
Santa Lucia (Cameroon)
Dôvv (Cameroon)
Supermarché Mahima  (Cameroon)
Casino (International)
Super U (International)
Belavie (Cameroon)
Kado (Cameroon)
Spar (International, managed locally by l'Atrium SA, a Joint Venture between Groupe Arno and Dee-Lite)
Below find out more details about the Top 10 Retailer Brands in Cameroon.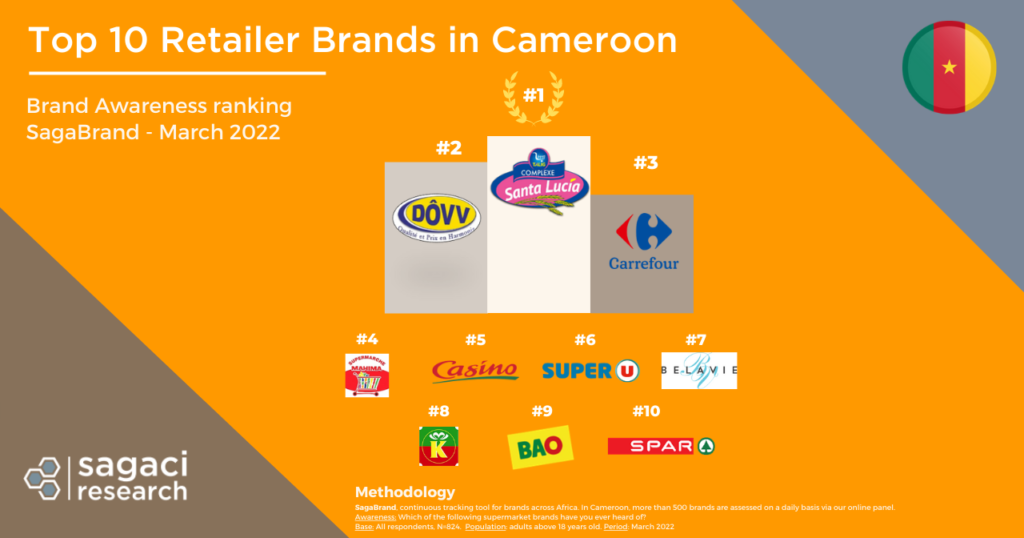 How did Supeco perform in the ranking of Retailer Brands in Cameroon?
Whilst Supeco still has a long way to go in terms of raising brand awareness, the newcomer has had a respectable initial performance.
When looking at other KPIs, Supeco experiences an impressive climb in brand performance between February and March 2022. In fact, compared to BAO, the CFAO brand has seen a much more important increase in several key performance indicators. Indeed, its Reach, Echo, Consideration and Quality levels have climbed significantly.
These results come from SagaBrand, our continuous brand health tracking tool in Africa, in which we monitor 16 KPIs across numerous categories.
Could these be signs for optimism for Supeco's future in Cameroon?
In his recent remarks to Jeune Afrique, Julien Garcier, Sagaci Research Managing Director, certainly thinks there is room for both players in the market.
"The country is therefore fertile ground for these two players."
"Unlike Côte d'Ivoire, for example, Cameroon does not have on its territory such a strong player in distribution as Prosuma. The Ivorian retailer has developed several formats. These range from the large supermarket to the small convenience store, including discount on the Ivorian market. The country is therefore fertile ground for these two players" comments Julien Garcier.
Get started with brand health tracking
To conclude, SagaBrand provides the ability to monitor brand improvements over time in consumer awareness levels and 15 other KPIs. Results are available for a range of income groups, allowing more precise application of your monitoring efforts.
Read more about SagaBrand here.
Finally, for more information or to receive a personalized quote, send an email to contact@sagaciresearch.com. Alternatively, contact us using the form below.
Methodology
SagaBrand, the tool for continuous brand health tracking in Africa. In Cameroon, our online panel assesses more than 125 brands on a daily basis.
Awareness: Which of the following supermarket brands have you ever heard of? Base: All respondents, N = 824
Quality: Which of the following brands represents GOOD quality? Base: Respondents who were aware of the brand
Population: Adults above 18 years old
Period: March 2022
© Cover Photo by Jeune Afrique