20/04/2022
Posted by:

Janick Pettit

Categories:

Consumer Goods / FMCG, Corporate, Online Panels, Qualitative Research, Sagaci Insights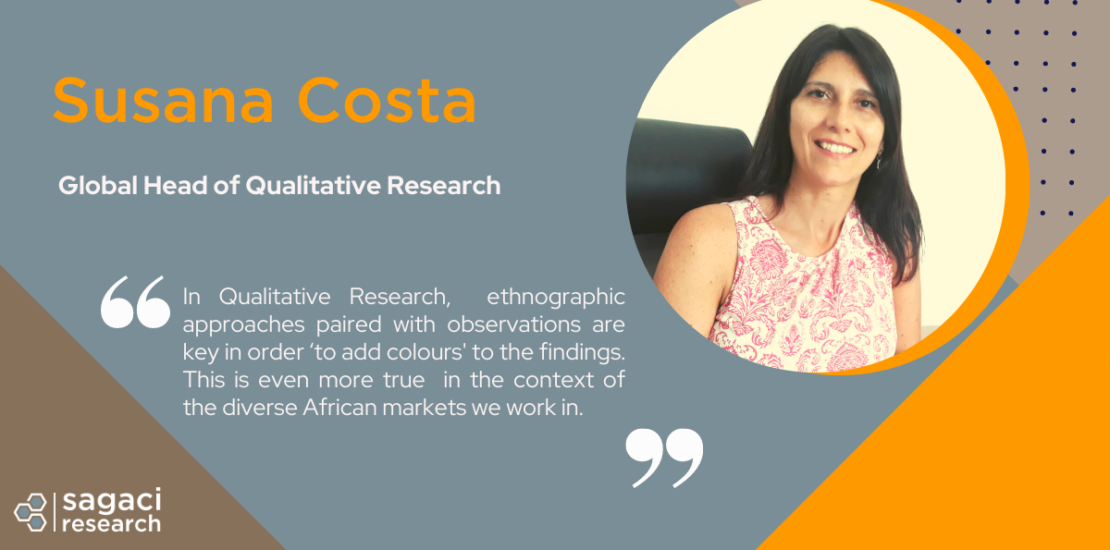 Today we speak to Susana Costa, the Global Head of Qualitative Research in Africa at Sagaci Research. She is based in Maputo, Mozambique and also serves as Mozambique and Angola Country Manager. She explains her role, background and experience working in African markets for over a decade.
Could you please tell us about your background and current role?
I am from Portugal and I have a degree in Psychology. I have always focused on Consumer psychology and Qualitative Research. First I worked with Nielsen in Portugal in the qualitative department before becoming the Head of Client Service at Millward Brown / Kantar. There I built the Qualitative Research department. I was working mainly on FMCG but also in other sectors like Financial products and telecoms. When I moved to Mozambique over 10 years ago, I saw an opportunity to work with the Mozambican market. Indeed Qualitative Research capabilities were still limited at the time. I supported local companies with Qualitative Research work until I joined Sagaci Research in June 2014. I helped launch the Mozambique office, managing business and operations and doing the same later on in Angola. Simultaneously I became the Qualitative Lead in the region and later on across all markets where we are present.
Can you please tell us more about the type of Qualitative Research projects that you manage in terms of categories and market research methods?
At Sagaci Research, we have run about 1500 market research projects in Africa. Our studies cover a bit of everything in terms of sectors. In Qualitative Research we tend to work a lot on FMCG, such as food and beverages, health care and beauty products. We also deal with telecommunication, social marketing topics (eg. HIV communication), social media, etc.
We look at the cycle around brand development, consumer understanding, defining specific targets, exploring brand image and positioning. We test products, concepts, packaging, communication at different development stages. In terms of communication it is not just to test materials and messages, but also provide insights at early inception stages to support creativity.
If you had to give one key advice to someone starting to work in Qualitative Research in Africa, what would it be?
Knowing your consumer is key in research but it is even more critical when you conduct market research in Africa. Consumers here are not used to being exposed compared to consumers in more developed markets. Yet, more and more new products are coming out everyday. It is not necessarily easy for them to explain their consumption habits, behaviours in general. As such it becomes a lot more insightful to observe consumers 'in situation'. It is really important to go in the field and observe how consumers behave instead of bringing them to an 'artificial environment' unfamiliar to them.
"Ethnographic approaches paired with observations are key in order 'to add colours to the findings'.
Also, cultures and ways people consume can vary a lot between countries. Ethnographic approaches and observations become very important to data collection in order 'to add colours to the findings'.
Anything else?
I would say it is also critical to have local teams. At Sagaci Research, our central and local teams constantly work hand in hand. Our central team, with African experience, deals with project coordination and setup, tools design and reporting. Recruitment and moderation are managed 'in country'. For Qualitative Research projects, It is key to have local moderators to engage with participants, reach them and capture exactly what they think in their own language. They are also the most aware of the local market, competitions and brands. We also make sure we involve moderators in early stages of report writing to ensure we capture key insights.
Finally, adaptation. We generally use the same methodologies as everywhere else to conduct market research in Africa. However we have to constantly adapt to the local market and use concepts consumers can relate to. For example we might need to adjust some abstract concepts to topics and ideas more relevant to our audience.
And above all, do not bring preconceived ideas learned in other geographies.
What kind of impact the Covid 19 crisis has had on the way you conduct Qualitative Research projects?
In spite of all the challenges it created for our business and many others, the Covid-19 crisis was also a great opportunity to speed up the development of our Africa online panel. This panel, running via our mobile application SagaPoll, has now several thousands of active members across 34 countries. It allows us to quickly recruit people based on very specific demographics. We can now do more online research in Africa with online Focus Groups, IDIs, etc. It allows for a faster set up and makes us more reactive to roll out projects in one or several countries simultaneously.
That said, we continue to use a mix of approaches as some research still needs to be done face-to-face (F2F). For example when respondents need direct interaction with materials (storyboard, products, etc) or we need to observe them during the "moment of truth" – shopping or consumption moments. The plan is not to fully move online, we just have one more tool in our toolbox!
How do you choose the best approach to run Qualitative Research in Africa?
Well it depends on the objectives and the targets of a project. For example, lower social classes tend to be more comfortable in F2F settings with someone able to guide them and explain concepts and with whom they establish a relationship at that moment which is very important for them to be at ease. At the same time, higher social classes and younger demographics will work well online, both for recruitment and interviewing. So we now leverage both approaches, online and F2F, to successfully conduct Qualitative Research in Africa.
Out of all the recent Qualitative Research projects you have managed, which one would you say was the most challenging?
We recently conducted an exploratory affordability project in 5 countries simultaneously (Ghana, Tanzania, Mozambique, South Africa and Nigeria). We talked to bottom of the pyramid consumers as well as informal traders and producers of homebrewed beverages in rural and peri-urban areas. It was complex to reach our targets so we had to adapt and use a more flexible ethnography method, casually mingling with local communities. Thanks to this approach we were able to capture real moments, very spontaneous and powerful insights.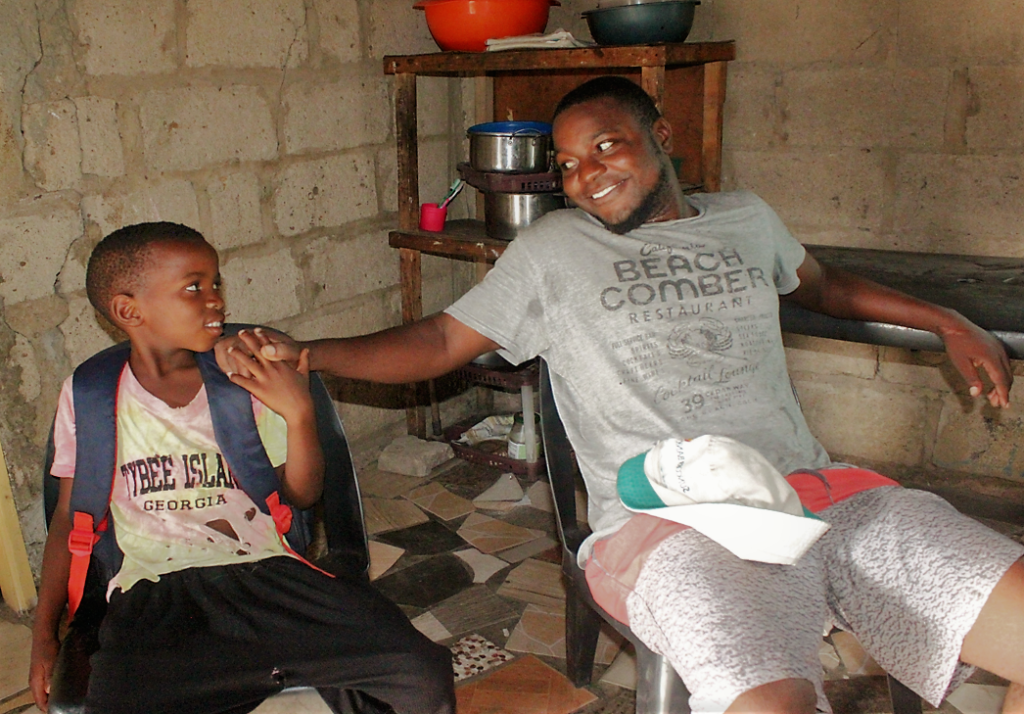 As the Head of Qualitative Research, what excites you the most about your work at Sagaci Research?
The diversity of countries, cultures and consumers we deal with but also the diversity of teams we work with, both centrally and locally. We all learn a lot in this context.
Also Africa is a very dynamic market, there are lots of new products coming out often so it is interesting to explore consumer reactions to that. We always need to learn something new to reach local consumers and what makes some ideas relevant to certain markets due to cultural differences. Also, Qualitative Research can be extremely useful when combined with Quantitative insights. For example we use Qualitative to clarify some numbers (retail findings for example with traders interviews) as well as to guide questionnaire building during early stages design. We try to combine them as much as possible to give our clients comprehensive insights.
How do you see the Qualitative Research department evolving?
Qualitative is a very important part of research, to know the markets and understand trends. For that reason we are planning to continue developing this Business Unit by growing our local teams to cover as many countries as possible.
To conclude Susana, can you tell us what you like to do for fun?
As it shows in my work, I am very curious about people and places. My favourite thing to do is to discover new places without planning like camping, so I can be close to different people, realities and cultures. Ethnographies are a part of my personal life too!
Want to know more about Susana's work and Qualitative Research in Africa?
Want to know more about how we conduct Qualitative Research in Africa leveraging our online panel? Are you curious about our market research methods? Click below or email us at contact@sagaciresearch.com.
© Photo by Sagaci Research