25/08/2022
Posted by:

Caitlin Beck

Categories:

Consumer Goods / FMCG, Egypt, Non-alcoholic beverages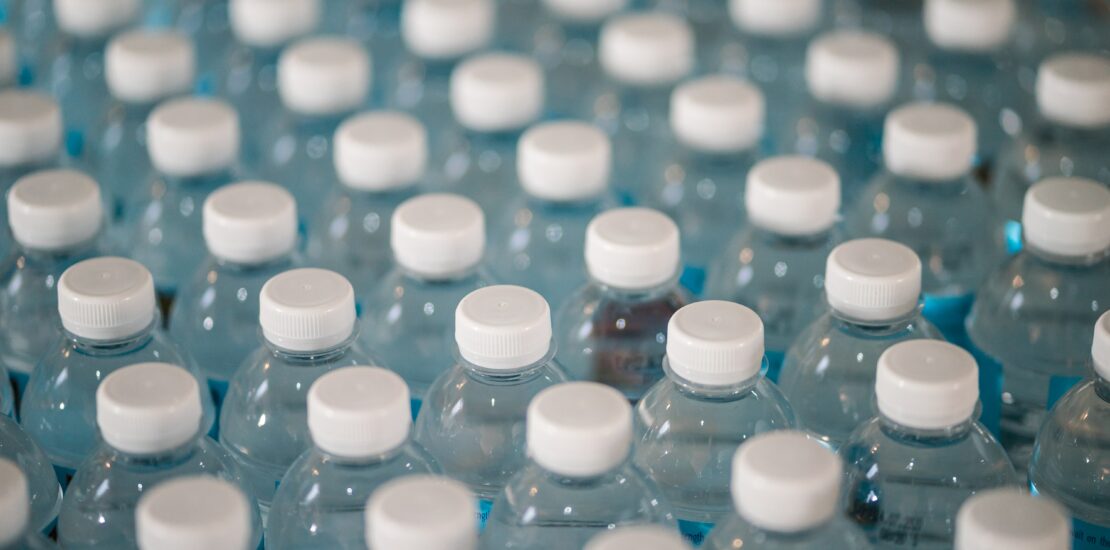 In this article we reveal the best bottled water brands in Egypt. Results come from Sagaci Research's proprietary consumer panel in Egypt, who completed the SagaBrand survey throughout Q2 2022. Read more below to find out which brands will sink or swim.
Understand consumer perceptions to get ahead of the competition
Although many Egyptians do drink tap water, perhaps out of necessity, many choose bottled water for taste, convenience or health reasons. As a result, bottled water provides a promising industry for non-alcoholic beverage manufacturers in the region. It is therefore essential for brand managers to understand how consumers perceive each brand on the market, in order to stay, or get ahead of the competition.
The best bottled water brands in Egypt
The below SagaBrand rankings reveal which brands people in Egypt think most highly of in terms of quality perceptions.
Nestlé
Flo
Dasani
Aquafina
Evian
Hayat
Safi
Masafi
Over 86% of respondents believed Nestlé to be a good quality brand of bottled water. Alkaline water – Flo – was significantly less well known (under 30% awareness) but scored highly for good quality. 72% of people who knew of the Flo water brand believed it represented a good quality brand. Another 25% knew the brand but were neutral in their quality perceptions. This is likely due to never having tried the water, as reflected in low purchase figures.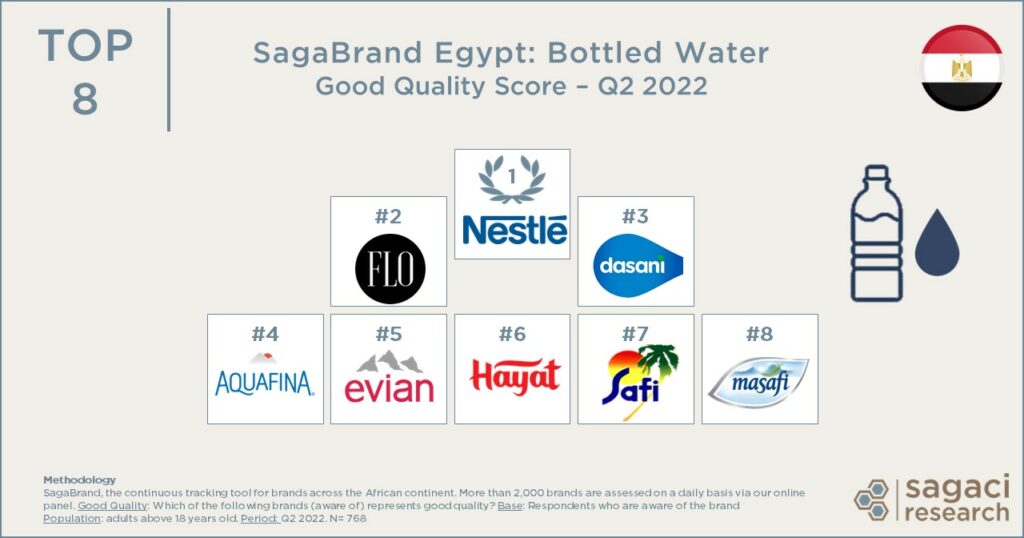 A continuous tracker allows you to monitor the impact of events such as a stock market listing
Earlier this quarter, Egypt approved pre-listing procedures for water company Safi, which was previously fully owned by the Egyptian army. This first step towards stock market listings could have a big impact on brand health. A continuous tracking tool, like SagaBrand, will track the progression of 16 KPIs over time. As a result, the data from before, during, and after the listing can be easily compared to help assess the brand health return on investment of the listing.
Interested in brand health tracking in Africa?
At Sagaci Research, we specialise in providing a range of custom and off-the-shelf research tools, only for the African continent. Our Brand Health Tracker tool SagaBrand monitors 16 essential KPIs for over 2,000 brands across dozens of countries in Africa.
For example, find here more information on the online panel in Egypt. It allows us to capture Egyptian consumer feedback on a large variety of topics, including brand health. Finally, if you would like to know more about SagaBrand or how to research market trends in Africa, go ahead and email us at contact@sagaciresearch.com or click below to obtain a quote for the latest full data set.
Methodology
SagaBrand, the continuous tracking tool for brands across the African continent. Our online panel assesses around 2,000 brands on a daily basis.
Good Quality: Which of the following brands, that you are aware of, represents good quality?
Base: Respondents who are aware of the brand. N=768
Population: adults above 18 years old
Period: Q2 2022