29/11/2022
Posted by:

Janick Pettit

Categories:

Egypt, Retail, SagaBrand, Supermarkets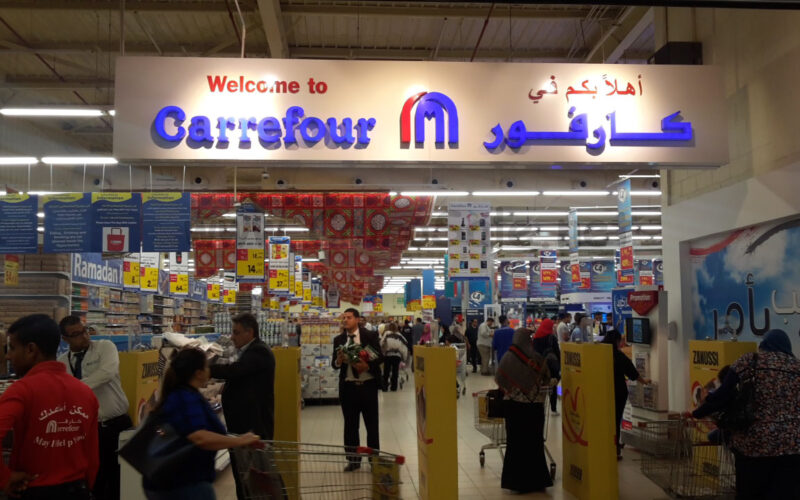 Wondering which are the top supermarkets in Egypt in terms of Quality according to consumers? Thanks to our monthly Brand Health Tracker SagaBrand survey, we can easily answer that. Read on to discover the feedback from our online panel in Egypt and the ranking of the best supermarkets in Egypt in October 2022.
Ranking of the top supermarkets in Egypt
In our survey, we ask consumers to rate the supermarkets that they are aware of in terms of 'good' or 'poor' quality.
Below is the ranking of the top Supermarkets in Egypt considering quality perception:
Carrefour (franchise of Majid Al Futtaim in Egypt)
Fathalla Market
Kazyon
Seoudi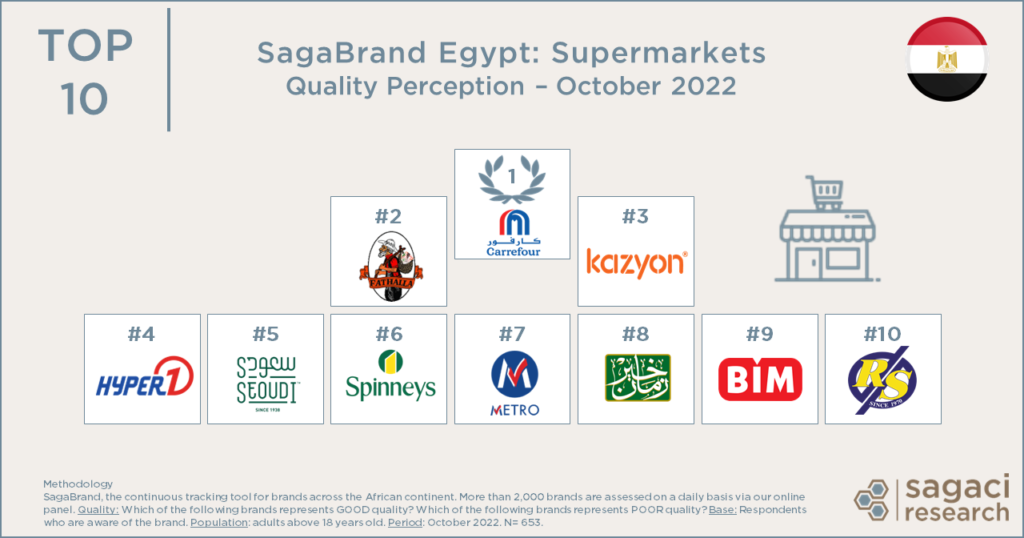 Carrefour, considered the best supermarket in Egypt on Quality
Carrefour, one of the biggest supermarket and hypermarket chains in the world, is the strong winner in the Quality ranking in Egypt with the highest Good Quality score (82%). The next competitors are far behind. Family owned Fathalla Market and discount supermarket Kazyon follow respectively with 61% and 58%. Hyper One comes in 4th position at 58%, ahead of Seoudi at 56%. Among the lowest performers, Kheir Zaman and Ragab Sons have also the highest % of poor quality rating among the top 10 supermarket brands in Egypt (11%). Some reasons for concern for these brands which could benefit from further investigation among their customers. Kayzon, otherwise 3rd in the Good Quality ranking, has a contrasting performance with still 10% of Egyptian panelists aware of the brand consider it as Poor Quality.
Read more on this topic:
Interested in brand health tracking in Africa?
One of the best ways to do market research and specifically to get fast and reliable data on your brand in Africa, is by leveraging SagaBrand, our continuous Brand Health Tracker tool. SagaBrand is a monthly tracker that monitors 16 essential KPIs for over 2,000 brands across dozens of countries in Africa.
Beyond those essential KPIs our online panel can also be useful to dig in deeper and explore specific reasons behind some SagaBrand results. This is where Flash Surveys come in handy to answer your 'Why's". Why are my customers not satisfied? What do they mean by poor quality? Give us a few days and with our nationally representative sample we'll get you what you need.
If you would like to know more about SagaBrand, our brand tracking tool in Egypt and across Africa, or our online panel, please send an email to contact@sagaciresearch.com or click below.
Methodology
SagaBrand, the continuous tracking tool for brands across the African continent. Our online panel assesses around 2,000 brands on a daily basis.
Quality: Which of the following brands represents GOOD quality? Which of the following brands represents POOR quality?
Base: Respondents who are aware of the brand. N = 653 in Egypt.
Population: adults above 18 years old.
Period: October 2022.