26/08/2021
Posted by:

Caitlin Beck

Categories:

Cote d'Ivoire, Retail, SagaBrand, Supermarkets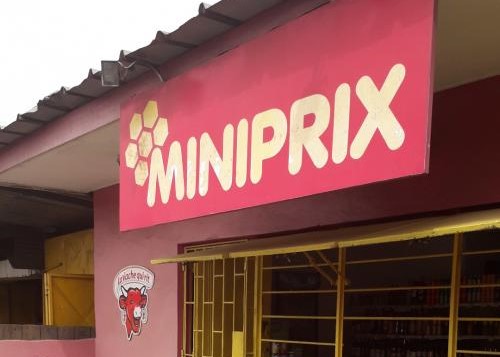 Carrefour leads as the #1 🥇 supermarket 🛒⭐ in Côte d'Ivoire in terms of satisfaction in our July rankings 📊. Super U 🥈 and BonPrix 🥉 follow closely behind.
Also making the top 10 were Club Sococé, Supeco, Casino, Leader Price, CDCI, Miniprix and Monoprix. 
See here the Top 10 supermarkets in Côte d'Ivoire: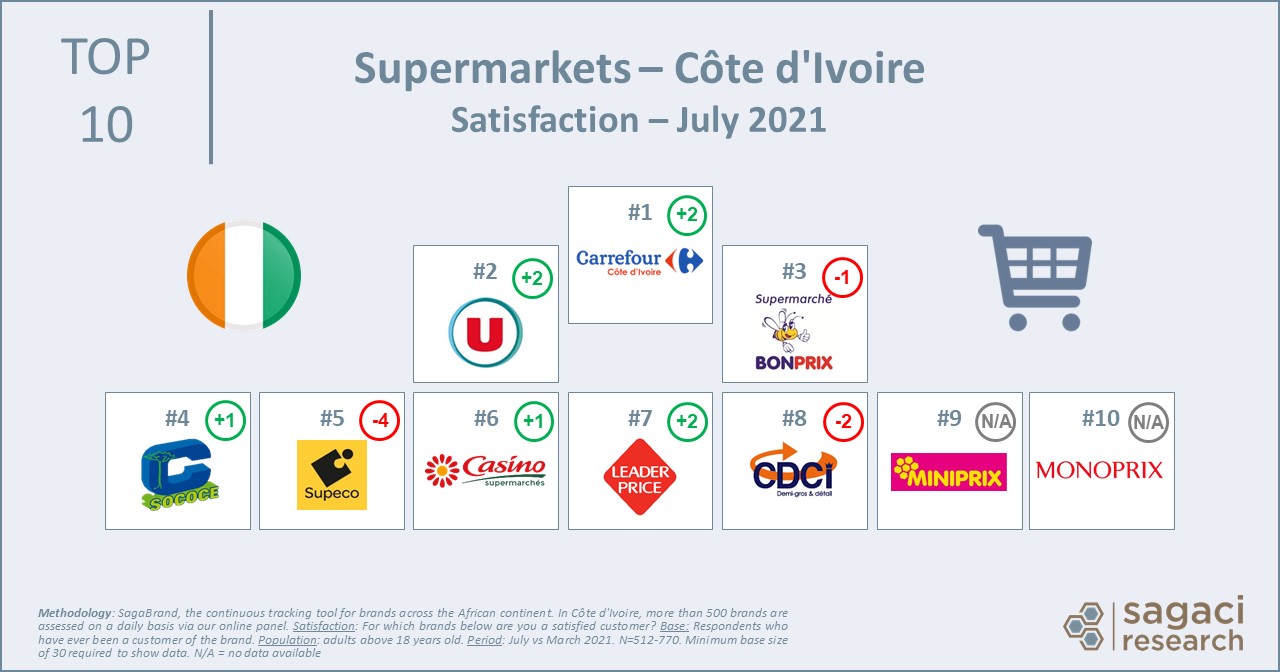 The results of the Top 10 supermarkets in Côte d'Ivoire arrive from the July 2021 SagaBrand data collection, in which respondents were asked which supermarket brands they were satisfied with that they have ever shopped at. Monthly data is collected via the SagaPoll mobile application, allowing easy comparison over time and between population demographics. In the July results, we see that although Miniprix remains as one of the least-known supermarket brands in Côte d'Ivoire, the chain leaped up 7 places in satisfaction rankings since the previous month. King Cash was the best-known brand, but less than half of their surveyed customers said they were satisfied.
Amidst the high-scoring international chains, local player, Club Sococé, also scored well for both awareness and satisfaction with two-thirds of customers being satisfied with the brand. Supeco on the other hand, failed to increase brand-awareness since March 2021 and dropped 4 rankings in the satisfaction table. Across the board, although satisfaction generally increased since March 2021, awareness for brands actually decreased. Miniprix, however, one of the least-known brands on the market, increased brand-awareness from 15% to 20%. From next month, our SagaBrand survey will also track results for The Prosuma Group's recently launched Monop'Ivoire which aims to offer a quality shopping experience – let's see if consumers agree.
Want to know more? Email us at sagabrand@sagaciresearch.com or download the full supermarket rankings (17 brands) here
Methodology
SagaBrand, the continuous tracking tool for brands across the African continent.
Satisfaction: For which brands below are you a satisfied customer? Base: Respondents who have ever been a customer of the brand.
Population: Adults above 18 years old
Period: July vs March 2021