02/12/2021
Posted by:

Caitlin Beck

Categories:

Consumer Goods / FMCG, SagaBrand, South Africa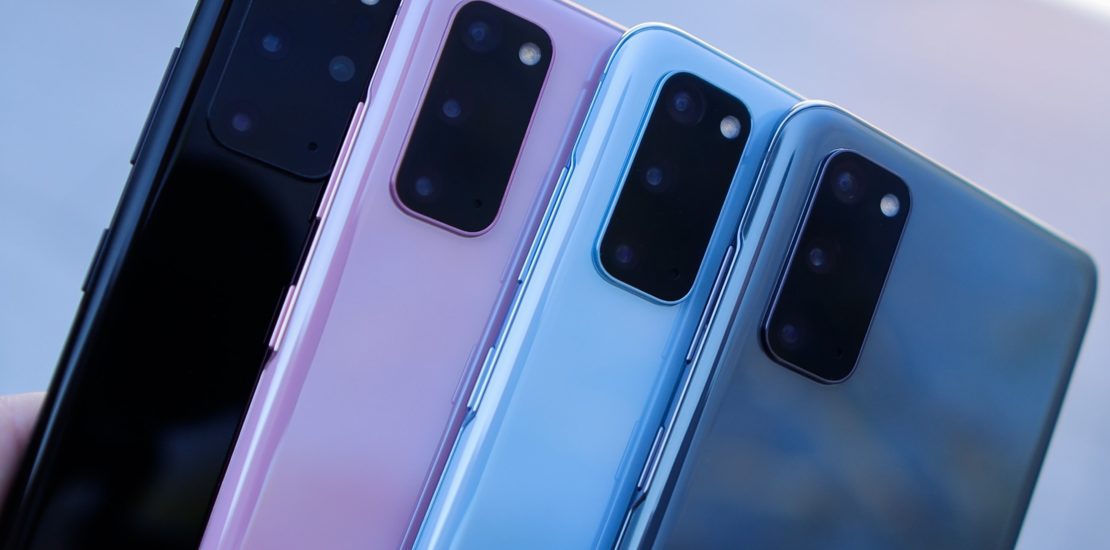 With Christmas around the corner, we've gathered the results from our October SagaBrand surveys to share the top mobile phone / cell phone brands in South Africa, directly from the perspective of consumers.
Top 3 recommended cell phone brands in South Africa
Across the 14 KPIs tracked in SagaBrand (read more), Samsung, Apple and Huawei battled it out for the top spot. When it came down to recommendation though, Samsung pipped them both to the post.
In October, our dedicated consumer panel were asked which of the mobile phone brands that they had ever purchased they would recommend to a friend, and which they would advise a friend to avoid. 87% of our panel in South Africa said they would recommend Samsung, and only 2% said they would advise against. For Apple, 81% would recommend and 4% avoid. For Huawei, who ranked in 3rd place, 76% would recommend and 4% avoid.
Which other brands do consumers recommend?
Whilst the top 3 set a tough market for the other players to crack, some other brands also experienced overall positive recommendation. These included Sony, Lenovo, LG, Nokia, HTC and Hisense.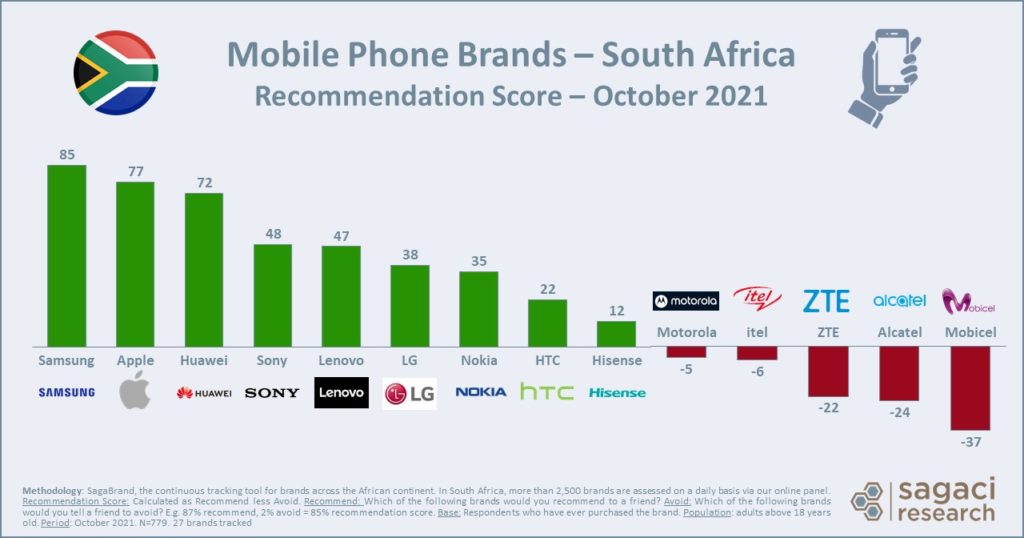 Which mobile phone brands have room to improve?
Unfortunately for some, not all consumers were so positive in their recommendations.
Mobicel performed the worst in our tracked brands, with an overall Recommendation Score of -37. Just 18% of respondents who had ever purchased a phone from Mobicel said they would recommend the brand to a friend. In contrast, 54% said they would advise a friend to avoid the brand.
As a result, it isn't surprising that out of those who had recently heard anything about Mobicel, only 35% said they had heard something positive, and another 35% specifically mentioned it being negative. Would you agree?
How can a brand health tracker help to overcome a negative recommendation score?
Identifying brand image weaknesses early is crucial in being able to address these issues. A monthly tracker keeps you informed and up-to-date with the performance of your brand, but also your competitors, as well as the overall trends in the market.
Using our example above, Mobicel could use the data from SagaBrand to understand which demographic profiles are least likely to recommend their brand, and can focus upcoming marketing efforts towards these groups. The performance of the ad campaigns and resulting changes in brand image can then be tracked to provide a qualitative measure of return on investment (ROI) of the campaign.
Interested to know more?
SagaBrand has the potential to track consumers attitudes towards a vast range of products including FMCGs, appliances & technology and services. Contact us at sagabrand@sagaciresearch.com to discuss your needs directly or download the results from this study below.
Methodology
SagaBrand, the continuous tracking tool for brands across the African continent. In South Africa, our online panel assesses more than 2,500 brands on a daily basis.
Recommendation Score: Calculated as Recommend less Avoid.
Recommend: Which of the following brands would you recommend to a friend?
Avoid: Which of the following brands would you tell a friend to avoid?
Base: Respondents in South Africa who have ever purchased the brand.
Population: Adults above 18 years old
Period: October 2021
Feature photo by Daniel Romero on Unsplash