25/10/2021
Posted by:

Caitlin Beck

Categories:

Consumer Goods / FMCG, Dairy, Egypt, SagaBrand, SagaCube
SagaCube provides a unique insight into consumption and purchase habits across Africa for dairy products and many other categories.
Over the last 12 months, South Africa had the greatest proportion of cheese consumption. 48% of its adult population said they had consumed cheese in the 4 weeks prior to completing the survey. In second place, Morocco scored 44%.
Ranking third is Egypt with 32% of consumers reported having recently consumed cheese in the last 4 weeks. The average frequency of consumption was 3.7x per week.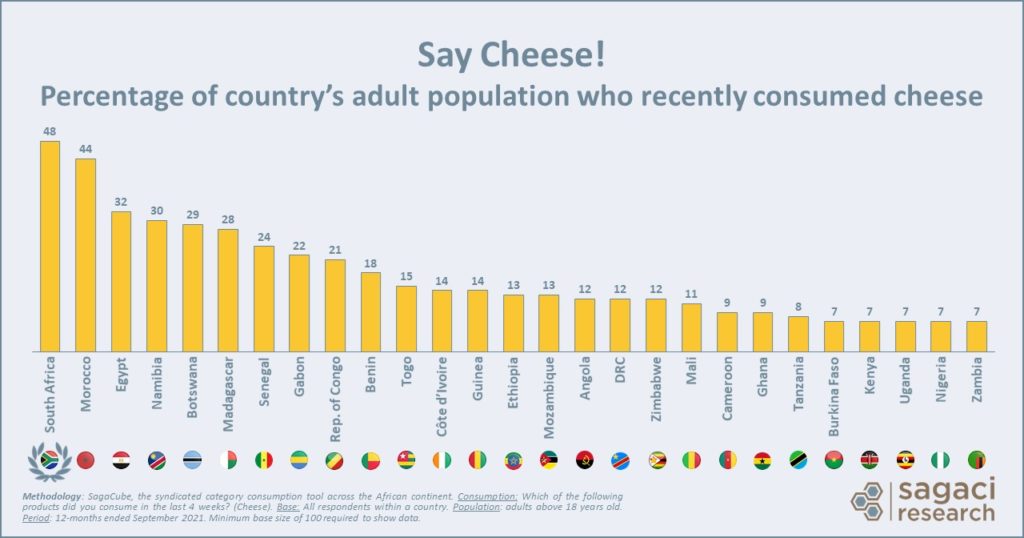 Cheese and Wine – the perfect match?
Back in July of this year, we shared how wine consumption across the continent has been heavily influenced by the French – you can read more here: Wine consumption across Africa – the French influence
In our daily August polls, we then found that most wine consumed in Côte d'Ivoire was of the French variety, whereas some of the southern nations preferred more of the South African wines.
Read more: Western Africa snubs South African wines in favour of French varieties
Our hypothesis would then be that perhaps the French have had an influence on cheese consumption too. Based on the results, it doesn't seem to be an obvious case.
Togo, Cameroon and Côte d'Ivoire, which came top for wine consumption, each had less than 15% of adults in our samples who had recently consumed cheese.
The 5 nations with the highest proportion of their adult population consuming cheese, were Southern and Northern countries. With the exception of Morocco, these countries don't have any obvious connections with France, and therefore, it seems like this isn't the strongest factor at play when it comes to cheese consumption.
Interestingly, in Kenya, Uganda, Nigeria and Zambia, recent cheese consumption was the lowest – reported by only 7% of adults in each country – despite these countries having a strong local dairy industry.
Who consumed most cheese in each country?
SagaCube allows results to be broken down by social demographic group such as:
Gender
Age
Income
Urban / Rural
For instance in Egypt, in the data for the 12 months to September 2021, 41% of females had recently consumed cheese, compared to just 28% of males! This striking difference between the genders was also apparent in many other countries surveyed.
In South Africa – the country with the greatest penetration of cheese – consumption was 51% for females vs 42% for males.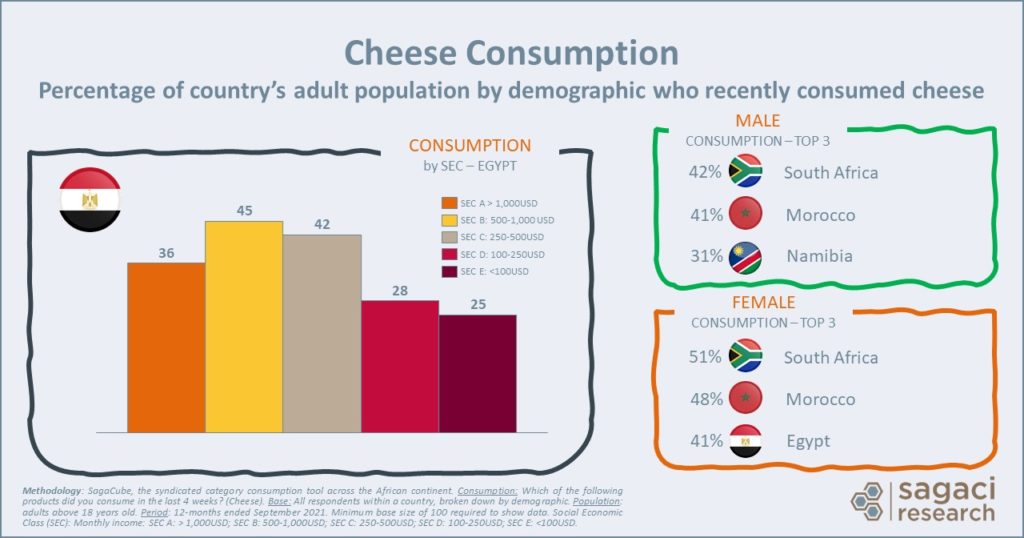 Top dairy brands in each country
At Sagaci Research, we don't just track consumption and purchase habits. We also run syndicated brand tracking so that our clients can see what consumers really think about brands in each market.
For dairy, we track brands across 8 countries on the continent. For example, in Egypt, SagaBrand tracks 20 dairy brands on a daily basis. In September, our panel voted Juhayna as the top brand for consideration to purchase.
Almarai, Kiri, Domty, Dina Farms, Président, Danone, Zabado, La vache qui rit, and Nido also made the top 10.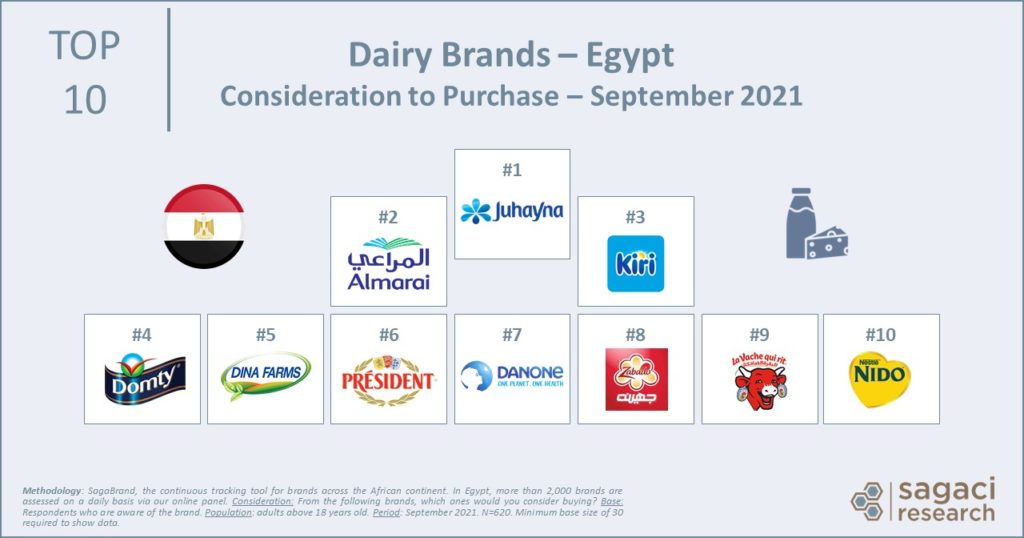 In Nigeria, Peak was the panel's favourite for consideration to purchase – 72% of adults said they would consider buying the brand. 70% said they would consider Hollandia, compared to just 55% for Three Crowns, which seems aptly named for its third place ranking this September.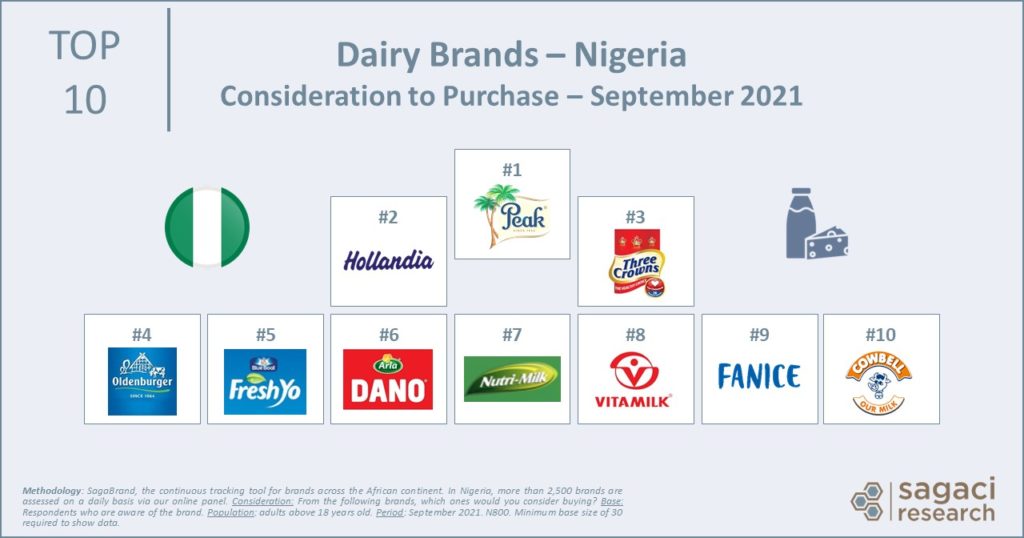 Questions?
Contact us today at contact@sagaciresearch.com to find the best solution for your brand.
Methodology
SagaCube, the syndicated category consumption tool across the African continent.
Consumption: Which of the following products did you consume in the last 4 weeks? (Cheese). Base: All respondents within a country. Population: Adults above 18 years old. Period: 12-months ended September 2021
SagaBrand, the continuous tracking tool for brands across the African continent. In Egypt and Nigeria, more than 2,000 brands are assessed on a daily basis via our online panel.
Consideration: From the following brands, which ones would you consider buying? Base: Respondents who are aware of the brand. Population: In Egypt/Nigeria, adults above 18 years old. Period: September 2021