25/04/2022
Posted by:

Janick Pettit

Categories:

Consumer Goods / FMCG, Household Appliances, Nigeria, SagaBrand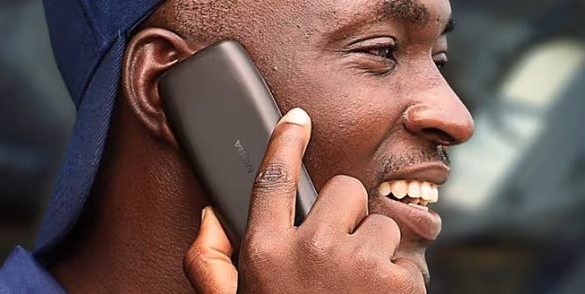 The ability to track the performance of your marketing activities is invaluable. Sagaci Research's Brand Health Tracker in Nigeria provides insights into these trends at the click of a button.
Read our article below for a look into how European mobile phone brand Nokia is performing on the Nigerian market in light of the recent relaunch of its classic feature phone in Africa. SagaBrand tool can assist in measuring the impact of marketing activities in Nigeria but also across the African continent.
Feature phones still going strong in Africa
During the early mobile phone growth era in the years 2000's, Nokia used to be one of the leading players in the African market. It even sold at one point the top-selling feature phone in the world targeting developing countries. Due to economic growth and development of the internet the smartphone penetration grew exponentially in the past years. However smartphone prices remain relatively high and the affordable prices of feature phones make these devices extremely attractive. In fact, feature phones still account for the majority of mobile phones sold in Africa (in terms of units sold).
Planning to leverage this strong appetite of consumers for basic and affordable mobile phones, HMD Global, the Finish company commercializing the Nokia brand, has revamped and relaunched the Nokia 105 handset in Africa. Called 'Africa Edition', it operates on the 2G network. It is equipped with a long-lasting battery, a wireless FM radio and can use two SIM cards at once. It recently launched in Nigeria and Kenya where it is retailing for less than 20 USD.
How is Nokia currently performing in the Brand Health Tracker in Nigeria?
Data from our monthly SagaBrand Brand Health Tracker in Nigeria shows that Nokia still benefits from an historically strong brand awareness. It ranks 3rd at 76% behind Chinese Transsion brands Tecno and Infinix. Nokia also does fairly well in Quality perception in 5th position at 64% ahead of Oppo and Xiaomi.
However when it comes to other KPIs, the European brand will have some catching up to do in the coming months. When asked which mobile phone brands they would consider buying, only 27% of our online panel in Nigeria mentioned Nokia. The brand is in 7th position of the list headed by Samsung and Apple in the top two. In terms of brand satisfaction, less than half of Nokia consumers (49%) declared being satisfied with the brand placing it in 8th position behind Xiaomi, Apple and Huawei. Nokia has its work cut out for the coming months to regain the heart of Nigeria consumers in this very competitive market.
Read also: How China benefits from Africa's smartphone boom
Which brands dominate the Nigerian mobile phone market?
Tecno and Infinix win the Awareness battle. However smartphone brands Samsung and Apple clearly dominate the ranking on a number of KPIs: consideration, positive echo, likelihood to purchase, quality, etc. Chinese brands Infinix, Tecno, Xiaomi, Oppo and itel tend to come next as the most popular brands across KPIs. This data comes from our online panel in Nigeria surveyed in February 2022.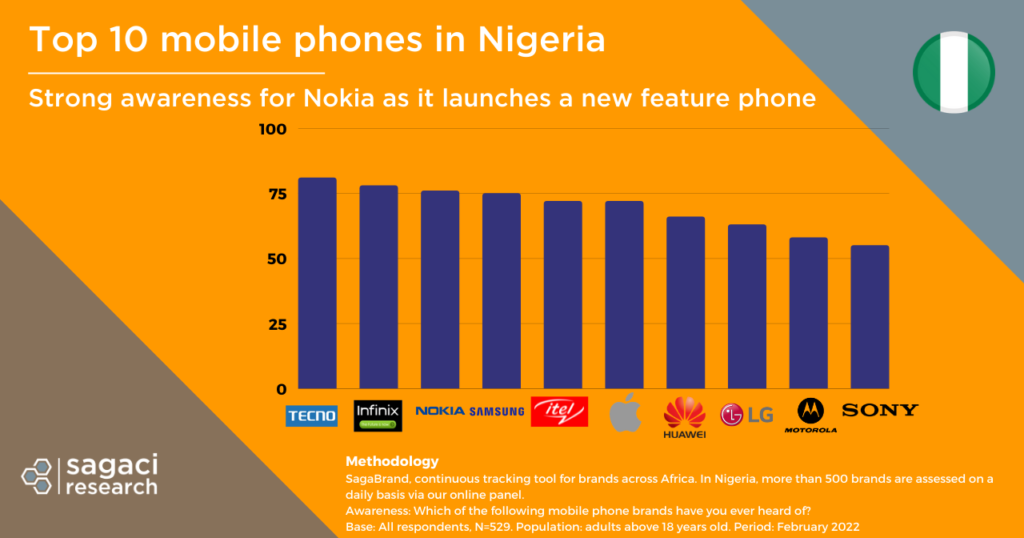 Tracking your brand performance evolution through a Brand Health Tracker
Identifying the reasons behind your brand performance in Africa is crucial at any stage. Especially so when launching a new product in a competitive market. A monthly tracker keeps you informed and up-to-date with the performance of your brand. You remain aware also of what your competitors are up to as well as the overall trends in the market. Brands can use the data from SagaBrand to understand which demographic profiles are most satisfied with their brand or least likely to consider it. They can thus focus upcoming marketing efforts towards these groups.
Tracking brand health in Africa on a monthly basis is a fast, cost-effective method to gain the detailed knowledge required to do so. At Sagaci Research, we offer a syndicated solution to offer data points for 16 KPIs per category. Read more about SagaBrand here.
Read also: South Africa's top mobile phone brands 2021
Interested to know more about our Brand Health Tracker in Nigeria?
SagaBrand has the potential to track consumers' attitudes towards a vast range of products. It includes FMCGs, appliances & technology and services. It covers Nigeria and all of Africa. Contact us at sagabrand@sagaciresearch.com to discuss your needs directly or click below.
Methodology
SagaBrand, the continuous tracking tool for brands across the African continent. In Nigeria, our online panel assesses more than 150 brands on a daily basis.
Awareness: Which of the following brands have you ever heard of? (base: all respondents)
Quality: Which of the following brands represent GOOD quality? (base: respondents who have used the brand)
Consideration: From the following brands, which ones would you consider buying? (base: respondents aware of the brand)
Satisfaction: For which brands below are you a SATISFIED customer? (base: respondents who have used the brand)
Population: Adults above 18 years old
Period: February 2022