08/03/2022
Posted by:

Caitlin Beck

Categories:

Angola, Benin, Burkina Faso, Cameroon, Cote d'Ivoire, Ivory Coast, Morocco, Mozambique, Nigeria, Online Panels, Sagaci Insights, South Africa, Uganda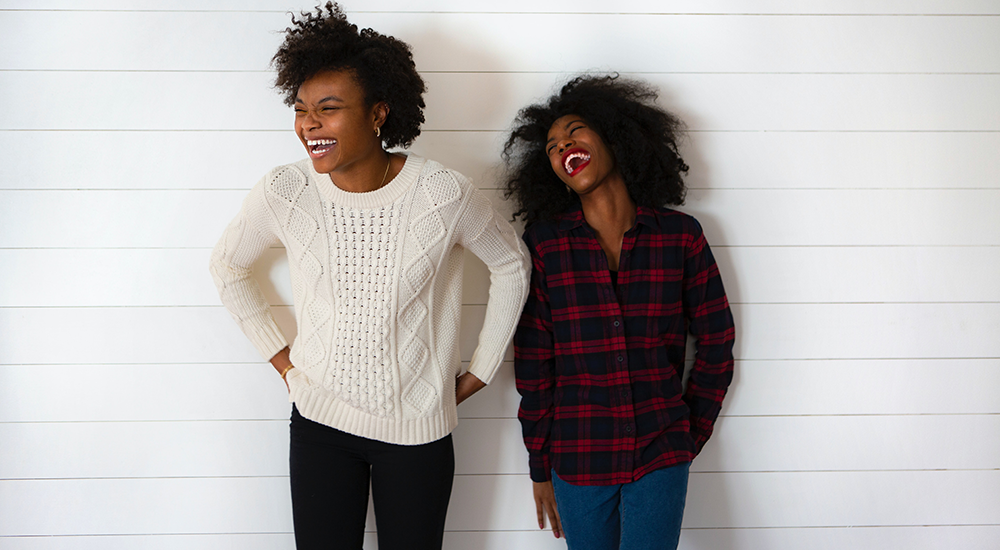 Happy International Women's Day from Sagaci Research!
At Sagaci Research, we are a diverse team and supporting the women in our teams is an essential part of our daily tasks. Recognising the value of what each individual can bring to the table is fundamental if we wish to succeed. Read below for some insights into our Women's Day 2022 study across Africa.
The theme for International Women's Day (IWD) 2022 is "Gender equality today for a sustainable tomorrow".
Our SagaPoll Surveys regularly feature important topics such as gender equality. We believe that people from all walks of life should be able to share their opinions.
SagaPoll is the African app that gives people a voice. Our daily questions can act as a learning tool, prompting thought and discussion from our panel members.
Over 10,000 respondents across Africa respond to these surveys on a daily basis. Last month, we asked our panel what they thought was the greatest issue affecting young women in their country today.
What are the greatest issues young women are facing across Africa?
Across the continent, 22% of people responded that Employment Opportunities was the greatest issue. A further 19% thought that Gender-based Violence was the greatest issue. This was followed by 12% who selected Access to Education, and another 12% who saw Child Marriage as the biggest problem faced by women.
Despite a 2019 UN report suggesting that only 24% of the population of Sub-Saharan Africa have access to safe drinking water, in our SagaPoll survey, only 2% of people thought that Water & Sanitation was the greatest issue affecting young women today. Put into perspective, this could reflect the true scale of the other issues.
When we look at the differences between countries, it is obvious that certain nations perceive different issues as more of a threat than others.
For example, in the Lusophone nations of Angola and Mozambique, Employment Opportunities was the most commonly selected issue. However, in South Africa, Gender-based Violence was by far the most popular response.
Child marriage was particularly an issue in countries like Mozambique but was perceived as the biggest issue by far fewer in South Africa, despite the geographical closeness.
So, how did people perceive the issue of Gender Equality?
On average, 11% of respondents thought Gender Equality was the biggest issue. This figure was relatively consistent between nations. People in Mozambique saw Gender Equality as less of an issue, whereas Nigerians scored this issue above average.
International Women's Day 2022 Survey Results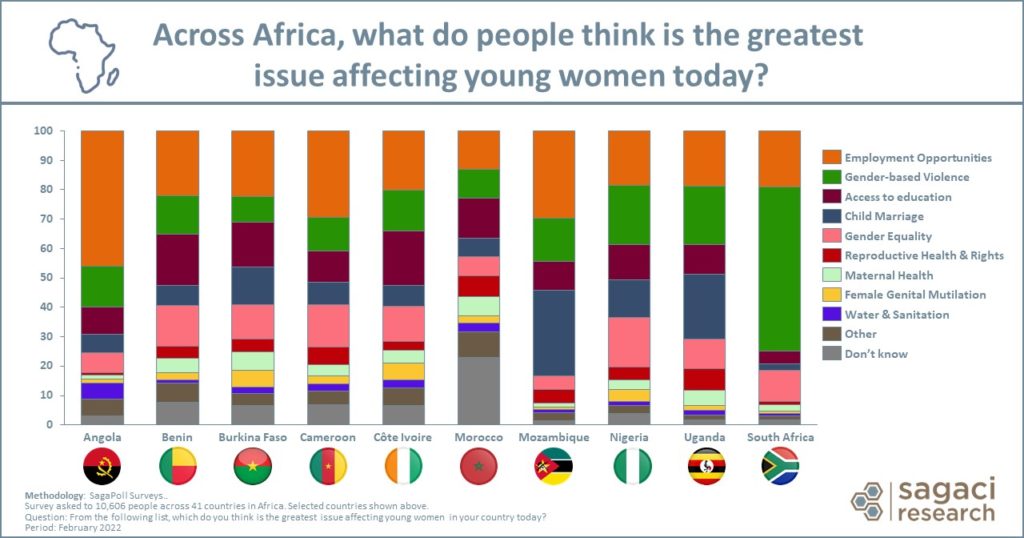 Spotlight on South Africa Women's Day Survey Results
As mentioned above, 56% of respondents in South Africa saw Gender-based Violence as the greatest issue affecting young women. Compared with the continent's average of 19%, it is clearly a social crisis to be addressed.
When comparing the responses of males and females, the results are overall pretty similar. Males did, however, tend to see Gender-based Violence as more of an issue than females did. Females were more likely than males to see Employment Opportunities as the single biggest problem.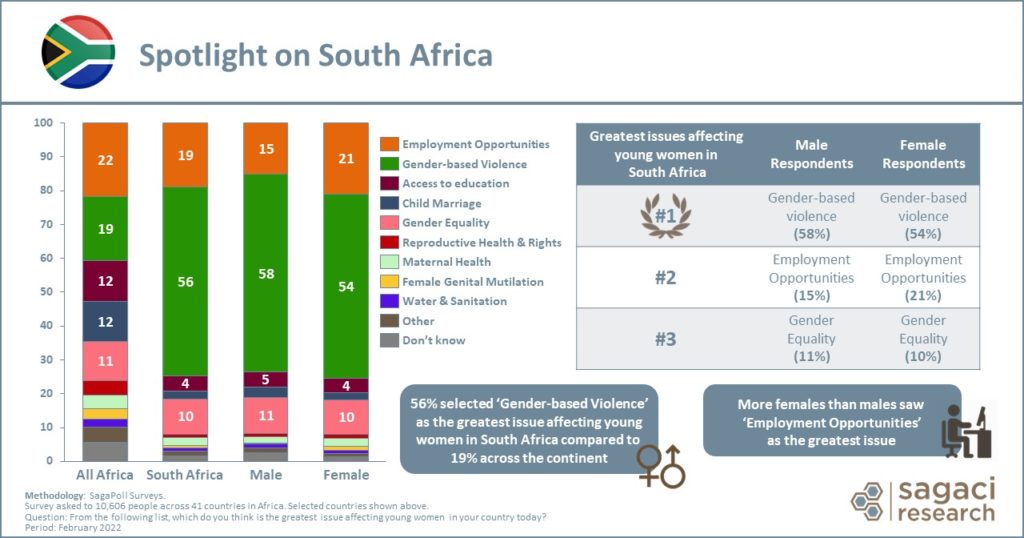 Get fast access to our online panels
For more information or to receive a personalised quote, send an email to contact@sagaciresearch.com. Alternatively, contact us using the form below.
Methodology
SagaPoll Surveys. Survey asked to 10,606 people across 41 countries in Africa.
Question: From the following list, which do you think is the greatest issue affecting young women in your country today?
Base: All respondents
Period: February 2022
#BreakTheBias #IWD #Diversity #Inclusion