23/09/2022
Posted by:

Janick Pettit

Categories:

Consumer Goods / FMCG, Cote d'Ivoire, Household Care, Online Panels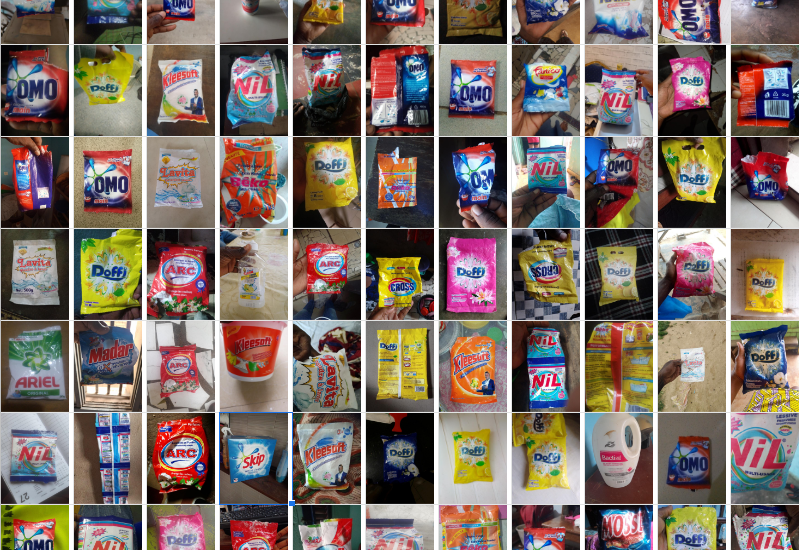 Leading laundry brands in Ivory Coast? Simply ask our panel!
The easiest and fastest way to know what brands are most present in consumers' homes in Africa is to simply ask the members of SagaPoll, our online panel in Africa. In just a few hours we are able to collect hundreds of responses from consumers throughout the continent. As an example, we recently asked panellists from Ivory Coast to tell us the last laundry brand they bought. They were also asked to share several key information on the products, such as price, pack size and picture. Read on to find out which laundry brands were most found in panellists' pantries in Ivory Coast!
Top 10 laundry brands in Ivory Coast
Here are the Top 10 laundry brands most found in Ivory Coast homes based on market share (by volume):
Doffi (by SoftCare)
Omo (by Unilever)
Nil (by Sipro-Chim)
Kleesoft (by SoftCare)
Lavita
ARC (by Sipro-Chim)
Ariel (distributed by Transmed for Procter & Gamble)
Bêko (by Sipro-Chim)
Skip (by Unilever)
Cross (by Sipro-Chim)
Results show that Chinese manufacturer SoftCare secures the first place with its brand Doffi and third place with Kleesoft. Multinational Unilever is second with Omo. Incidentally, the American company's biggest laundry brand is no longer produced in Ivory Coast and is now imported from Nigeria.
However, it would be fair to say that consumers seem to have a preference for local brands. Indeed, Ivory Coast based FMCG company Sipro-Chim leads the overall ranking with four of its brands present in the Top 10 laundry brands in Ivory Coast: Nil, ARC, Bêko and Cross. Procter & Gamble comes in 7th spot of the ranking with brand Ariel, currently distributed by Lebanese Household & Personal Care distributor Transmed. Finally, the brand Skip, also from Unilever and another brand name for Omo, comes in 9th place.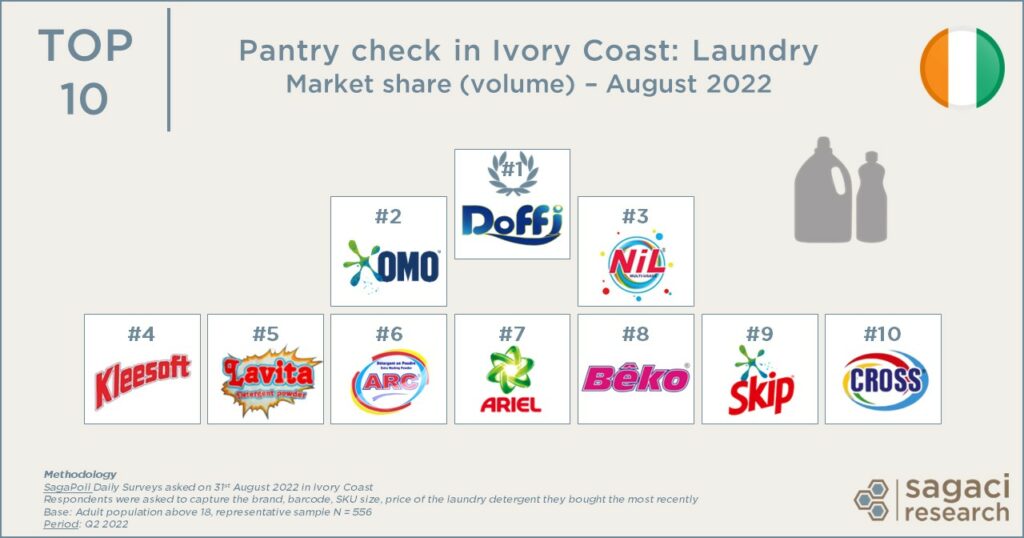 Prefered format of laundry brands in Ivory Coast
Conducting a pantry check in Ivory Coast gives us some interesting insights on consumer habits. We see first hand what they actually use at home in terms of brands but also packaging.
While a few respondents use hard plastic containers (such as Kleesoft) or hard carton boxes (such as Skip), the packaging type the most popular by far remains the soft sachet. When it comes to packaging size most used by consumers in Ivory Coast, we find some variations. The size most common in pantries is the 100gr sachet (found in 20% of homes). It is followed by the 500gr sachet (14%), 15gr sachet (12%) and 1kg sachet (11%). In fact, three quarters of consumers use laundry products of less than 500gr. In short, small size sachets are clearly the preference when it comes to choosing a laundry washing powder in Ivory Coast!
Get fast access to our online panels in Africa
To conclude, pantry check is just one of the ways we leverage our online panel across 34 countries in Africa. Our online panel and data collection capabilities helps businesses understand consumers across the continent.
Our representative online panel across Africa is mobile based to ensure deep reach and fast turnaround times. You will be able to have thousands of respondents in a highly engaged online panel to help you understand consumers across the continent. Obtain detailed answers to your questions – with results available in a few days.
Countries we cover include Angola, Benin, Burkina Faso, Botswana, Cameroon, Côte d'Ivoire, Burundi, Democratic Republic of Congo, Congo Brazzaville. We also have panels in Egypt, Ethiopia, Gabon, Ghana, Guinea, Kenya, Morocco, Mali, Mozambique, Nigeria, Rwanda, Senegal, Togo, Tanzania, Uganda, South Africa, Zambia and Zimbabwe.
For more information on how to conduct market research in Ivory Coast send an email to contact@sagaciresearch.com. Alternatively, contact us using the form below.
Methodology
SagaPoll Daily Surveys asked on 31st August 2022 in Ivory Coast
Respondents were asked to capture the brand, barcode, SKU size, price of the laundry detergent they bought the most recently
Base: Adult population above 18, representative sample N = 556