16/11/2021
Posted by:

Caitlin Beck

Categories:

Beauty & Personal Care, SagaBrand, Senegal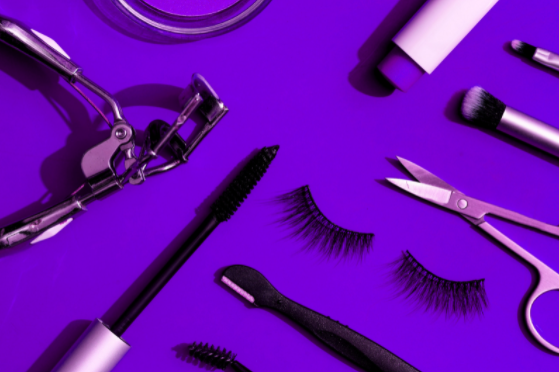 In this article, we explain the What? Why? Where? and How? of SagaBrand. We then share recent results from Beauty & Personal Care in Senegal, in which 82% of our panel reported that they believe NIVEA represents good quality.
What is SagaBrand?
SagaBrand is our continuous brand health performance tracking tool. For brands in over 25 different categories, our dedicated consumer panels provide their opinions on a regular basis via our mobile-app, SagaPoll.
SagaBrand surveys are designed to cover a range of perspectives when it comes to what consumers are thinking. Through a series of questions, data is collected for 14 KPI's:
Awareness
Echo (buzz)
Reach
Good quality
Poor quality
Ever purchased
Recently purchased
Preferred
Satisfaction
Dissatisfaction
Recommendation
Avoid
Future consideration
Purchase intent
Once subscribed, results can also be broken down to focus on a particular demographic:
Age
Income
Gender
Urban/ rural
Why choose a syndicated product?
Data is collected through a syndicated online survey – meaning you save money and time in comparison to traditional custom surveys. But don't worry! Just because the product is syndicated (a standardised survey run for multiple clients) doesn't mean you lose the personal touch. At Sagaci Research, as well as instant access to our online dashboard, we also have a dedicated Product Team on-hand to help you maximise value from your data.
Where can I use SagaBrand?
SagaBrand data is available for 34 countries across Africa. We are constantly on the lookout for new markets in which to grow our panel. Therefore, even if we don't presently have an established panel in a certain country, we would love to talk with you to see what we can offer.
We focus exclusively on the African continent, so that you can be confident that you're receiving valuable insights from teams dedicated to your market.
Once registered, you and your colleagues can then access the dashboard from anywhere in the world, day or night.
Why should I use SagaBrand?
Our clients each use our data in different ways. Once subscribed, it is up to you how you benefit from the insights provided by SagaBrand. Some examples include to:
Measure and assess brand indicators for your own brands but also competitors
Measure and assess the efficiency of your marketing activities
Benchmark your performance vs. competition
Track category specific trends
Understand and analyse your competitors' trends
Spotlight on Beauty & Personal Care in Senegal
In October, we asked our panel for their opinions about beauty & personal care brands in Senegal.
Nivea ranked #1 in terms of good quality perception. 82% of our panel who were aware of Nivea, said they believed that the brand represented good quality. In addition, amongst those who had ever been a customer of NIVEA, 74% said they would recommend the brand to a friend.
These results follow a similar pattern to those found in Cameroon earlier this year. Check out the similarities here: Best beauty and personal care brands in Cameroon
Following closely behind NIVEA, were Garnier (73%) and Mixa (72%). Caro White, on the other hand, performed poorly, with just 27% of respondents who said it represents good quality. 32% actually said it represents poor quality – a way ahead of the other brands in the survey.
Rogé Cavaillès, Professeur Françoise Bedon, L'Oréal, Vaseline, Dove, Yves Rocher and Dior also made the top 10.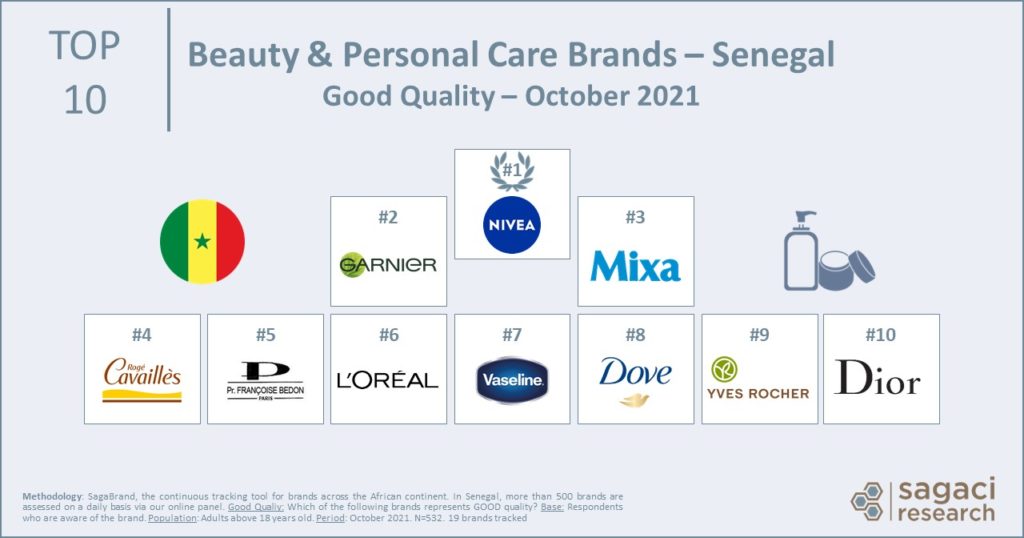 How can you find more results including Beauty & Personal Care brands?
To find out how SagaBrand can take your business to the next level, contact us at sagabrand@sagaciresearch.com or register your interest to receive more results. Our dedicated team is excited to answer your questions and get you on board!
Methodology
SagaBrand, the continuous tracking tool for brands across the African continent. In Senegal, more than 500 brands are assessed on a daily basis via our online panel.
Good Quality: Which of the following brands represents GOOD quality?
Base: Respondents in Senegal who are aware of the brand.
Population: Adults above 18 years old.
Period: October 2021