04/02/2021
Posted by:

Julien Garcier

Categories:

Consumer Goods / FMCG, e-commerce, Retail, Sagaci Insights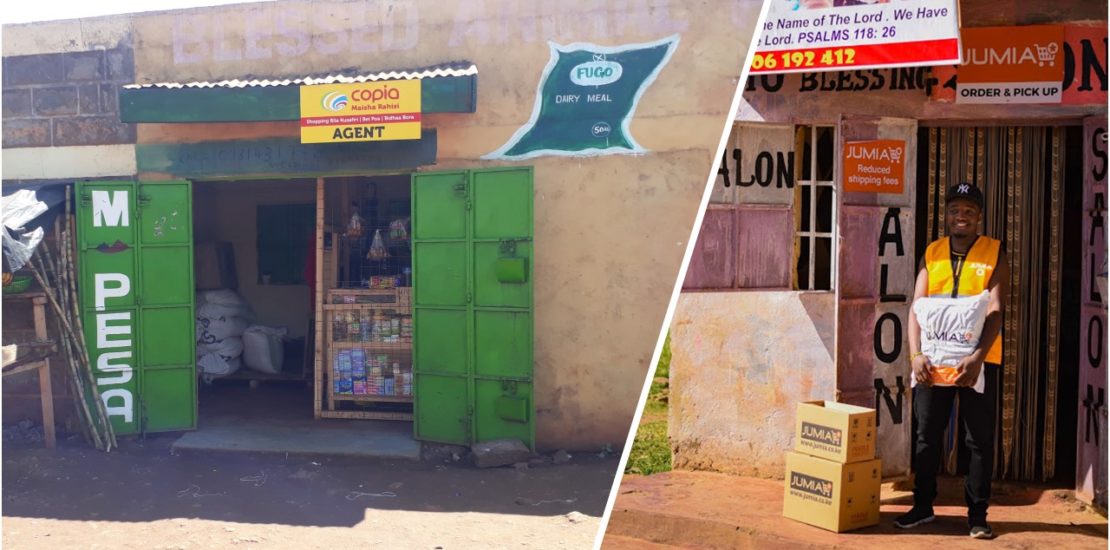 COVID-19 turbocharges growth

Even before the onset of COVID-19, interest in online shopping was on the rise in Africa, albeit from quite a low base. The rapidly rising penetration rate of mobile phones, particularly smartphones, over recent years, is playing a key role in this. The total traffic for online marketplaces in Africa amounted to 2.2 billion visits in 2019, with ten countries (most notably Nigeria, South Africa and Kenya) accounting for the bulk of this, according to Switzerland-based development agency International Trade Centre (ITC).
A growing number of players are fighting for a piece of this rapidly expanding market. The ITCC identified 631 online marketplaces managing a total of 1,900 websites in Africa during 2019. However, many of these online marketplaces are 'classifieds,' where goods are advertised online, but paid for upon delivery. Jumia is undoubtedly the largest and most high-profile online marketplace in Africa, but the rapidly swelling ranks of its challengers range from Copia and Kilimall in Kenya to Konga in Nigeria, in addition to a plethora of small players leveraging social media, particularly Whatsapp, to make online sales.

Jumia adjusts its business model, but high cancellation rate remains a cause for concern

Apart from selling goods itself, Jumia also offers a marketplace for third parties to sell their goods, in addition to digital payment services. It currently operates in 11 African markets, including Egypt, Morocco, Côte d'Ivoire, Nigeria, Ghana, Kenya, Senegal, and South Africa. It has signed up a significant number of partners, ranging from Unilever, Procter & Gamble, Coca-Cola, Reckitt Benckiser and International Breweries in FMCG to Samsung, HP, Xiaomi, Hisense, and Logitech in consumer appliances and electronics.
During 2020, Jumia has been attempting to reorient its business model away from more expensive items, such as consumer appliances and electronics, towards cheaper products like apparel and FMCG. This shift is being driven by the fact that the bulk of African consumers (particularly in sub-Saharan markets) struggle to afford big-ticket items and remain quite reluctant to buy them online anyway.

However, Jumia's rate of cancellations, failed deliveries and returns remains very high, standing at 23% during the three months to October 2020, according to its latest quarterly report. This partly reflects the absence of a rigorous system of addresses in many of the countries in which it operates. Jumia is attempting to rectify this by building out a network of pick-up stations in many of the cities in which it operates. For example, in Nairobi, there are now well over 100 of these stations. Customers have five days to collect orders from these stations at their convenience. Customers who opt for this service also benefit from reduced delivery fees.
Majid Al Futtaim, which franchises the Carrefour banner in Egypt, Kenya and Uganda, has its own branded store on Jumia, where consumers can order everything from FMCG to electronics and small appliances. CFAO, the grocery retailer's franchisee in Francophone West and Central Africa, has a similar arrangement with Jumia in Côte d'ivoire and Senegal. Jumia has also formed a partnership with home improvement chain Leroy Merlin in Côte d'Ivoire. Through this partnership strategy, Jumia is seeking to become the backbone of e-commerce fulfillment in Africa.
Copia seeks to make e-commerce more accessible to low-income consumers in peripheral areas

The business model of another African e-commerce platform, Kenya-based Copia, is centered around solving Jumia's key weakness – its high rate of cancellations, failed deliveries and returns. Copia allows Kenyans living in rural and peri-urban areas to order products ranging from food, drinks and personal care products to appliances, electronics and even agricultural inputs and construction materials and collect them locally. They select the products they want from a catalogue (available in both paper and app form) and place them with a local agent, who orders them online from Copia using a smartphone. These orders are delivered to the agent in two-to-four days, at which time the consumer collects and pays for them.

Speaking to website Quartz in 2019, CEO Tim Steel, who spent more than 15 years at delivery firm TNT Express before founding Copia in 2017, noted that this model allowed Copia to target consumers who were "remote, unbanked, unconnected and who may not have a valid ID or address, contrasting this strategy with other e-commerce players … focused on the top of the pyramid with middle class and elite [consumers]."

In July 2020, Business Africa Daily noted that Copia had built a network of more than 11,500 agents and processed over four million customer orders. "With the current Covid-19 situation, we have seen exponential growth, as customers have realised the strength of our value proposition. This has resulted in a 50% increase in our delivery fleet," Steel commented. He added that "We are seeing over 96% percent successful delivery" – a significantly higher figure than Jumia.
Beyond its pick-up stations across key cities, Jumia is also trying to boost online sales by allowing non-connected consumers to order online in the countries where it operates. In recent months, it has built an independent team of sales consultants, City Captains and J-Force, to help others to order online or to order online on their behalf.
Retailers and restaurant chains leverage on-demand delivery services to go omnichannel
A growing number of supermarkets and restaurants are utilising on-demand delivery services provided by the likes of Jumia and Glovo, in addition to local players like Tupuca in Angola and One Kiosk Africa in Nigeria. For example, Glovo's partners in Kenya include supermarket chain Naivas, coffee house chain Java House Africa, and restaurant chains KFC and Simbisa Brands, which operates under the Pizza Inn, Chicken Inn, Creamy Inn and Galitos banners. In Tunisia, supermarket chain Magasin Général has gone a step further, acquiring a controlling interest in local e-commerce operator Founa.com in 2018.
WhatsApp is the thin edge of Facebook's e-commerce wedge
The internet is also creating new sales opportunities for small and medium-sized enterprises across Africa. WhatsApp is particularly popular in this regard, as it is the most popular social network in many African countries. For example, Kenyan chain Goodlife Pharmacy now allows patients to send their prescriptions through WhatsApp: After making a phone call to verify the order, it then dispenses the medication after payment has been made.

A growing number of supermarket chains, ranging from Chandarana Foodplus in Kenya to Prince Ebeano in Nigeria, also accept orders via Whatsapp, which are then paid for on delivery. More broadly, many small businesses and even individuals are leveraging Whatsapp groups as a channel for both marketing and receiving orders.
WhatsApp and its parent company Facebook are likely to play a growing role in e-commerce in Africa during the coming years. Facebook launched Whatsapp Business, which is designed to help businesses interact with and reach customers through the messaging platform, in 2019. A year later, it unveiled Whatsapp Pay. It has also launched Facebook Shops, which will allow small businesses to set up free online storefronts that will operate across Facebook and Instagram.

While none of these innovations have yet arrived in Africa, they are likely to be launched on the continent in the medium term, and their impact could be profound. Taken together, these apps will make it much easier for existing bricks-and-mortar retailers and even private individuals to launch e-commerce operations. However, they will still be dependent on third-party logistics providers to deliver these orders, so Facebook will not be in a position to dominate the African e-commerce market.
A logical extension of the use of social media in African e-commerce would be live streaming e-commerce, which is rapidly growing in popularity in East Asia. Live streaming e-commerce involves the broadcast of live video in real time via the internet to promote and sell goods or services. At its best, it can provide the social aspect that is missing from regular online shopping and help to bring the experience to life by facilitating increased interaction between the consumers and brands.

Why Africa is different
A number of characteristics distinguish e-commerce in Africa. Firstly, it is mobile-based and increasingly social, with WhatsApp in particular growing in importance. Secondly, it poses logistical challenges for e-commerce providers that are of a different order of magnitude to those found in most other parts of the world. The most obvious solution to the logistics issue is to leverage existing bricks-and-mortar distribution networks, which is the direction in which the likes of Jumia and Copia appear to be heading.

Thirdly, the purchasing power of most African consumers remains very low by global standards, so they tend to make small purchases online. Fourthly, although it has made great strides over the past decade, bricks-and-mortar retail remains far less developed in Africa than in the rest of the world. Just as mobile money is far more popular in Africa than in the rest of the world because few local consumers are banked, the underdeveloped state of its physical retail infrastructure is helping to spur the use of e-commerce.

Finally, no other continent has experienced the shock of COVID-19 at such an embryonic stage in its development of e-commerce as Africa. As a result of the pandemic, the willingness of local consumers to experiment with e-commerce has significantly increased, leading retailers to pay more attention to this channel. E-commerce is likely to steadily increase in importance on the continent over the coming years, but until its logistical bottlenecks are resolved, that growth is likely to be steady, rather than spectacular.

__________________________________________________________________
Want to learn more about Sagaci Research unique consumer and trade related data-feeds and insights? Reach out to us at contact@sagaciresearch.com.
Image: COURTESY