15/06/2022
Posted by:

Janick Pettit

Categories:

Consumer Goods / FMCG, Kenya, Non-alcoholic beverages, Retail, SagaTracker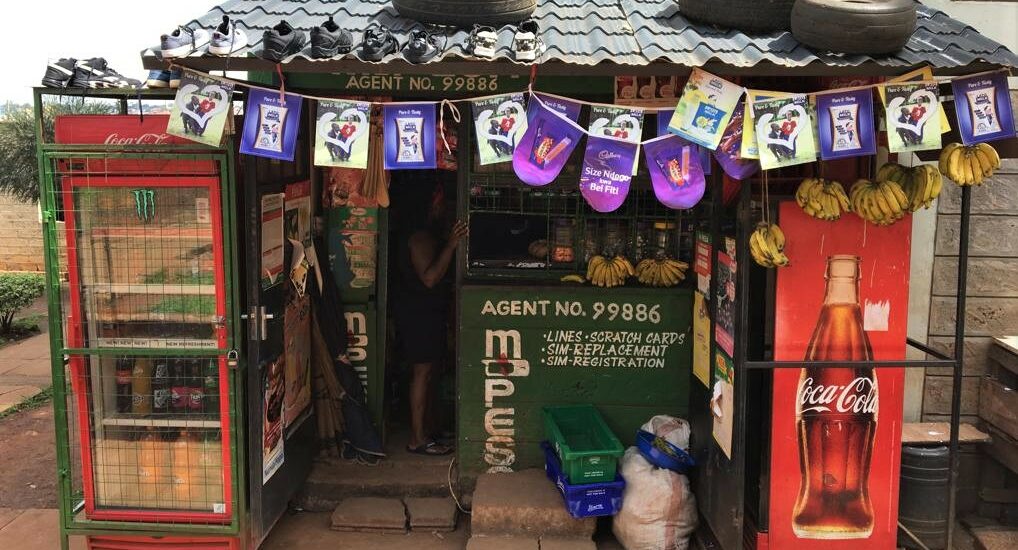 In this article we have a look at what a retail audit is and particularly why it is so critical for a FMCG company to conduct a retail audit in Africa. Also, we take a practical example of a specific retail category in Kenya to demonstrate the value of such exercise.
What is a retail audit?
A retail audit provides data on the performance of different products in the distribution channel. It indicates which products (brands, SKUs) are available in the stores (numeric distribution), in which quantities or amounts (stock) and their prices. It also tells you how much each product sells in a given period (volume or value market share).
When measured at regular intervals, usually on a quarterly basis, it can be extremely insightful and valuable to drive business decisions.
On a related topic, read also Why is doing periodical retail audits crucial for your business?
What will you learn from retail audit data?
Retail audit data provides a reliable and true reflection of a market at a granular level down to the SKU, the type of store and geography (capital city and regions).
Here is what could be happening with a brand or category if you don't keep a close eye on the retail market…
You could have underperforming regions. Often brands achieve leadership through regional consistency, meaning a strong and fairly even presence in all the key regions in the country your brand is present. Sometimes a weaker performance at the country level is linked to some regional underperformance
You could have underperforming channels. Depending on the strategy for your brand, channel coverage might differ. However for a brand with leadership ambitions it might make sense to have an extensive presence throughout the main channels relevant to your category
Your availability could be lower than you think. Are you measuring your product availability based on the known universe of outlets? How about outlets that sell your category but are unknown to your distribution process or outlets that are known to your distribution process, but are not being reached? And finally how about outlets that do not sell your category but could? Your total universe should not be limited to outlets that are known and currently reached by your distribution process. There could be a world of opportunities beyond that.
Your availability is higher than you think. Are you measuring parallel trade imports? We found in one of our retail markets that over 50% of CSD cans of a particular brand were coming from parallel trade…
What else audit data can show you?
Your sales are growing, but your market share is not. Are you simply riding the market growth or really gaining market share?
Your products' retail prices are higher than you think. For example, in the case of an alcoholic beverage brand we surveyed recently in Mozambique, we found that only 25% of retailers were compliant with the manufacturer's recommended price. 75% of outlets were above it!
You have empty spaces in your product portfolio. For example, are you focusing on the key market flavor of your category or letting your competition occupy that space? We find sometimes that major brands in the market have flavor gaps in their portfolio..
Retail in Kenya example: deep dive in the juice category
Sagaci Research recently conducted a retail audit in the juice category in Kenya. It allows to quantify and understand the reality of the juice retail market in Kenya at a particular point in time. For example, in the context of a new product launch, a retail audit helps understand the competitive dynamics such as dominating brands, flavors, formats and price points. Very useful to better design the characteristics of a new product!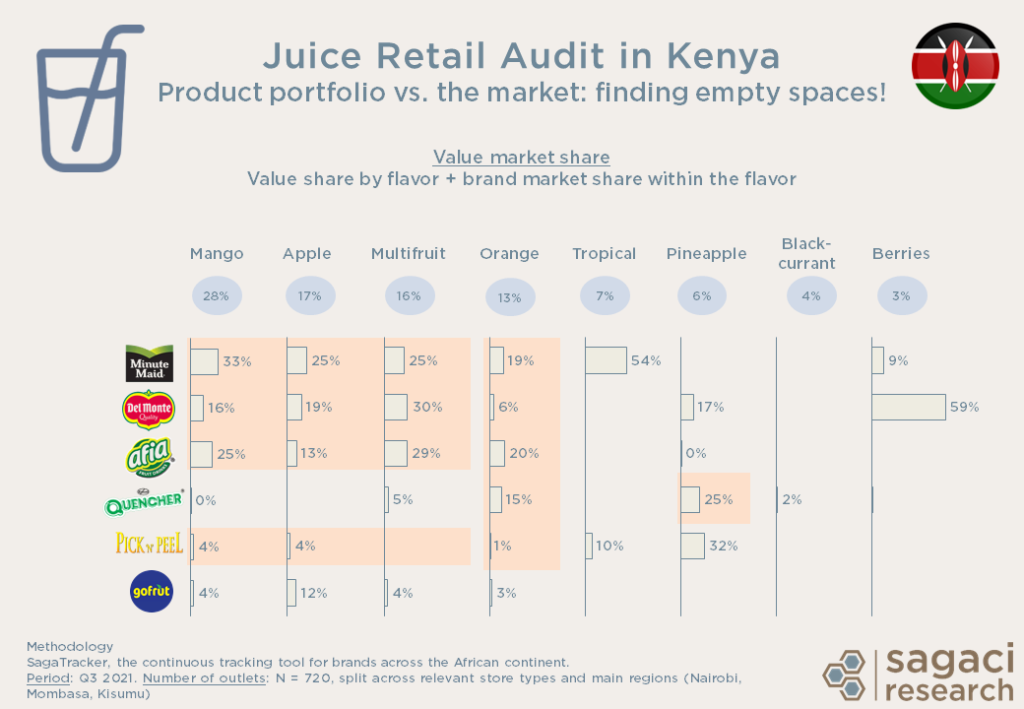 What does this tell us?
The top brands in the market (Minute Maid from Coca Cola, Del Monte and Afia) focus and lead on the key flavors. However, smaller brands (Quencher, Pick N Peel) are putting efforts into building strong positions in smaller flavors like pineapple
Another small brand Gofrut, on the other hand, is trying to play in the popular and highly competitive flavor segments. This comes with limited results in terms of market share
Orange is the most fragmented and competitive segment. Yet it is not the biggest flavor in the market compared to mango for example
Minute Maid is practically alone in the Tropical segment, as well as Del Monte with Berries. Could there be room for other players there?
Interested in Retail audit in Africa?
SagaTracker is a syndicated retail audit that covers 40 FMCG categories across 17 markets in Africa. SagaTracker provides an objective, quantifiable and cost effective view of the performance of the different brands within a category in a given country.
If you would like to know more about the retail industry in Kenya or how to research market trends in Africa, please send an email to contact@sagaciresearch.com or click below.